Picture credit: wetpaint
Miles apart, although still within the heart; Bachelorette star Andi Dorfman and Ex Nick Viall are on good terms and support each other even after split up.
On the 10th season of Bachelorette, we saw Andi send Viall packing which was unthinkable. Seeing Andi appear on Bachelor season 21 to advice Viall shows that she deeply cares for him even after the split up.
Are Dorfman and Viall bumping into each other?
Andi Dorfman and Ex Nick Viall had a public breakup which might have made it more difficult for them to cope up with the heartbreak.
However, Andi shared in an interview with Us Weekly on January 9 that she is often bumping into Viall and that they are keeping in touch even after the breakup.
Andi revealed that more recently she had seen him at a wedding in summer and that they "talk here and there, every once in a while".
What advice did Dorfman give Viall?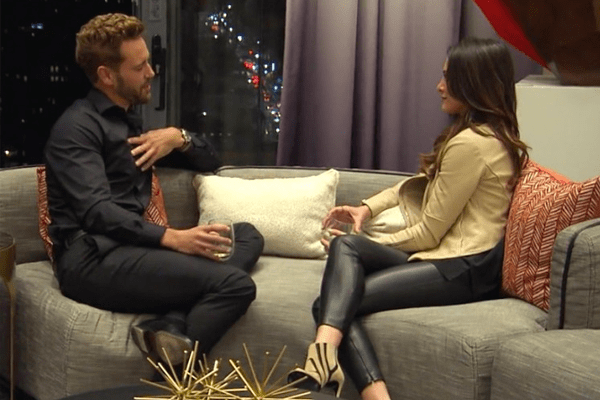 Picture credit: wetpaint
Andi Dorfman has been a part of Viall's life even after the split, as a supporter and advisor. Andi appeared in the 21st season of the Bachelor where she gave her Ex advice regarding relationships.
She advised Viall to be "intimate" to the final three contestants by using his fantasy suite dates. She suggested that if Viall felt that he saw himself with one of the girls at the end, then he has "every right to get as intimate" as they want to be in their relationship.
Andi Dorman returned to ask Nick if he regretted asking her why she made love to him if she didn't love him on After the Final Rose. Viall shared with Andi that his biggest regret was to give her "a lot of heartaches and a lot of pain."  He also apologized for the incident.
So, it seems that Andi and Nick are on good terms even after a harsh public breakup. Andi seems to care of Nick as much as he does which is good for both of them!
What is Andi Dorfman up to?
Andi Dorfman, 30, is an American TV personality who previously worked as Assistant District Attorney. She is known for being the author of books It's Not Okay: Turning Heartbreak into Happily Never After. More recently, Andi Dorfman has written the book, Single State of Mind.