FaZe Rug is a known name among the popular YouTubers and Vloggers around the world. The young YouTuber has amassed millions of followers in his Youtube and other social media. The boy who had begun his career in YouTube from the first year of college has now been able to be a professional YouTuber having a net worth of $3 million as of 2018.
FaZe Rug, whose real name is Brian Awadis has established himself as a successful YouTube prankster and Vlogger. He frequently posts prank videos and a popular game Call of Duty's videos in his self-named YouTube channel FaZe Rug.
Net Worth of FaZe Rug aka Brian Awadis
YouTube Channel FaZe Rug
FaZe Rug who had started his YouTube channel on July 11, 2012, has assembled a net worth of $3 million as of 2018 and the gratitude goes to his YouTube channel FaZe Rug. Till October 9, 2015, he was able to grab the attention of 1 million subscribers and in 2018 he succeeds to have over 8 million subscribers!
FaZe Rug celebrating when his videos crossed 1 billion views. Image Source: eCelebrity
FaZe, the YouTuber uploads some short vlogs every single day and gets over 2 million views within a day which should generate estimated revenue of $3000-$5000 dollars per day! It means FaZe adds over $1 million dollars annually on his net worth. Lucky boy!
A 2016 Range Rover and a Mansion
YouTuber FaZe, one of the directors of FaZe Clan owes a full equipped Range Rover 2016 since May 2016 which worth $70k-$90k. Along with it he also owes Mercedes SUV and Lamborghini with which he is seen posing frequently in his Instagram where he has been able to collect over 2 million followers.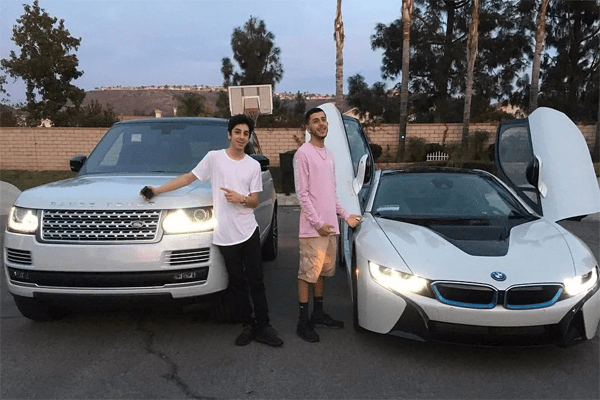 FaZe Rug with his brother Brandon Awadis along with his Lamborghini and Range Rover. Image Source: Pinterest
The handsome YouTuber FaZe Rug is living in a well-furnished Mansion along with his father, mother, brother and two pugs. His whole family is engaged in YouTube collecting a huge amount of net worth and seen frequently in FaZe's prank videos.
Apart from YouTube videos, FaZe also has a website from which he sells various accessories like hoodies, pants, t-shirts which adds an extra amount to his huge net worth.
Expensive Holidays
The million dollars worth YouTuber keeps on visiting different countries around the world during his holidays. Recently, on February 9, 2018, he went to Dubai spending $15k for his airplane seat about which he has uploaded a video in his YouTube channel.

The young YouTuber is often mistaken with the name FaZe Banks.
Visit SuperbHub for more celebrity News and Entertainment.