South Korean actor Yoo Seung-ho is making waves in the acting industry. Having headlined movies like the Magician, The Emporer: Owner of the Mask, and Seondal: The Man Who Sells the River, his career is at an all-time high. Along with his success on the big screen, his personal life in the limelight with rumors of his girlfriend being Kim So-hyun.
Kim So-hyun is also a South Korean actor known for her roles in Radio Romance, The Emporer: Owner of the Mask, amongst others. Kim and Yoo reportedly started dating each other after they appeared in the movie The Emporer: Owner of the Mask in 2017.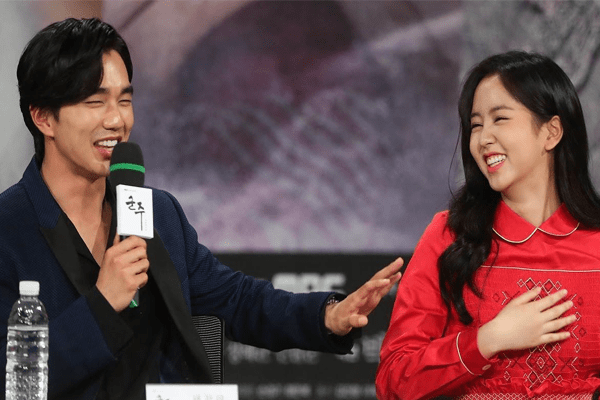 Yoo Seung-ho and rumored couple Kim So together. They are rumored couple.
The movie showed that Kim and Yoo have incredible chemistry together. And that chemistry seems to have translated into real life as they appear very comfortable with each other when giving interviews or making a public appearance together. This has further fueled rumors that the two are dating each other.
Relationship and Dating
While promoting their movie, Yoo Seung-ho, Kim So-hyun and fellow actor Bae Roo Yam did a live stream answering fan questions. Fans asked both the couple who their ideal types were. Kim was interested to know the ideal type of Yoo as well and Yoo replied it was Kim herself.

This led to a shy laugh from both of them. Kim too said that Yoo is her ideal type leading to more blushing from the two.  Bae Yoo Ram cheekily told them to start dating each other.
Even Kim and Yoo admit that they are perfect for each other. This could mean that they are already dating each other, as the blushes didn't stop while answering those questions. We certainly would want that as they look lovely together.
Yoo and Kim Romancing and Kissing
As part of the movie The Emporer: Owner of the Mask, Yoo and Kim engaged in a steamy kiss. The kiss looked so natural that people speculated it was a real kiss. This further added fuel to the already burning fire of Yoo and Kim's love story.
People raised concerns as well because Kim was a "minor" (only 17 years old) during the movie. Yoo even said that he felt like a criminal kissing her in the movie. If their dating rumors are indeed true, he surely won't mind doing it again, or multiple times for that matter (just saying).
For more news, biography and entertainment, visit Superbhub.