NO! YBN (Young Boss Niggaz) member Nahmir is not dead. He is still alive and entertaining R&B music lovers. In early 2018, the fake news about YBN Nahmir's death was aired. Many people still believe that he is dead.
The 19-year old Rapper Nick Santana aka YBN Nahmir is famous for singing "Rubbin Off The Paint." 
YBN Nahmir Death Hoax About
Rapper Nick Santana also known as YBN Nahmir was reported to be passed away in hospital. In the news is was told that the Alabama rapper was being shot in a massive shootout with Los Santos Police Department. According to the news, Nahmir was immediately rushed to the hospital after being shot in the stomach.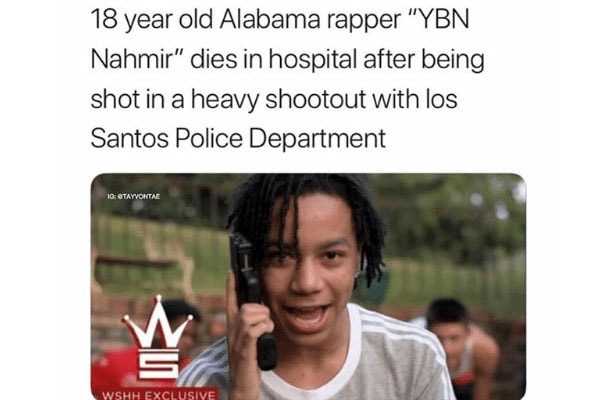 YBN Nahmir was reported to be dead in a hospital after a shoot out with police. picture source: Complex's Twitter.
It was also reported that YBN Nahmir was in very critical condition after getting shot. Everyone close to Nahmir was shocked and furious of his death. But the whole thing came to be a joke and prank. The website Channel 24 News which wrote about the end of the rapper was found to be a  prank site which intended ti just for fun.
YBN Nahmir Still Rocking Stage
The Alabama rapper started to get lots of message and sympathy after the news was aired. He even received a message from different rappers. After that, YBN Nahmir went on to Twitter and tweeted sarcastically that he is dead with two laughing emojis.
Rapper YBN Nahmir humorously confirmed that he isn't dead yet through Twitter to all the fans. However, the hoax news helped his fame and popularity to rise a lot.
For the time being, YBN Nahmir is now focused on his career. He is attending concerts and shows in different places with his rap group YBN. He is also famous for wearing luxurious jewelry.
View this post on Instagram
YBN Nahmir is active on social media like Twitter and Instagram. He has got more than 4.1 million followers on Instagram and 146K followers on Twitter. He often posts pictures and lets his fans of his daily and personal life.
SuperbHub for more News and Entertainment