Young rappers are known for their outrageous act for uniqueness. Besides these bizarre choices of fashion, these people are very talented young men.
Among those who pull off such flamboyant acts is the very beloved and talented rapper, Michael Lamar White IV aka Trippie Redd. Starting his career since 2017, he has managed to win gazillion hearts with his rap and soulful lyrics.
Life's A Trip Thus, Trippie Tripped On Shark Teeth
There's this saying "Go Big or Go Home," and rappers have taken it to their heart. Among their amazing accessories, they feel the need to alter their looks through tattoos and a signature style.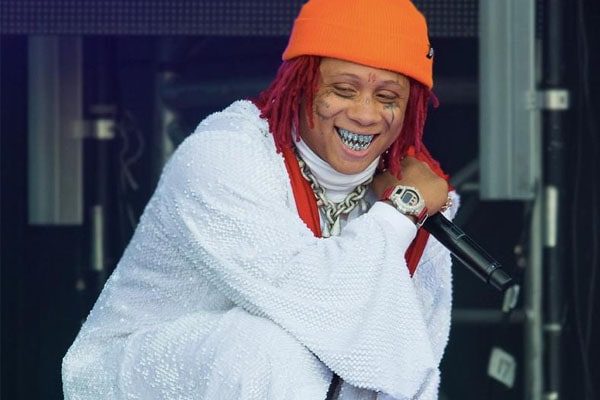 The sensational rapper, Trippie Redd came out in the crowd with shark teeth. Image Source: Hype Beast. 
A very young yet talented rapper, Trippie Redd decided to join the hip-hop world and it's a bizarre yet fun sense of fashion and uniqueness. "Life's A Trip" singer Trippie earned well from the record sales and thus decided to get his teeth drilled. Furthermore, he boycotted the traditional and opted for a spiky and intriguing look.
The extraordinary Blue Diamond Fang grill screams $50,000. Johnny Dang designed the grill and it consists of VVS blue diamond, 10-carat white gold diamonds and a set of white diamonds that make up the number 14.
View this post on Instagram
Furthermore, Redd believes that the choices one is making and doing, it's letting people know who you are and pave the way accordingly. Thus, in an interview, he revealed that his mother randomly calls him and reminds him to brush his teeth.
Along with Trippie, rappers like Drake, Lil Wayne, Kanye West, Niki Minaj, Jay Z rock the grill look. Likewise, rapper Riff Raff also has a shark grill similar to Redd.
Youths are intrigued by the new look, Trippie Redd has managed to pull off. Hence, are looking for ways to keep their hands on such extravagant good and are looking for good deals online. Few commercial sites such as Amazon have put dupe/look-alike of Redd's vampire grills up for sale on its site for few dollars.
Trippie's Crash Bandicoot Inspired Necklace
Moreover, Redd was also featured in  XXXTentacion's song, "F**k Love," and has a unique way of immortalizing his favorite video game character. Before the crazy grill, he had blessed his jewelry collection with Crash Bandicoot-inspired choker style necklace.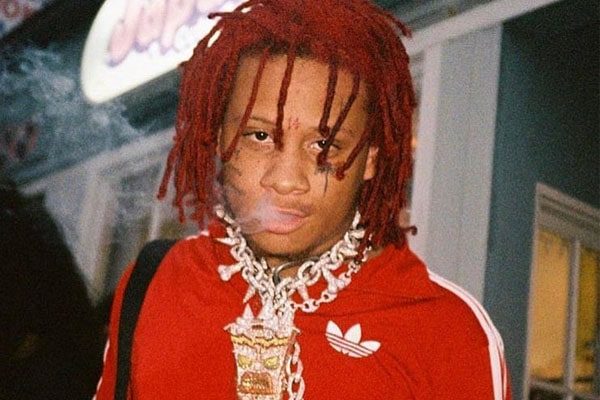 Trippie Redd's necklace exhilarates his love for the classic video game, Crash Bandicoot. Image Source: Pinterest. 
The necklace was crafted by AB Golds which is the replica of the mask of UKA UKA mask from the video game. The art piece cost him anywhere from $400,000-$500,000 USD. These are just two pieces out of many unique pieces in Trippie's jewelry box. All of them are different and possess meaning in his life and reflects his personality. Thus, respect to the man.
Career Background
Born on June 18, 1999, Redd grew up in Canton along with his siblings who were into music as well. His interest in music began while his mother played songs of Tupac, Beyonce, etc. Gradually, Trippie had his own musical tastes and listened to Nirvana, Gucci Mane, T-Pain, etc.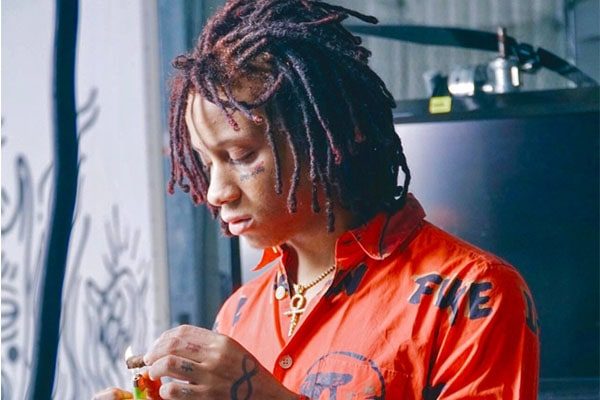 Trippie Redd is very passionate about music and aspires to become a huge name in the upcoming days. Image Source: Pinterest.
Following graduation, Trippie moved to Atlanta. Atlanta was a blessing in disguise for Redd as he met Lil Wop and was offered a deal with a record label. From his initial days to till date, Redd has managed to release many Eps and mixtapes. Counting Trippie's Eps and mixtapes, he has amassed a big crowd within a few years. Redd is also known for his facial tattoos and down-to-earth personality.
According to Celebrity Net Worth, Trippie Redd's net worth is $4 million. Therefore, it wouldn't hurt his bank account if he uses a few thousands for his accessories.
No matter what Trippie Redd decides to do with his teeth, or face to alter his image, he remembers to thank God and cherish his mother. Let's hope he keeps on hitting milestones and climb Billboard chart till the top.
Don't Miss To Follow SuperbHub For More Updates On Celebrity News, Entertainment, and Biography.