For the people who are wondering about Vin Scully's ex-wife, Joan Crawford, well, she died in 1972. Joan died almost 47 years ago and is still remembered as the ex-wife of Vin Scully.
Vincent Edward Scully is an American retired sportscaster born on 29th November of 1927. As of now, he is married to Sandra Hunt and has a child together.
Married Life Of Joan Crawford And Vin Scully
Late Joan Crawford and Vin Scully tied their wedding knot in 15th February of 1958. The lovely couple had three children together. The couple spent 14 years together fighting every obstacle on the way.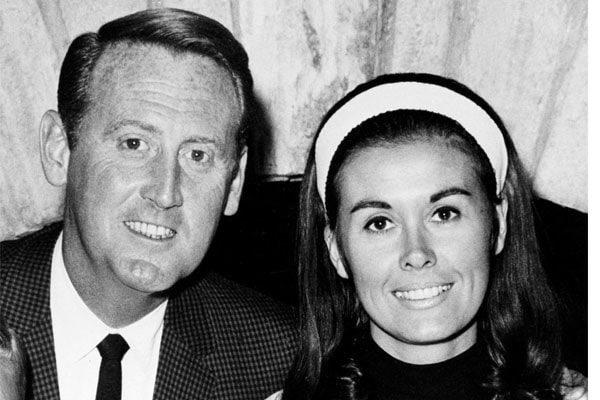 Vin Scully along with estranged wife Joan Crawford.Picture source: Santa Maria Times. 
However, the couple couldn't spend more time with each other because Joan Crawford died of an accidental medication overdose.
Vin Scully's Ex-Wife Joan Crawford Died at The Age Of 35
Joan Crawford and Vin Scully were living a happy and romantic life until she died on 26th January 0f 1972. It is reported that Joan Crawford died at the age of 35 due to an accidental medication overdose.
Vin Scully was so upset with the death of his wife. Unfortunately, Scully's eldest son Michael Scully also died in a Helicopter crash at the age of 33 while working for ARCO Transportation company. Although the death of son and ex-wife haunts him, Vin Scully is Roman Catholic and mentioned in many interviews that his faith in religion helped him to dive back into work and ease the burden from losing son and wife.
Vin Scully Is Married to Sandra Hunt.
After the death of Joan Crawford in 1972, Vin Scully got married to Sandra Hunt. They tied their wedding knot in 10th November of 1973. They are still together holding each other's hand. The couple is blessed with one child.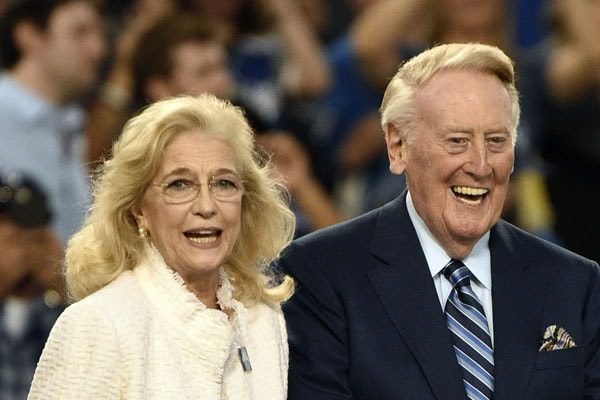 Vin Scully along with wife Sandra Hunt. Picture source: MLB Trade Rumors. 
Vin Scully's ex-wife Sandra Hunt was previously married to her estranged husband and had two children of her own. Vin Scully Subsequently became stepfather for Sandra Hunt's children from the previous relationship. He served as godfather for those children.
As of now, Ven Scully has sixteen grandchildren and three great-grandchildren. He is residing in Thousand Oaks, California along with his wife. He is also a member of St. Jude the Apostle Church in California.
SuperbHub for more News and Entertainment.