Politician Tulsi Gabbard was once married to a man named Eduardo Tamayo. They got married in 2002 and however, their marriage couldn't last long and got divorced in 2006.
Tulsi Gabbard's two years deployment to Iraq was the main reason behind their separation. For the time being, Tulsi is enjoying her life with current husband Abraham Williams.
Who is Tulsi Gabbard's Ex-Husband Eduardo Tamayo?
As Eduardo Tamayo stays away from the spotlight, there is not much information regarding his personal as well as professional life. However, it is reported that Eduardo Tamayo and Tusi Gabbard were childhood friends and later turned sweethearts.
According to some sources, Tulsi Gabbard's ex-husband, Eduardo Tamayo was self-employed. It is also reported that Eduardo has an Uncle who lives in the Philippines.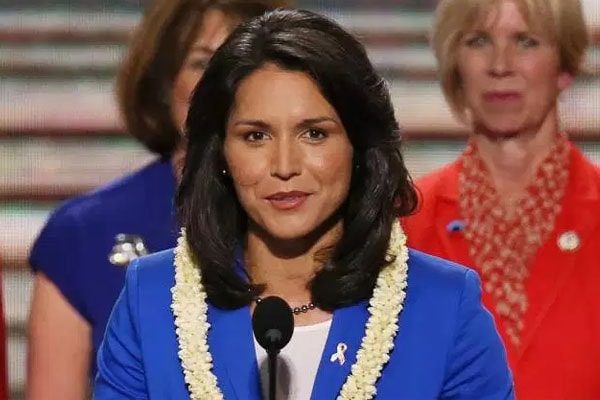 Tulsi Gabbard was previously married to her ex-husband Eduardo Tamayo. Picture source: Heavy. 
The Romantic Relationship Of Tulsi Gabbard and Eduardo Tamayo Before Split
Tulsi Gabbard described Eduardo as they were best friends and referred to their marriage as young love. She also mentioned that Eduardo's family was like her family.
Tulsi Gabbard and Eduardo Tamayo got married in 2004. The two got married before a justice of the peace when she was 21. Only a few family members and close friends were called in the wedding ceremony. She also stated that
I was more into martial arts than Barbie dolls, so it never crossed my mind to think about what kind of wedding I wanted to have.
Tulsi Gabbard and Eduardo Tamayo's Divorce
However, the relationship between Tulsi and Eduardo couldn't last long. The pair got divorced on 5th June of 2006. As Tulsi was in the Army, she was deployed to Iraq for two years which is considered as the main reason behind their divorce.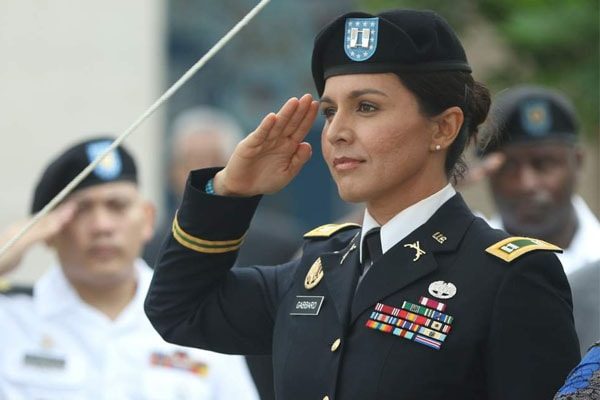 Tulsi Gabbard's two years deployment in Iraq is considered to be the reason for her divorce. Picture Source: Veterans Today. 
Gabbard's long deployment to Iraq was too much for her husband. The couple had to separate after she returned from Iraq. She said that her deployment was too hard for him. Sadly, Eduardo and Gibbard became another statistics and another sad story.
Even after the divorce, childhood sweethearts are still friends. Tulsi stated that even after the divorce she had kept the Tamayo name with a hope that they could reconcile in the future. But unfortunately, it didn't happen. What came out good is that Tulsi and Eduardo still share a friendly relationship and the Tamayo family still continues to welcome her as one of their own.
As of now, Tulsi Gabbard is living happily with her new husband Abraham Williams.
SuperbHub for more News and Entertainment.