Celebrity Gay couples are getting a lot of popularity nowadays. They are in news all over. They love, live together and are getting happily married. This is really exciting and sweet. Today we are going to explore the sweet relationship between new celebrity gay couple in Hollywood, Troye Sivan and his boyfriend Jacob Bixenman. 
Sivan, (younger Hugh Jackman in X-men Origins: Wolverine) first exposed his parents that he is gay when he was 15. He said:
"This is not something that I'm ashamed of", "and it's not something that anyone should have to be ashamed of."
Very true indeed! So, when did he went public about his relationship? When and how did they meet? Is Troye Sivan's boyfriend Jacob, his first love?
Troye Sivan's Relationship with Boyfriend Jacob Bixenman
The couple went public about their relationship in 2016. According to Your Tango, Sivan announced to media about his boyfriend Jacob Bixenman at MTV Video Awards. The show was held at Madison Square Garden on Sunday, August 28, 2016, in New York City.
Former Australian model turned actor Sivan and his boyfriend Bixenman were then spotted together on backstage at the VMA's (Tracob) in MTV Video Awards. They are seen holding hands and walking together in the backstage.

The couple's fans have commented them as one of the hottest couples.
Simone Biles, an Olympic winner American artistic gymnast, also clicked a cute selfie with the couple in the event. Biles then went on Snap chat and blessed the new couple with the selfie.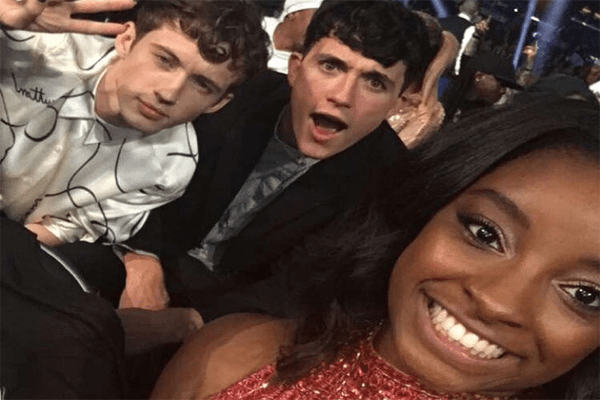 Troye Sivan and Bixenman cute selfie with Simone Biles
Image source: Just Jared Jr
After publicly announcing their relationship, Sivan and Bixenman are spotted with each other often. The side singer was in high spirits with boyfriend Jacob as they stepped out for a casual stroll in New York.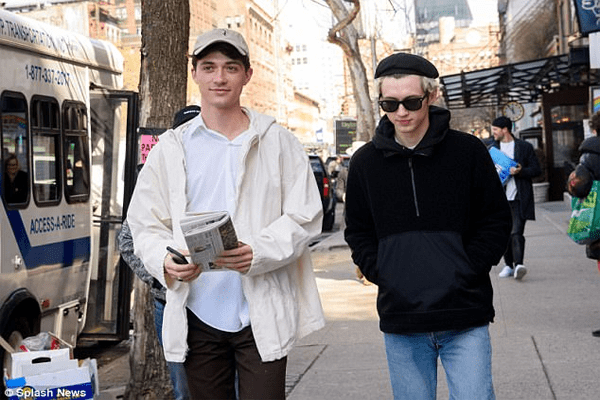 Sivan with boyfriend Jacob Bixenman after greeting his excited fans in New York.
Image source: Dailymail
Before his relation with Bixenman, Troye was linked with Connor Franta, who is an American YouTuber star. Recently he is working as a YouTuber with the channel name ConnorFranta. The Channel has over 5 million subscribers.
Hollywood Gay Couple's Adorable Moments
The couple is known to have first met each other in the Sivan's concert in Australia that held in 2016. Bixenman is a male model hailing from California. He is a real brain-box, who is studying English as a major in Southern California University.
It's amazing to see how Bixenman and Sivan enjoy each other's company. The couple has many adorable and cute moments together.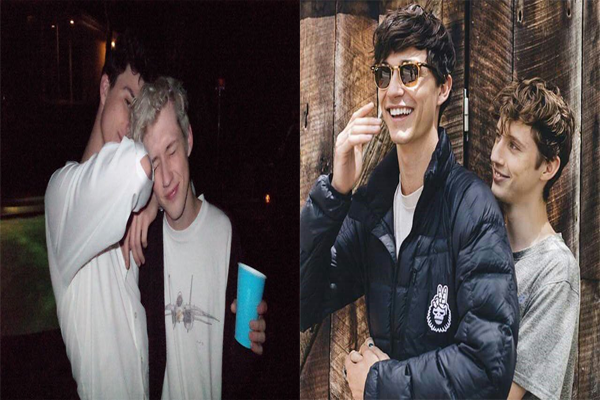 Troye Sivan's boyfriend Jacob hugging Sivan: Cute Adorable moments in 2017
Image source: Pinterest
Their pictures show that they immensely love and care each other. The gay couple is proud to have each other in their life.
The couple is open about their relationship and doesn't keep any information out of media.
Just look at them. It shows how much they are into each other. The lovey-dovey couple looks adorable in their funny faces.
Troye Sivan and Bixenman in Kiss
YouTube Star, Sivan debuted his emotional new music video for his song Heaven. Luke Gilford directed the video.

The video released to coincide with the upcoming inauguration of Donald Trump. Besides, their fans also couldn't take their eyes off the steamy shirtless scenes between Sivan and video model, his boyfriend, Jacob Bixenman.
Though Troye Sivan's boyfriend's identity is obscured in the video, it's not hard to guess that it's him.
It's really amazing to see the cute couple to be so much in love. We wish to see them married soon on their perfect wedding attires exchanging vows. They would make a happy married couple.
Mini Bio: Troye Sivan and his Boyfriend
Troye Sivan, born on June 5, 1995, in Johannesburg, South Africa. He is the actor who played the younger version of the titular character in the year 2009, X-Men. Sivan also starred as the title character in the Spud film trilogy.
Later, Time named Sivan as one of the "25 Most Influential Teens of 2014", in October 2014. He is the member of YouTube Stars.
Bixenman was born on 27 May 2017, 1994, who is an American nationality, best known for dating Troye Sivan.
He got signed by the Ford Models, responsible for some of the world's biggest stars including Lana Del Ray, Lindsay Lohan, and Amber Rose. His name has enlisted in the Vman article named "6 New Models to Watch Out for at NYFW Men's Spring 2017."
For more updates about the couple Troye Sivan and Jacob Bixenman relationship, stay connected with SuperbHub.