Erika Jayne is the famous name in Hollywood and has amassed 1.5 million followers on her Instagram and is the face of The Real Housewife of Beverly Hills. The XXPEN$IVE star has paved her path to Stardom by working as a Cocktail Waitress to being a $5 million superstar. Jayne has been a single mom to son Thomas Zizzo and a respectable wife to attorney Thomas Girardi.
Although Erika Jayne's son Tommy Zizzo has been kept out of the limelight there are some images and information about him. Erika Jayne's son Tommy is an LAPD officer and she had said that he lives with her and will remain off camera. Though Erika is very tight-lipped about her police officer son Tommy, she revealed that he lives with her and her husband Tom Girardi in Pasadena.
Erika Jayne's Son Tommy Zizzo
Erika was 20 when she gave birth to her son Tommy Zizzo with her then-husband Thomas Zizzo. Erika and her then-husband Thomas had married in December 2991 at St. Patrick's Cathedral. Many people might get confused in the name Tommy but it's true that Erika has three Tommy in her life.
Tommy Zizzo, Erika Jayne's only son with her ex-husband Thomas Zizzo is now LAPD officer.
So Erika and her then Husband Tommy had split when her son Tom was 18 months old. Following her split, Erika had moved back with her mother in New York and decided to move to Los Angeles in the pursuit of success in showbiz leaving her son Tommy in New York.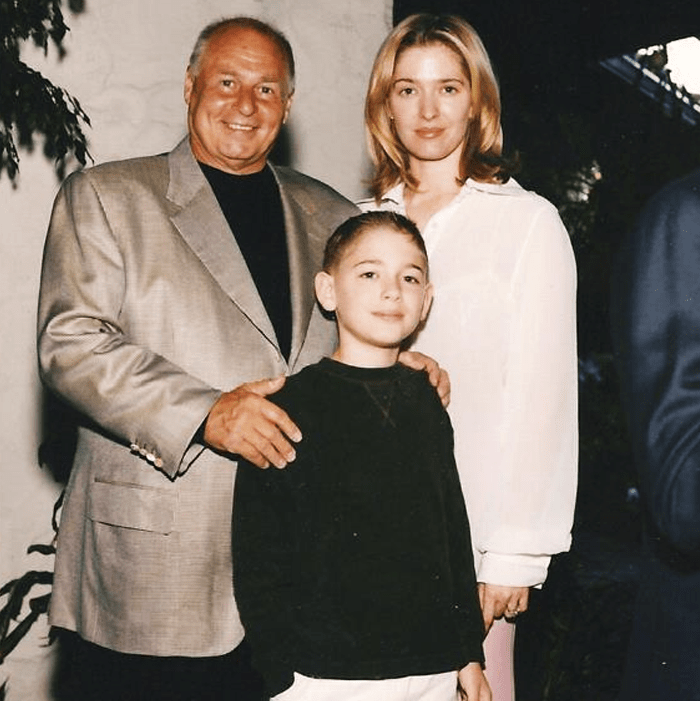 Erika Jayne's Son Thomas Zizzo and her Attorney husband Tom Girardi.
Image Source: Skandinavisk Men 
Author of Pretty Mess Erika writes in her book that she was always responsible with her son and had kept him as her first priority.  Erika Jayne's Son Tommy Zizzo used to spend summers, spring breaks, Christmas and Thanksgiving with his mother and Erika used to make sure that she never missed any important moments of his life.
Erika  Jayne's second husband Thomas Girardi, well known as  LA attorney Tom Girardi accepted Tommy Girardi as his own son.
Erika used to fly back to Jayne's second husband New York from Los Angeles every seven to ten days. Despite Tommy's school was far on east she never missed any teacher conference, school play, and graduations. Erika used to be in every moment her son Tommy needed her most despite the distance they had. Erika Jayne's son Tommy eventually moved to Los Angeles with her to pursue his dream of becoming a police officer.
Also See: Erika Jayne Girardi Net Worth
Jersey City P.A.L tweet on November 10, 2014, congratulating  Erika Jayne's son Tommy Zizzo on graduating from the Academy. 
Speaking to Bravo TV Erika says that she finds it weird about people being interested in her son Tommy Zizzo and stated her son is a police officer and lives with her and will remain off camera. Erika loves to have her son Tommy live with her and jokes that he is a free security.
Jayne worries about her son Tommy because of his profession in Law Enforcement and she feels assured to have him on her home near her. Erika feels nice to hear her son Tommy come home from duty and see his car in the driveway. It's a mothers nature to sleep better at night after knowing where their child is, Erika likewise has the same feeling.
For more Celebrity News and Entertainment: SuperbHub.