Do we not remember the witty basketball player, Latrell Spencer, who fell in love with Marcus? The legendary movie, White Chicks' star Terry Crews, is an amazing actor and former NFL player. The multi-talented man is able to embark his name in the history of the entertainment industry. The continuous hustle and dedication have led Terry Crews' net worth to be at $20 million.
Terry Crews' income has evolved from $8 per hour from sweeping floor to a professional football player to a talented actor. As of now, Terry is living in comfort with his wife, Rebecca King-Crews, and five children. Let's know more about the Brooklyn Nine-Nine star, Terry Crews.
Net Worth and Earnings
Aforementioned, the Deadpool 2 star, Terry Crews' net worth is $20 million. He earns from his extensive career. Crews literally rose from sweeping floor to an NFL player and turning his whole career into Hollywood stardom. Therefore, the multimillionaire's career as a footballer, host, actor, and many more have helped him in amassing his fortune.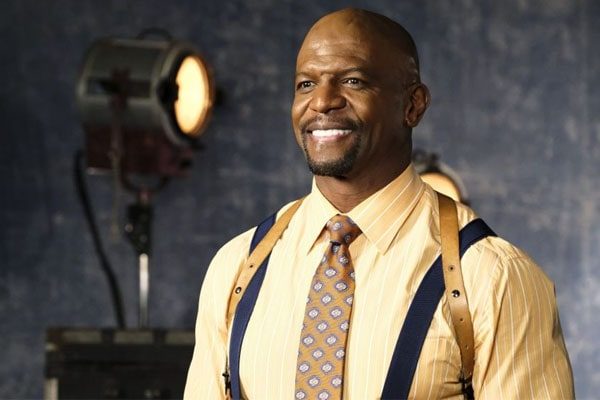 Brooklyn Nine-Nine star, Terry Crews' net worth is rising with his career. Image Source: Trae Patton. 
American Got Talent's host, Terry Crews, played 32 games throughout his NFL career. The minimum annual salary for a rookie with a year of the contract is $480,000. The payment would vary with experience. Therefore, within his six years of career, Terry Crews' fortune had already hiked.
After retiring from his career as an NFL footballer in 1997, he moved to Los Angeles to pursue his career in acting. Terry has almost 90 movie credits in his name and has managed to gross fortune from his acting career. He has appeared in numerous commercially successful movies like White Chicks, Terminator Salvation,  and many more. Few of the blockbuster movies are mentioned below.
| Movie | Budget | Box Office Collection | IMDB Rating |
| --- | --- | --- | --- |
| White Chicks | $37 million | $113.1 million | 5.6 |
| Scary Movie 5 | $20 million | $78.5 million | 3.5 |
| Deadpool 2 | $110 million | $785 million | 7.7 |
| Blended | $40 million | $128 million | 6.5 |
| Get Smart | $80 million | $230.7 million | 6.5 |
Well, Terry has not just lent his handsome face in movies but also has done several TV series. Some of the famous Tv series he starred in is Everybody Hates Chris, Are We There Yet?, The Family Crews, Who Wants to Be a Millionaire? , Ultimate Beastmaster, and many more. 
Not Just An Actor
The infamous Terry Crews is not just famous for his hilarious dialogues in movies but also is known for some video games such as Crackdown 3, Saints Row IV, & The Expendables 2. All these video games credit must have added considerable fortune in his name.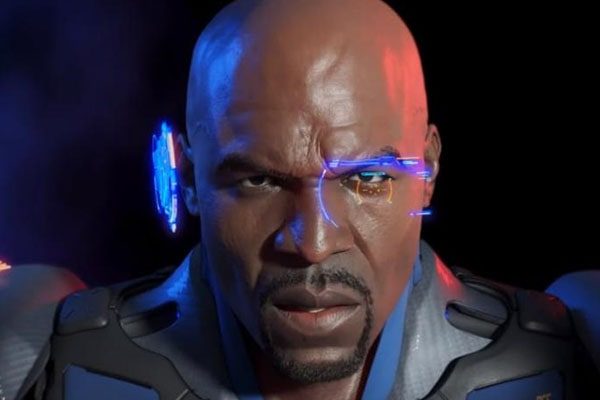 Terry Crews' source of income also includes his voiceover career. Image Source: Den Of Geek.
Similarly, Terry has also showcased his talent as a host in multiple series of America Got Talent from 2019 to 2020. The per-episode payment must have paid him enough to afford yet another luxury car.
Before being a celebrated actor in Hollywood, Terry Crews' first job in the industry was a courtroom sketch artist in Flint, Michigan. Today, he is a co-founder of design company Amen&Amen, with fashion designer Nana Boateng. The company is working fine and is also aiding in Terry Crews' assets.
Moreover, Terry published his autobiography called "Manhood: How to Be a Better Man or Just Live with One " in 2014.  The book costs $19.18 in Amazon and has helped in Terry Crews' income.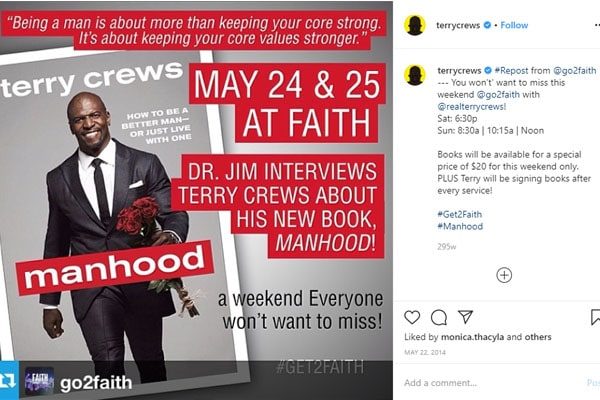 Terry Crews' published his autobiography, inspiring thousands of youths. Image Source: Instagram.
The multiple careers Terry has adapted has helped him earn a big fortune in his name.  Similarly, he makes money from voice over work and product endorsements. The actor's voiceover work includes film Cloudy with a Chance of Meatballs 2, Ultimate Spider-Man video game, VeggieTales: Celery Night Fever, an upcoming movie, The Willoughbys, S.M.A.S.H., American Dad, and many more.  
Likewise, Crews is best known for his role in Old Spice commercials. He has also appeared in Toyota Super Bowl. All these voiceovers and commercials Crews has done, has earned him a lot and thanks to that Terry Crews' worth is in millions.
Terry Crews' Man Cave in L.A
Terry's net worth has arisen to multi-million dollars, which allows him to live a comfortable life. He owns a home in Santa Clarita, California, where he lives with his family. Behind the brawn, and laughs is a renaissance man from Flint, Michigan, who has an indisputable sense of style and love for art.
Terry Crews' house in L.A. is no less than the piece of art; every section in the loft is carefully designed, articulated, and placed perfectly. He is a huge design buff, and that loft reflects it.
When Terry is not hanging out with his wife and family, Terry is found in this open loft in downtown L.A. The loft offers a hallucinatory from 30 stories above the city, which also brags his love for Star-Wars. His passion for craftsmanship and music is also evident in the loft.
Terry Crews, with his talent, hard work, and dedication has made him one of the most respected talents in the industry.  Crews does not just earn and add to his already vast property, instead, he has been very active when it comes to giving love back to society and has made numerous acts of kindness.
Let's hope the multi-talented man keeps up the excellent work, welcomes more fortune and prosperity in his life.
Dont's Miss To Follow SuperbHub For More Updates On Celebrity News, Entertainment, and Biography.