The reality show, The Real Housewives of New Jersey, has made a lot of social impact on society. The name Teresa Giudice always comes in mind when someone says something related to RHONJ.
Teresa Giudice is a reality television personality, entrepreneur, and chef. She is widely famous for her unquestionable attractiveness. Teresa Giudice's net worth is -$11 million and in debt. If you want to know how her net worth is in minus then keep on scrolling.
Teresa Filed For Bankruptcy
Teresa Giudice and her husband Joe Giudice filed for bankruptcy in 2011. They claimed their debt to be more than $11 million. On July 30, 2013, they were charged with 39 counts of conspiracy to commit bank fraud, mail fraud, bankruptcy fraud, wire fraud, and also for making false statements on bank loan applications.
Teresa Guidice and her husband Joe Giudice filed for bankruptcy in 2011. Photo Source: Getty Images.
After the incident, Joe Giudice was sentenced for 41-months imprisonment. Similarly, Teresa also served for 15 months in prison.
Recently, the duo of Teresa and Joe got split on December 17, 2019, after being together for more than 20 years. They share four beautiful daughters Gia Giudice, Milania Giudice, Gabriella Giudice, and Audriana Giudice.
Net Worth and Earnings
Previously mentioned, Teresa Giudice's net worth is estimated at -$11 million. And talking about her sources of income, Teresa primarily earns from her fashion line and secondarily earns from her acting career, from her cookbooks and also from different brand endorsements.
View this post on Instagram
Teresa Giudice has many earnings sources. Let's explore how Teresa cumulates her wealth.
Earnings From Fashion Line
Teresa Giudice owns a jewelry line and also a fashion and accessories line named TG Fabulicious. TG Fabulicious produces baseball caps to beautiful jewelry necklaces.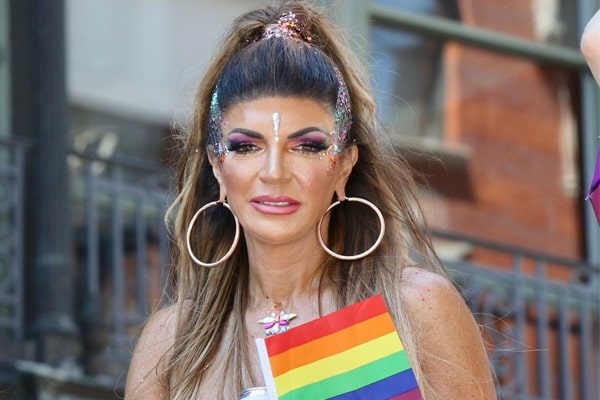 Teresa Giudice is the owner of TG Fabulicious. Photo Credit: Getty Images.
Furthermore, she has also done a partnership with a famous online shopping site called Bella Brow.
Cash From Being An Author
Whenever people don't know how to cook something, they learn it from the cookbook. Teresa Giudice is the author of four cookbooks, which became New York Times bestseller cookbooks. Also, she has published two other books.
Teresa Giudice has published six books to date altogether. Photo Credit: Amazon.
The list of some 0f her cookbooks, as well as other books with their respective prices, are given below:
| Title | Kindle(Price) | Paperback(Price) |
| --- | --- | --- |
| Fabulicious!: On the Grill | $6.05 | $18.75 |
| Fabulicious!: Fast & Fit | $10.69 | $10.88 |
| Skinny Italian | $26.75 | $18.90 |
| Turning the Tables | $9.49 | $9.99 |
| Standing Strong | $9.22 | $9.71 |
Undoubtedly, the talented author earns a huge amount of money from the sales of her books.
Income From Other Sources
As Teresa is famous for being a television personality, she must have earned a remarkable amount of money from being featured in several shows. Teresa has been featured in projects such as The Insider, The View, Today, The Apprentice, and many more.
Furthermore, she also gathers some of the money from different brand endorsements. Teresa has done endorsements for brands such as Pearl Brite, Hand MD, 310 Nutrition Retro, Teami Blends, Fitness Industry Salon, and many others.
Likewise, Teresa has been featured on the cover of world top magazines like Life & Style, In Touch, People,  U.S. Weekly, People, and OK Magazine.
Charitable Works
Teresa Giudice is one of the light-hearted celebrities who is involved in charity. In 2012, Teresa raised $70K for charity, The NephCure Foundation. She is also involved in the Project Ladybug, founded by her castmate Dina Manzo.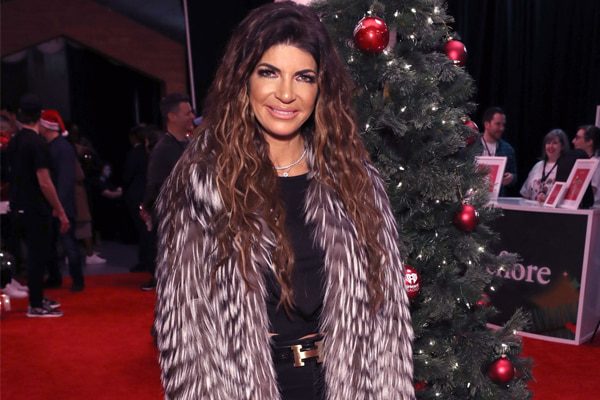 Teresa Giudice often works for the charity organization. Image Source: Getty Images.
The gorgeous Teresa also helped the charity foundation named Paws4You for raising more than $100K.
Well, we are sure that with lots of income sources, Teresa Giudice will be able to make her negative net worth to positive one day.
Make Sure To Follow SuperbHub For More Updates On Celebrity News, Biography, and Entertainment, and many more.