When asked of love, very few people can turn to their partner and proudly say that this person right next to me is love. While many, including Google, defines it as a set of complicated emotions, beliefs, and many more. In this generation, love is confined in emoticon. But what's the most precise definition of love for the majority of us is trust.
But the betrayal brings you down 5000 miles per second, and your heart starts to feel numb. Tasha Smith, an American actress, must have gone through the same whirlwind of emotions when she divorced her husband of five years, Keith Douglas. Let's find out who is Tasha Smith's ex-husband, Keith, and what made them part their ways.
Who Is Tasha Smith's Ex-Husband?
Tasha Smith is a gorgeous woman and a very talented actress, director, and producer. She started her career from the NBC comedy series Boston Common. Moreover, her breakthrough led to numerous movies and television series. Furthermore, Tasha Smith's ex-husband, Keith Douglas, aka Rory "Keith" Douglas, is a manager and producer known for Exhale, Boxed in, and Good Day in L.A. 
Tasha Smith's ex-partner is a faithful man who believes in God and served his family and community. Well, that's at least what he portrayed to be. Furthermore, he served as the CEO/Chairman of RKD Music and Talent Management. Likewise, Tasha Smith's ex-husband was her business partner as well as they were involved in business ventures such as organic perfume, "US" in 2011.
Scandalous Marriage
Tasha Smith married her ex-boyfriend in December 2010. The couple tied their knots after a few months of being together. Tasha Smith's husband made several notable appearances alongside her, as he was her manager as well. The former couple looked pretty good and happy together.
However, Tasha Smith's happiness was shattered within a few years of marriage. In 2014, the "Why Did I Get Married?" star, Tasha, requested a restraining order against Douglas. And Smith's ex-partner was married to two of his wives at the same time and did not tell her.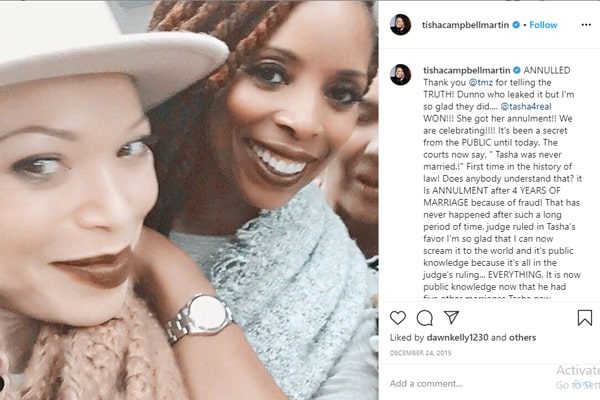 Tasha Smith's friend, Trisha Campbell-Martin, always had her back. Image Source: Trisha's Instagram. 
Moreover, she found out that Keith had married a couple of months before he started dating Tasha. Disgusting. The final divorce was filed in March 2015. Smith alleged that her former partner was not the man who he presented himself during their courtship. Furthermore, the testimony about Douglas's background included five marriages, multiple children, and non-payment of taxes for ten years.
Thankfully, the judge in the case granted an annulment of the marriage in December 2015 based on deceit committed by Keith Douglas.
Super Messy Divorce
Trusting, being vulnerable, and sharing a roof with someone is a part of building a home with two limbs, loving eyes, and a friendly smile. Although it takes years to make the house, it takes seconds to destroy it. Similar wreckage occurred in the Couples Retreat star, Tasha Smith, as she went through a very exhausting divorce.
Although Tasha's marriage was annulled, in December, she had experienced financial wrath as she was ordered to pay her ex-husband, Keith Douglas, $7,000 per month as spousal support and $50,000 following their dysfunctional divorce. The man who accused Tasha of being gay and having extra-marital affairs with other women had a different face of him.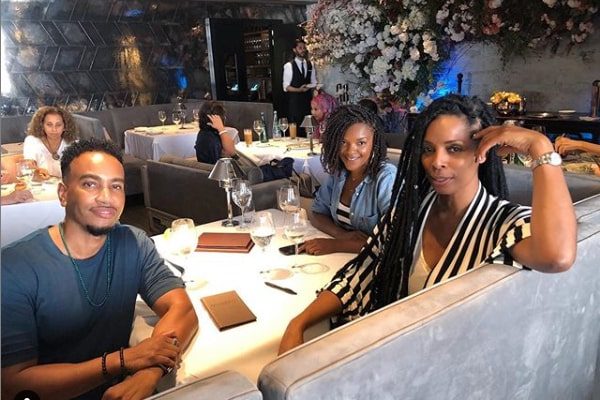 With the support of great friends and families, Tasha Smith overcame her messy divorce. Image Source: Tasha's Instagram. 
However, there were more dramas between the two. Tasha Smith's ex-husband, Keith Douglas' response to the marriage annulment, was nasty. His duel personality was confirmed when he tweeted of being grateful to God for being the final judgment while his awful allegations towards Smith was disgraceful. He tweeted that Tasha lived her life 'recklessly, and drugs, disease, and a destroyed reproductive system' ruined her emotions.
Time passes by, so did Tasha Smith's misery. Let's hope everything wraps up in a good note, and she finds on fly-man who can make her happier than she is today. Plus, some sources suggest that Tasha is dating Michael K. Williams
Nevertheless, solitary is not bad either, What do you think?
Don't Miss To Follow SuperbHub For More Updates On Celebrity Entertainment, Biography, and News.