Tamra Judge is an incredibly talented woman who rose to fame through the reality tv show,  Real Housewives of Orange County. Well, people have ups and downs in their lives or more particularly indulge in relationship issues. So did the RHOC star, Tamra.
Today, people are hungry for controversies, feuds, and therefore feed on talks easily. A similar thing occurred when Tamra Judge's ex-husband, Darren Vieth, decided to challenge her to a lie-detecting test after she called him a lier. Curious what happened between Tamra Judge and her ex-husband, Darren Vieth?
In that case, let's dig right in.
Before Getting Right Into The Topic…
Let's have a little background check before getting into the main agenda. Tamra Judge and Darren Vieth were an adorable couple who shared their vows on 11 May 1985 in front of their friends and family. The couple got married in their teens and conceived their first child at the age of 17.
Since both the partners were pretty immature and financially unstable, the divorce was bound to happen. According to Bravo TV, the RHOC star birthed her son, Ryan Vieth, at the age of 18. Again, to note, since Ryan was their first child, the couple found it hard to manage their marriage. Thus, the inevitable separation happened after a year of Ryan's birth.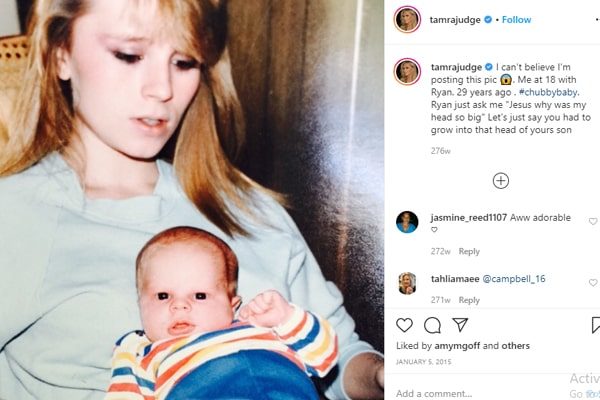 Tamra Judge was just 18 years old when she gave birth to her first child, Ryan Vieth. Image Source: Tamra Judge's Instagram. 
Tamra reminisced her attempt of financial viability, having to work six days a week, leaving her beloved son at her mom's place. The relationship had a bitter end as the happy woman once attempted suicide, which started all the feuds we are about to talk below.
What Happened Between Tamra Judge And Ex-Husband, Darren Vieth?
Well, life is not all about your plans, as it hits hard on your head to show your stupid life choices. We often talk about having the right person in one's life help you grow personally, but what if you end up with the person you shouldn't have had or met in a worse timing? That's precisely what happened in reality tv veteran, Tamra Judge's first marriage.
Tamra Judge and her first husband, Darren Vieth, separated after five years of relationship and a son. The divorce was too harsh on Tamra as she described on the Bravo TV and attempted her first suicide, overdosing on pills and Nyquil.
While Tamra told her viewers her ex-husband was a bad father, Darren had a different story to put forth for the world. Darren revealed that Tamra lied, and the marriage broke because she was cheating on him.
The drama became more scandalous as Tamra tweeted that Darren cheated on her with a man. Darren's response to the tweet was that he would sue her for the false accusations. Since both the ex-partners had sharp tongues, they sure clashed, and Darren even said that his ex-wife enjoyed the drama. Furthermore, Judge's ex-husband also told that Tamra usually tells the half tale, and that time was no exception.
Funny how being a celebrity changes the method of one's domestic matter.
Tamra Judge's First Husband Further Clarified…
The ex-couple backfired one another, and Tamra lashed back at him if he came out for money and whatnot. However, in an exclusive interview with the Radar, Darren refused the accusations. He further clarified that came forward because of Tamra was defaming him and blamed him for her suicide attempt.
Tamra Judge's baby-father continued to explain that he never talked about his relationship with Tamra. He simply wanted to have a relationship with his son, Ryan, who hasn't spoken to him for years. Things do not stop here! Oh, no! No! No! Darren Vieth went on to challenge his ex-wife to take a polygraph on all the facts so that "the truthful version" could be proved.
Interesting, isn't it? What's more interesting is that although Darren had sole physical custody of their son, Ryan, he went on to live with Tamra and her second husband, Simon Barney.
Tamra Judge's Son Stood Up For His Mother
Tamra Judge's son, Ryan Vieth, also entered the never-ending family feud. Ryan's response to Darren's allegations was straightforward. According to the Wetpaint, he revealed that he is not close with his biological father whatsoever.
View this post on Instagram
Ryan further continued to say that he keeps a distance from his father for many reasons. Likewise, he also continues that he is flabbergasted of his sudden attempt at portraying himself as a good father. Ryan backs-up his mother's decision to give up his custody, addressing her financial condition at the time. How sweet is the mother-son bond?
Well, fame is not that greater than a family matter, but accidentally, Tamra Judge's leaked one by one. Although the feud silenced itself, did Tamra take the polygraph test for real?
Don't Miss To Follow SuperbHub For More Updates On Celebrity Entertainment, Biography, and News.