The talented Slayer guitarist, Kerry King is not only known for his guitar skills, but also for his amazing tattoos. His tattoos speak as loud as his guitars. He is one of the people to have gained fame for having extraordinary tattoos.
Not just Kerry, his wife Ayesha King is also a tattoo enthusiast and has got many tattoos herself.
Leaf Man
Kerry King has a leaf man tattoo on the back of his head. The tattoo was inked by the popular tattoo artist, Paul Booth. Apparently, the tattoo took around 4 hours to complete and the leaf man seems to be named Chronos.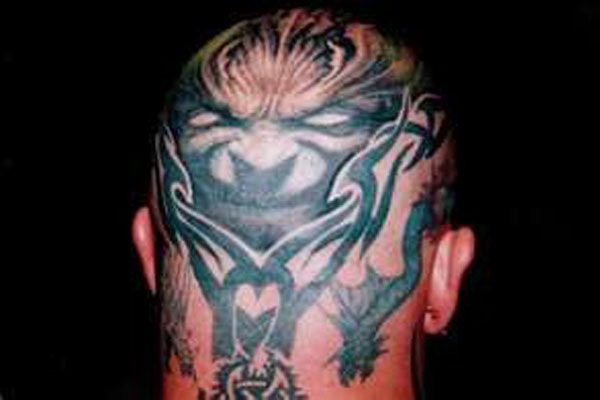 Kerry King's favorite tattoo is in the back of his head. Image Source: Pinterest

Leaf Man is one of the favourite tattoos of Kerry King, the one he can't see himself. The leaf man stares at people who are behind Kerry, adding to his already intimidating looks.
Slayer Eagle
Slayer Eagle is the first tattoo of Kerry King. He got the tattoo in the early 80s. The eagle sits in the left side of Kerry King, above his ear.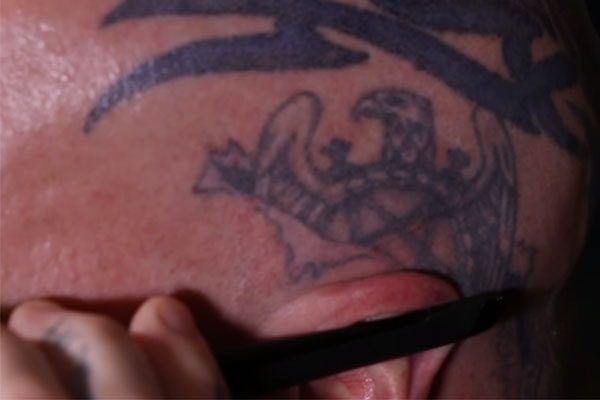 Slayer Eagle is the first tattoo of Kerry King. Image Source: YouTube.
At first, Kerry did not know if he is going to like it and thought he would just grow his hair back if he doesn't. But eventually, he liked it and the bold eagle still sits on Kerry'skin.
Black Tooth
Kerry King's other famous tattoo lies on the skin of his throat, called the "black tooth". Kerry got the tattoo on the second death anniversary of Dimebag Darrell, as respect to Darrell.
God Hates Us All
God Hates us all has got to be one of the most famous tattoos in Kerry King's body, alongside Leaf Man. Kerry says that there is no particular meaning to the tattoo.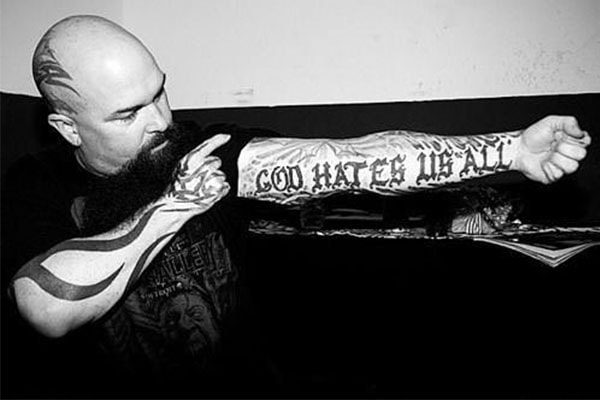 God Hates Us All is one of the most popular tattoos of Kerry King. Image Source: Heavy Metal Shirts.

Recently, the tattoo is on its way to becoming more popular than Kerry himself. He shows the tattoo during his concerts and the crowd says it aloud.
Other Cool Tattoos
Paul Booth has inked most of Kerry King's tattoos. Besides, Leaf Man, Slayer Eagle, Black Tooth, Kerry has other amazing tattoos as well. In the back of his left hand, Kerry has another face tattoo. When he lifts his hand, it looks as if he is wearing another face.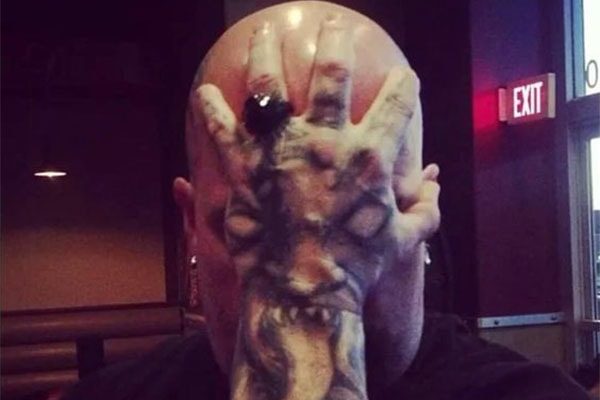 When Kerry lifts his left hand, it looks like he has another face. Image Source: Tumblr.

Moving up Kerry's left arm, there's a tattoo of a cross. Kerry's right hand has comparatively fewer tattoos. Alongside God Hates Us All, Paul inked a tattoo on Kerry's left hand in which Jesus is getting his eyes poked out by his crown of thorns.
For more Entertainment, Biography and Articles, stay tuned with Superbhub.