Certified Personal Trainer Sierra Nielsen and her boyfriend Trevor Holmes seemed to be the perfect couple that anyone could ever imagine and the pictures they posted on their social media accounts really prove it. The connection between them has been so strong that even the likes of Katy Perry couldn't hinder them.
Even though Trevor has a crush on Katy Perry, he still takes his girlfriend Sierra Nielsen seriously. Sierra is a fitness instructor and lifestyle blogger whereas Trevor got his fame after his selection in the American Idol, but unfortunately got eliminated later.
After being eliminated, Trevor says he has got no hard feelings for Katy.
Sierra Nielsen and Boyfriend Trevor Holmes: the Perfect Couple
If people were to be approached by someone famous and alluring like Katy Perry they would have already gone insane, but Trevor kept his cool and still is so in love with his girlfriend Sierra Nielsen.
According to Sierra, they first went to their first date on 6th of February 2016 and have been together since.
If people were to stalk their Instagram profiles then all would be so much envious seeing them together. Here is one of the so many Instagram pictures of them being together, we can see the two are so much happy when they are around one another.
View this post on Instagram
They also spent time with their friends and family. The couple went swimming together, loved roaming around and we can clearly get this vibe of intimacy coming from them.
Sierra Nielsen even made Katy Perry run. After Trevor was selected in the first audition of American Idol, his girlfriend Sierra walked through the door to congratulate him and seeing her coming to Katy flees away.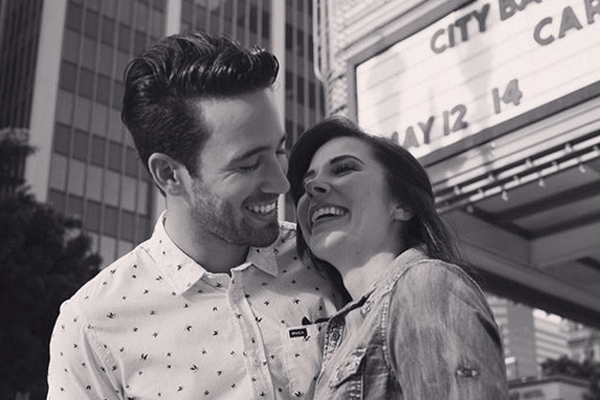 Sierra Nielsen and boyfriend Trevor Holmes during Sierra's birthday. Image Source: Trevor's Instagram.
Holmes is one lucky guy, the first thing is he has someone who'd stay by his side whenever he needs her and the second thing is even Katy Perry has a crush on him.
Here is a video of Sierra Nielsen and boyfriend Trevor Holmes speaking out to the public about the journey of American Idol and the love triangle between them including Katy Perry.
However, on July 9, 19, Sierra mentioned in her Instagram that she's 33, still single, not married, no kids. There she mentioned that she had chosen to be single for more than 10 months to focus on herself, her business and heal things that had led her to have unhealthy past relationships.
So, all we can guess is it's over between the perfect couple. What happened is yet to be known.
View this post on Instagram
For more News and Entertainment follow SuperbHub.