The enormously influential 1980s West Philly rapper Schooly D has been out of the limelight since 2015. His latest album "Essentials of Schooly D" was released on July 17th 2015. Since then there is no face of Schooly D seen in media.
Media is suspicious if the rapper has really halted his career. Almost everyone might be concerned about what really the Legend of gangsta rap Schooly D is doing these days. The rich gangsta Schooly D has an estimated net worth of $8 million.
Where is Schooly D?
After releasing dozens of hit rap albums, Schooly D has been out of the limelight for a pretty long time. One of the most loved gangsta rapper Schooly D is seen nowhere these days. We can even see him in social media.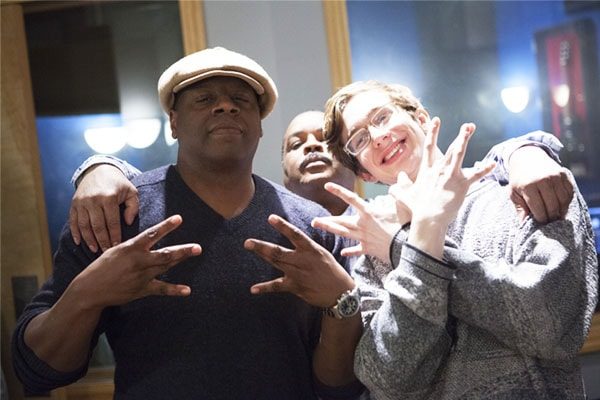 Schooly D at Studio 1200. Image Source: Studio 1200
Obviously, the question must have arisen in people minds concerning schooly D. The voiceover artist of Aqua Teen Hunger is out of the limelight since 2015. There are no songs released and there is no information if he is working with anyone.
The Gangsta Legend: Schooly D
The P.S.K rapper Schooly D started his career in the 1980s. He began to attract public eyes after he released his hit album Saturday Night. The godfather of gangsta rap Schooly D found his fame on the mid-1980s.
His rap styles are Gangsta Rap, East-Coast Rap, Golden age and hardcore rap. Schooly D has featured in more than 21 songs. Highly popular rapper Ice-T puts Schooly in the first to create gangsta rap.
Rappers who aren't Famous Anymore
Hip-Hop lovers are concerned if Hip-Hop artist has really turned their back on Auto-Tuning and Rap game. There are lots of newcomer in the rap industry and people are also loving them. But if we look Subtly into that, we can figure out how many talented artists are getting lost in obscurity.
If we count the name of the highly popular lost rapper, there also comes the name of Schooly D.  The rapper is no longer seen in social media. These days we hardly found an artist who hasn't encountered social media once in their life.
Top artist like YC the Cynic, Black Milk, Apathy, Celph Titled are no longer seen in media these days. After huge fame, they have been lost in their own world. The rappers like Final Outlaw who garnered his fame by MTV, BET, Hot97, SiriusXM, etc but who are not even eye of the public or mainstream media these days.
SuperbHub For Exclusive News and Entertainment.