On 11th August 2017, it was revealed that Tyler Posey and Sophia Taylor Ali have been dating each other. During an interview at the Variety's Young Hollywood party, Tyler confirmed his relationship with Sophia. This off-screen chemistry was seen after they started working for the movie 'Truth or Dare'.
Sophia Taylor Ali's boyfriend Tyler Posey further stated that he finds his partner extremely talented and a great person. She also inspires him and at times intimidate him as well. And the best part is, the adorable couple has got a lot of common interests.
It was clearly seen when both of them posted each other's photo on Instagram. Sophia Taylor Ali's boyfriend Tyler admitted that he had moved on from his ex-girlfriend Bella Thorne.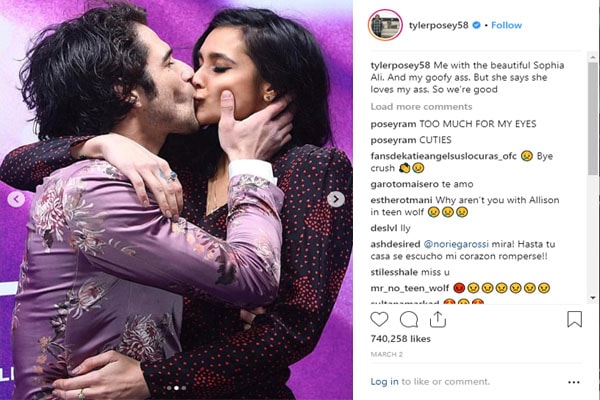 Tyler Posey uploaded a photo of him kissing his girlfriend Sophia Taylor Ali. Snip Source: Tyler's Instagram.
Past Relationships Of Tyler Posey and Sophia Taylor Ali
Before dating Sophia, Tyler was in a romantic relationship with his ex-beau Bella Thorne. It was hard for Tyler to get over his ex-partner Bella Thorne because they had been in a relationship for over a year.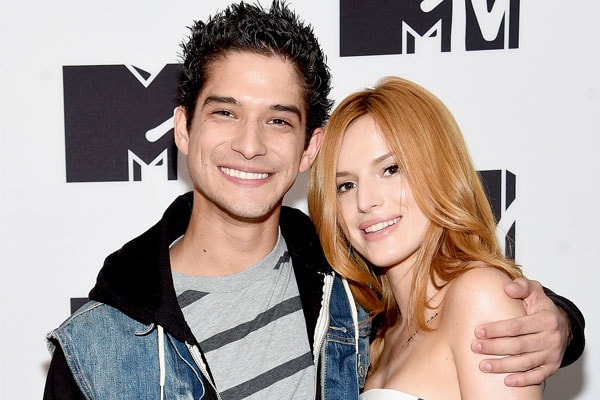 Before being in a relationship with Sophia Taylor Ali, Tyler Posey was dating  Bella Thorne. Image Source: Getty Images.
The reason why Bella and Tyler had broken up is still a mystery for everyone. But after breaking up with Taylor, Bella was often seen with Charlie Puth. Before the break-up, Bella stood up for his ex when singer Charlie Puth made off base tweets.
In 'The Jenny McCarthy Show' she disclosed that nothing serious was going on between her and Charlie until Tyler and Bella had separated. Bella opened up saying that she had a hard time during her breakup. So could Charlie Puth be the reason behind Bella Thorne and Tyler Posey's break up? Bella was also in a relationship with Gregg Sulkins. 
But the chemistry that was seen between Charlie and Bella didn't last too long. While they were going out, an article arose online about her and Tyler directing Charlie to think if she was seeing Posey the very same time.
Tyler also was engaged to his ex-fiancé Seana Gorlick. Details about Tyler Posey's girlfriend Sophia Taylor Ali's past relationship is still under curtains.
View this post on Instagram
Let's hope the relationship between the adorable couple of Tyler Posey and Sophia Taylor Ali last long. And who knows they might be even planning on taking their relationship to the next level.
SuperbHub for more News and Entertainment.