Parks and Recreation star Retta ended her Twitter romance and relationship with Joe Manganiello after finding out he's with Sofia Vergara. Retta and Joe had been enjoying each other's company on Twitter since 2012, kindling their fauxmance with funny tweets.
However, in 2014 Retta announced that she ended thing with her Wolfy Twitter Boo Joe.
Soon after the surfacing rumors of Joe dating Sophia Vergara was confirmed Retta opened about the situation and gave a statement to US Weekly. Retta's statement reads;
"It is with a heavy heart that I learn of my Twitter boo, Joe Manganiello, seeing Ms. Sofia Vergara. As with any conscious uncoupling, there is still much love and my Mellow Nello(what she calls Joe in her head) will always hold a special place in my Twitter heart".
Retta's relationship with Joe Manganiello
Though many Twitter folks found this separation very upsetting and some cherished on the hilarious romantic tweets of these faux couples. Their relationship started in 2012 after Joe acknowledged the tweets of Retta and things heated up pretty well.  Let's gaze upon some of Retta and Joe's romantic tweets.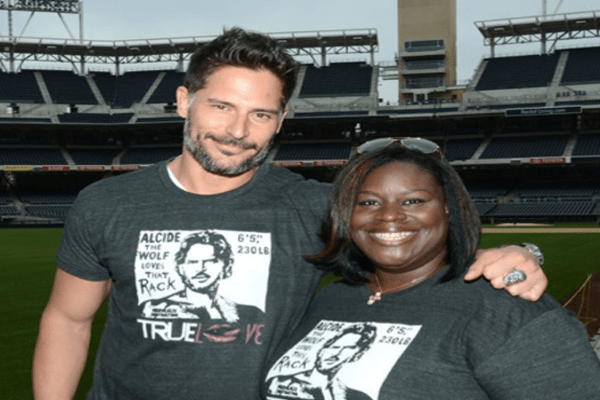 Retta and Joe in True Love shirts. Image Source: Rebloggy
Retta and Joe's twitter romance started in 2012 after Joe mentioned her as his favorite person on Twitter. Retta then gave a swift reply saying it makes Joe her boyfriend and intends to tell everybody.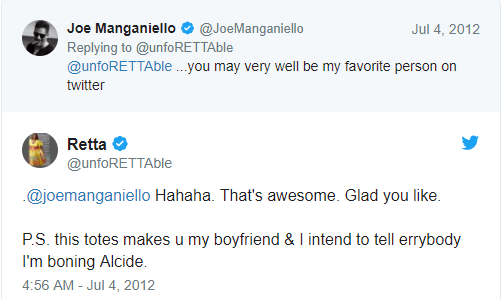 It was not only Retta but her colleagues were also part to ignite the heated relationships. Comedy Stars like Nicole Brown and Octavia Spencer would bring up talks about Joe to Retta who would, in fact, have amazing replies.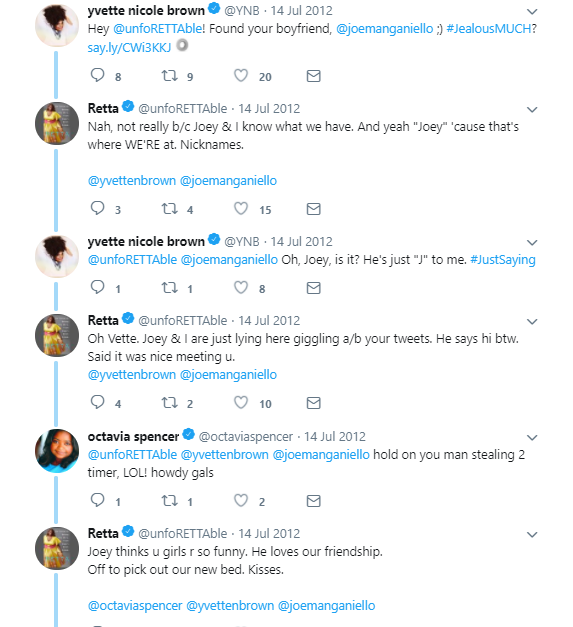 The girls would also mention Joe in their comments who would also come up with some firing tweets and engage in the talk. Joe would sarcastically open to the talks by suggesting them to get along.
Rita and Joe were open about their fauxmance and many fans were kind of heart-broken after ending of their fake relationship. Sometimes the faux couple would act so real and randomly tweet each other like a real couple. The fans would find their talks very sweet and entertaining, Joe and Reeta did have an amazing relationship.
Apart from Retta's Twitter relationship with Joe, she is single and has kept her past love life away from the limelight.
Read: Retta Net Worth.
Joe Manganiello and Sophia Vergara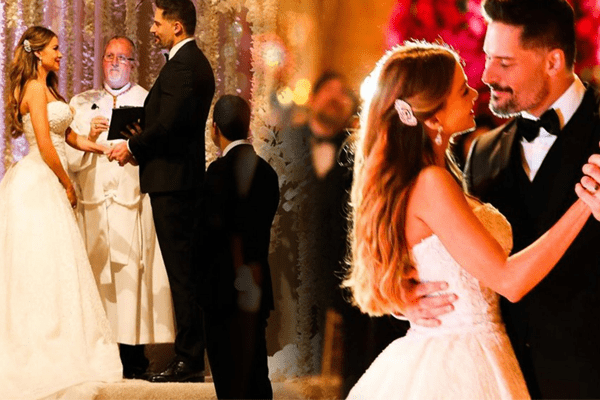 Joe Manganiello and Sofia Vergara wedding in Florida in 2015. 
Image Source: Clevver News
Joe and Sofia had tied the knot in 2015, their lavish wedding ceremony was held in Florida. The star-studded event also had included a live performance by Pitbull.
However, in May 2017 Star Magazine had spread a fake rumor of their marriage coming to an end. Sofia and Joe both responded on their social media to shut down the rumor and slammed the editors and magazine. Sofia and Joe stated this as an idiotic act of spreading the fake news and asked a favor not to buy the magazine's garbage.
For more News and Entertainment, be with SuperbHub