Apart from her songs, Rapper Kreayshawn is also known for carving several tattoos all over her body. The tattoos have become a synonym with her character. As stated by Kreayshawn, getting tattoos for her is like mini therapy sessions.
Rapper Kreayshawn whose real name is Natassia Gail Zolot rose to fame after releasing her single Gucci Gucci that was released in 2011.
Rapper Kreayshawn's Tattoos and Their Meanings
The famous rapper, Kreayshawn is known for her tattoo which is seen all over the body that seems an art to some tattoo lovers and expert. Kreayshawn has more than 50 tattoos. Many of her tattoos are based on foods and cartoon characters.
View this post on Instagram
Kreayshawn was interested in carving tattoo on her body since she was 15. Her first tattoo was of ice cream cone which she got on her neck. Kreayshawn often makes tattoos to celebrate an occasion or a moment. Like Kreayshawn, YouTuber Alissa Violet also loves getting tattoos.
For Kreayshawn, tattoos are kind of like a mini therapy session which helps to combat stress. Kreayshawn has spent several hundred dollars on her passion of tattooing her body. She is also rumored to have around 52 known tattoos which are carved all over her body. Here are some of many tattoos of Rapper Kreayshawn with their respective meanings:
Tombstone Tattoo
Kreayshawn has a tombstone tattoo seen on her index finger.
Pink Panther Tattoo
Kreayshawn made the tattoo of the famous cartoon character, Pink Panther holding a spray can. The tattoo was made in the memory of her two graffiti artist friends who died.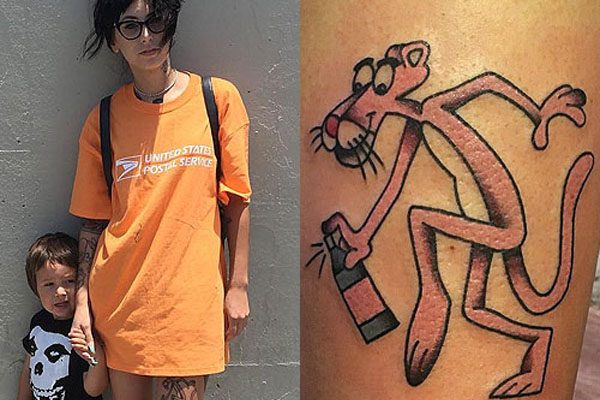 Kreayshawn has made a tattoo of the cartoon character, Pink Panther. Image Source: Kreayshawn's Instagram.
Daisy Duck Tattoo
The Go Hard rapper Kreayshawn also has got a tattoo of the famous cartoon character Daisy Duck. She has got it on her right forearm.
Hamburger with Mickey Mouse Tattoo
Besides Daisy Duck, Kreayshawn also has a tattoo of another famous Disney Character, Micky Mouse. She has got it on her right elbow. Mickey is inside a Hamburger. The 29-year-old Kreayshawn claims she loves cheeseburgers and Disney characters.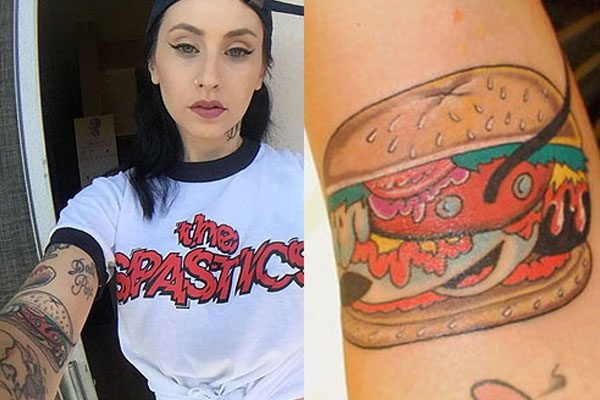 Kreayshawn in her right elbow has a tattoo which shows her fondness of food and cartoon character. Image Source: Kreayshawn's Instagram.
Fried Chicken Drumstick Tattoo
As stated above Kreayshawn is well known for being a foodie. Hence, it comes as of no surprise that she has made a fried chicken drumstick just above her elbow in the right arm.
Superb hub For more News and Entertainment.