While talking about famous world-class singers, how can we forget Princess Superstar? Famously known from her stage name Princess Superstar, she is one of the most famed world-class DJ and rapper. Her birth name is Concetta Kirschner. Princess is an half-Italian and half-Jewish.
Rapper Princess debuted in her own reality show called I Love Princess Superstar on Youtube channel. In the show, she stars as a stand-up comedian which is also her passion to make people laugh.
In the teaser of the show, her husband Miguel Ortega and her 3-year old daughter Siren appeared. Princess was born on February 25th, 1971 to a psychologist parent. Apart from music, she also expressed her desire for acting.
Husband Miguel and daughter Siren
The world-class artist Princess was happy to see her beautiful family in the show. Her husband Miguel and her 3-year-old daughter Siren were co-starring in the show. Princess said her daughter Siren knows all the lyrics of "Rapper's Delight."
Princess gave her two hits "Baby Sitter" which was 11th in the chart of UK Hits 2002 and another album" Perfect Exceeder" which was 3rd in UK Charts 2007. Her musical styles are hip-hop, Electroclash and Electronic. In 2018 she is working on children's recording called These Are The Magic Days.
The project is said to be non-profit and is dedicated to the nurturing human beings by uplifting and rocking their world. Sassy girl Princess has always hit the floor by her own styles and breathtaking performance.
Musical Career
In the year 1994, Princess made a demo tape "Mitch Better Get My Bunny" named as "Princess Superstar". The tape was sent to the College Musical Journey and the Beastie Boys' Grand Royal Records. From there she began her journey as a Princess Superstar.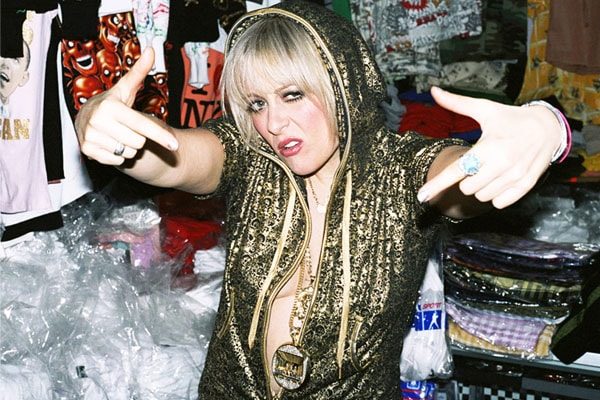 Rapper Princess Superstar is one of the white females hip-hop artists. Image Source: New York Post
The fame of Concetta Kirschner took her to the summit through her amazing and mindblowing talent. Her first debut album Strictly Platinum was recorded in 1995. Princess had also signed a contract with 5th Beetle records. Finally, she got her recognition as one of the finest white female rappers.
Family Background
Princess Superstar was born in New York, United States. Both of her parents were a psychologist. Her father is a Jewish who has Russian-Polack ancestry and mother is Sicilian-American. She got married to Miguel and has a 10-year-old daughter named Siren.
SuperbHub for Exclusive News and Entertainment