Anny Ramsey is the long-term partner of the renowned TT rider Bruce Anstey. Anny is a vivid dog lover and a bike enthusiast as well. Anny has been together with her partner Anstey in almost every one of his races to kiss him a good luck before he revs down the start line. Bruce and Anny are the most adored racing couple and have been sharing an amazing journey together.
Anstey who had dealt with testicular cancer in 1995 is once again dealing with cancer issues, Anny Ramsey stated that he will miss the 2018 road racing season. The Flying Kiwi has multiple tumors in his lungs and spine which means he is unlikely to go down Bray hill in 2018. Bruce Anstey's partner Ramsey has refused to rule the Kiwi out of racing in 2018 and is waiting for the treatment to start soon.
Meet Bruce Anstey's Partner Anny Ramsey
Bruce Anstey and Anny Ramsey are long-term partners and have been sharing a glorious year together. Bruce is from New Zeland and lives in Windsor with his partner Anny. Anny Ramsey must be proud to have a partner like the 13-time TT winner Bruce but unfortunately will not take part in the 2018 TT.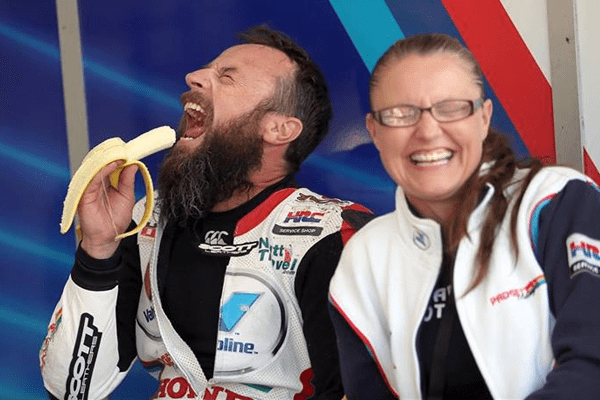 Bruce Anstey and his wife to be Anny Ramsey laughing (must have nothing to do with the banana)  
Image Source: Facebook/Anny 
Anny loves dogs and bikes as well. She often hops in her partner Bruce's bike to pose some photos. In this photo, Ammy is onboard the Yamaha YZR500.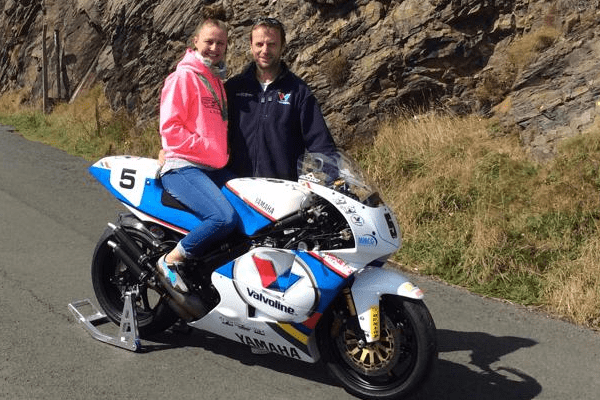 Bruce Anstey's to be partner Anny Ramsey on the Yamaha YZR500. 
Image Source: Facebook/Anny 
Bruce Anstey's partner and wife to be Anny is very supportive of Bruce's passion and is there on every possible race to support the flying kiwi. Anny kisses Bruce good luck before he sets onboard the machine to rev down the circuits.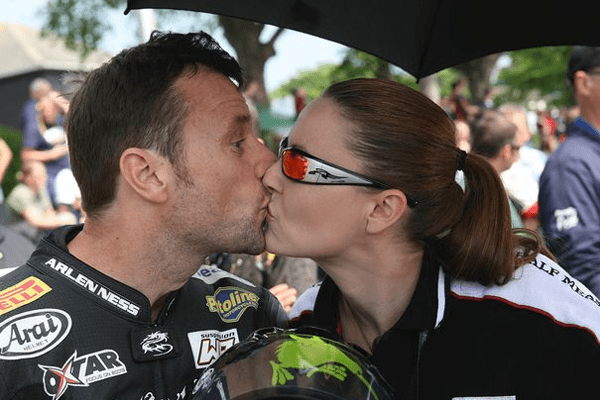 Anny Ramsey kissing good luck to her partner Bruce Anstey before the race.  Image Source: Belfast Live 
Anny Ramsey calms her focused partner Anstey before sets off down the track. Anstey is a lucky man to have a supportive partner like Anny Ramsey and behind his every success and wins Anny does play a side role.
The Flying Kiwi says that riders are still not getting any financial reward as the popularity of the Sports is increasing. Anstey says that the prize money is there which keeps going for a year but isn't life-changing and supportive. Ultimately Anstey has to go back and work when the race season is over to support him and his partner Anny Ramsey.
Watch 15 questions with Bruce Anstey.

For More Celebrity News and Entertainment: SuperbHub.