Youtuber Peter Hollens and his wife Evynne are married for a decade now. They are together since 2007. The duo welcomed their son, Ashland James Hollens, on March 30, 2014. Let's have an extensive look at how the lovebirds met and their musical journey. Also, don't miss the sweet couple's marriage video and their new baby announcement.
How did Peter Hollens meet his wife Evynne?
They two first met at the EMU Amphitheater during a performance.
It all started when Peter joined the University of Oregon, Eugene, Oregon, from Ashland. Surprised to find out that there wasn't a Cappella group at the University, he ended up founding the all-male Cappella group On the Rocks in 1998.
Evynne then came to the University in 2001 and co-founded all-female Capella group Divisi. Then they met during a performance at the theatre. They soon got along and knew each other through the music "Crazy For You".
After graduation, Peter sang with a cappella group on the East Coast and began recording music. Then he returned home and bought a studio equipment from the money he had been saving for further studies. He set up a studio in his garage and practiced to record, edit, mixing and mastering.
Around the same time, Evynne was offered a job at Royal Caribbean, to sing on cruise ships.
And just before she sailed out, Peter proposed.
In 2007, they married on the balcony of the EMU, looking the outdoor stage where they had first met. After the wedding, Peter joined Evynne on the cruises, and for the next four, they sailed the Bahamas together. Peter Hollens expressed his story of forming the Capella group and meeting his wife in The A Capella Blog.
Peter Hollen's wife Evynne made this video on August 25, 2016, on their 9th anniversary.
Welcomed Their First Son Ashland James Hollens
Soon Peter Hollens's wife gave a happy surprise to her husband. She was pregnant and they were blessed with a son on March 30, 2014. The week after Ashland was born, Hollens introduced him to their fans through Evynne's weekly video blog. The couple named their son Ashland James Hollens. Peter wrote a song in honor of his son Ashland titled as Ashland's song which has 22k likes.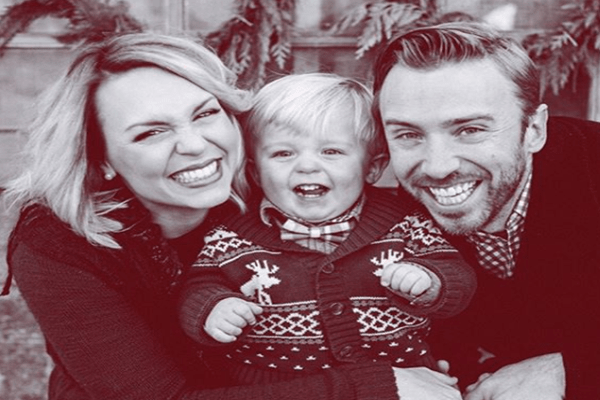 Happy family: Peter Hollens, his wife and their first son Ashland.
Image Source: Peter Hollens Instagram
Petet Hollen's wife Pregnant with a Second Child
On January 19, Peter Hollen's wife Evynne announced on her Instagram account that they are expecting another baby soon. They have been spending quality time with their son. Hollens often mentions about their son on their videos to familiarize their son with the fans.
Hollens' duo has decided to extend their family and add another member. Peter Hollen's wife Evynne is thus pregnant and are very excited upon the arrival of their new child.
In an interview with Sheknows Peter stated he was an overly sensitive nerd and never fitted in school. So how did he manage his wife Evynne to fall in love with him?
Peter simply had no game in the women category. His only route to approach people was his voice. Peter's style and voice made him unique and his fans liked him. The Hollens couple's mutual interest in music became paramount in building their relationship.