Pete Bucknall is a YouTube Viner, who have a YouTube channel "petesjams." This YouTube star is famous for his cover and solo songs that gets more than a million views. Especially, ladies are crazy about his singing and vines. Being a young and handsome famous internet personality, it's certain for him to have a girlfriend or date someone. Or is he already married? Pete Bucknall's girlfriend or wife might be someone really special. Or Is it Pete who's the lucky guy?
Pete Bucknall's Girlfriend, Carrie Hope Fletcher; Dating since late 2015
In Pete Bucknall's YouTube channel Petesjams, Pete shares his feeling and experience through his videos. Fans get involved in his video by appreciating his thought and suggestions. Pete's fans are mainly curious if he had or have any girlfriend?
Although he never mentioned about anyone special, his videos slowly started giving his viewers the clue.
Also See: Pete Bucknall Net Worth
In late 2015, Pete spent most of his time with his fellow YouTuber, Carrie Hope Fletcher. However, the fact that Carrie was Pete Bucknall's girlfriend was not confirmed then.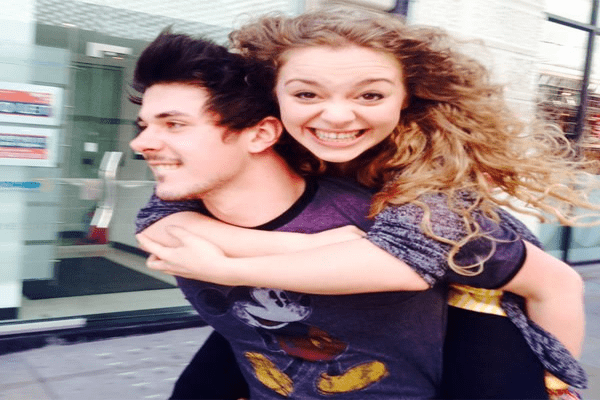 Source- Pinterest/ Yoha Wilde
The couple was suspected to be in an affair when Pete regularly appeared in the videos of Carrie's YouTube Channel. Later it was confirmed that this couple started dating since 2015.
Pete Bucknall's girlfriend, Carrie Hope Fletcher, and Pete commonly shared cover songs on their respective YouTube channels.
Pete has officially announced his relationship with girlfriend Carrie publicly in social media. He tweeted that he is proud of his girlfriend for her starting performance in Chittymusical on May 3, 2016.
Similarly, on November 18, 2016, he came up with a new tweet expressing proud and cheerful moments for his girlfriend who became a member of the Addams Family, UK.
They were sharing quality time with each other. But, something unexpected happened. The couple was not able to sustain the relationship and they sadly broke up in March 2017.
After two months of the breakup, on May, Carrie blogged about the break up with her boyfriend Pete on her blogging website, Carrie Hope Fletcher.
Also See: Emily Canham's Break Up
In her post, she claims that Pete was a liar, he cheated on her, used her, and fell for someone else. That was why they broke up. But the fact of Pete cheating on his girlfriend Carrie and who was he involved with is not disclosed.
It seems nothing was going well between them, so they decided to get apart.
Also, they haven't mentioned each other on Twitter or Instagram since May.
This is the last Instagram post with their picture together, from Pete's Insta account.

The exact reason for their break-up is still unknown, but HITBERRY suggests Carrie's closeness with best friend Oliver Ormson may also be the reason behind it. Carrie addresses Oliver as her closest friend. However,it's not confirmed that they are in an affair.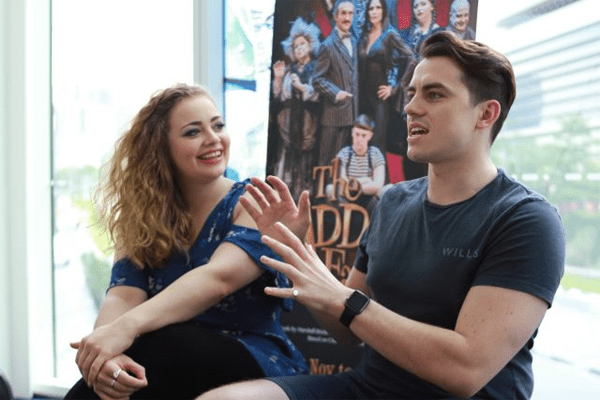 Source- The Urban Wire
Pete being in another relationship was in shade until his post on November 3, 2017, on Twitter. He was enjoying Starbucks coffee with a mystery girl, his possible girlfriend. Her name might be Nancy as it's written in the cup but Pete had a different name in his. So the name can't be confirmed.
Pete is not married yet, but he might be dating the mystery girl. We wish the handsome hunk to get married soon. After all, Everybody likes to see his/her favorite person in wedding suit.
More on Pete Bucknall's Ex-Girlfriend Carrie Hope Fletcher
Carrie Hope Fletcher from British ancestry is a writer, singer, actress, songwriter, author, and Vlogger. Five years back, she played Wednesday Addams in the UK tour of The Addams Family Musical and the author of Sunday Times.
This multi-talented gorgeous is also famous for her book "All I know How" and her cover songs on YouTube.
Also See: YouTuber AzzyLand and Kwebbelkop's Relationship
She has sung numerous cover songs with, ex-boyfriend, Pete Bucknall, and solo cover songs.
Carrie has her blog website Carrie Hope Fletcher, where she writes to promote or encourage girls.
Before Pete Bucknall, she was in an affair with Alex Day. He is also a YouTuber.
Overall, Carrie Hope Fletcher is former Pete Bucknall's Girlfriend who is multi-talented, adorable and smart personality.
Facts on Pete Bucknall and girlfriend Carrie Hope Fletcher Relationship
We know that Carrie is an author of the social media-based book "All I Know Now." This book gave her a different identity as an author. Interestingly, her ex-boyfriend Pete Bucknall inspired her to write the book.
Pete and Carrie were in a single frame of YouTube video City of stars ( La La Land Cover). It was published in April 2017 by Pete on his YouTube channel petesjams.

Carrie also shared the news of breakup with Pete in Tumblr.
Mini- bio of Pete Bucknall
Pete Bucknall is songwriter, musician, Viner, and famous for his YouTube Channel "petesjams" He started posting videos on started posting videos on August 22, 2012. His channel has 91,750 subscribers as of January 25, 2018.
Born on August 31, 1993, in  England, he has achieved early success through his artistic skills.
He posts his cover songs, original songs, vines, personal experience and much more on his YouTube Channel.
His YouTube channel has more than 91k followers, and he gets 1.5 million views on average. So, we can estimate his earning may be around a million. But, the YouTuber's net worth is under review.
To know more about Youtuber Pete Bucknall's girlfriend, mystery girl, relationship and net worth, stay with us.