Pablo was in love with Maria Victoria Henao but their relationship was not approved by Henao family so they eloped in the year 1976. Henao was just 15 and Pablo was 26 when the pair got married. They had two children Juan Pablo who has changed his name to Sebastian Marroquin and Manuela Escobar.
Pablo's family resides in Argentina after his death
After the death of drug kingpin, Pablo Escobar's wife Henao(now Victoria Henao Vallejos)and kids were living in fear of revenge attacks of Pablo's enemies. In 1995 his widow with her two children moved to Columbia to find new and secure life. Being the family of criminal they had to live in many countries for short-term as they were not accepted by the governments.
Finally, Argentina provides them asylum and changed their identity for their security. After living a middle-class life in a Buenos Aires apartment of Argentina, their identity was revealed and they were no longer protected. Pablo Escobar's wife  Henao and her son were arrested and jailed for 15 months on money laundering charges in 2000.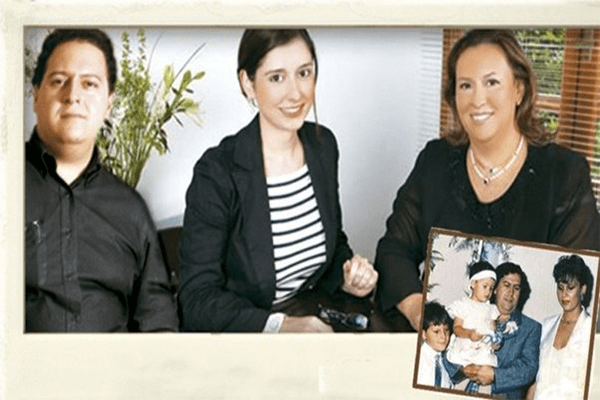 Pablo Escobar's wife Henao with her kids in Argentina.
Image source: Columbia
Pablo's relationship with his kids Juan and Manuela
Pablo Escobar and wife Henao had two kids Juan and Manuela. Juan was 14 and Manuela was 9 when he was Killed in his hometown by Columbian police forces with the help of DEA in 1993. He was 44 years old. However, Juan says his father Pablo committed suicide in order to save his family according to The Sun.
Juan Escobar: Pablo Escobar's son
Juan loved his father but, he never approved him for his actions when he was alive.Juan entered to school in his late teens to become an architect.
He enjoyed his freedom but he felt uncomfortable living a lie. In 2009 Juan revealed his identity while making the documentary called sins of my father with the help of mother Henao and two victims of his father terror. Juan has apologized to the victims family who has been killed on the order of Father Pablo.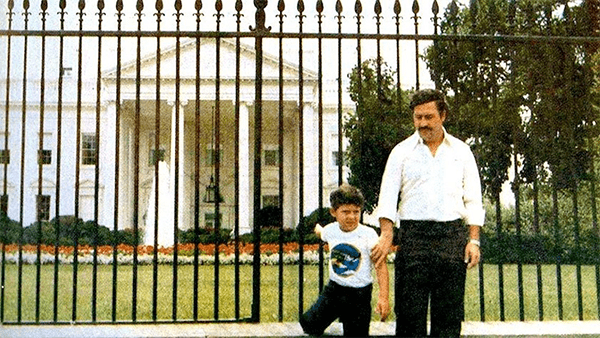 Drug kingpin Pablo Escobar with his son Juan posing in front of white house.
Image source: Business Insider
There was an interview held after the documentary where he stated that he learned a lot of lessons from the world of violence and drug trafficking.  And I chose not to continue down those paths according to F3 Magazine.
Manuela Escobar: Pablo Escobar's daughter
It is often said that daddy will always be the first love of every girl. Manuela's life with her father Pablo was very short. Manuela was the princess of her daddy.
Once Manuela wanted a unicorn, Pablo bought a horse for her and stitched a corn and wings(horse died because of infection). Except for the life of peace and safety, Manuela got everything.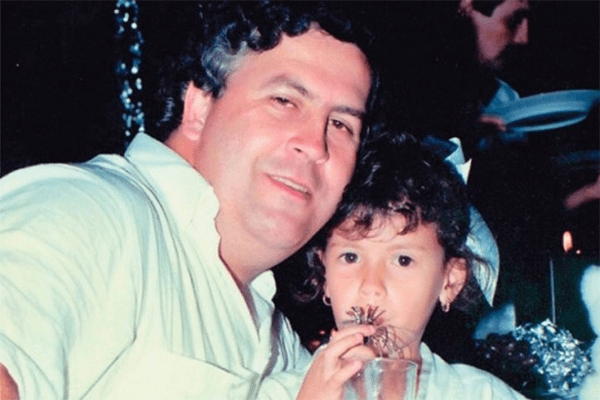 Little Manuela with her daddy Pablo Escobar
Image source: Married Wiki
Manuela stays away from media and wants her life to be private.
Pablo Escobar Net Worth
King of cocaine Pablo Escobar was the richest terrorist in the history with Net Worth estimated to be $30 billion by early 1990. It is said that he used to earn more than million dollars per day.
To fulfill the dream of his childhood of being rich he began to work for Alvaro Prieto, a contraband smuggler who was operating around Medellin.
TV series Narcos was made by the famous production Netflix based on true story of Columbian Drug lord kingpin Pablo Escobar.
Be in touch with SuperbHub for more entertainment news and updates.