Olu Evans is a businessman, who is a Corporate attorney and owner of a Dancewear company. Olu Evans weds to her long-term girlfriend Misty Copeland, known as the famous ballet dancer of America.
The couple were in relation since, 2006 and got married after their ten years of the affair on July 31, 2016. The couple's wedding takes place at the Montage Hotel in Laguna Beach, overlooking the Ocean in a gorgeous ceremony.
Misty Copeland Wedding Ceremony with Evans
Well, businessman Evans married to the world's famous dancer Misty Copeland. He married her long-term girlfriend in a lavish ceremony in Laguna Beach.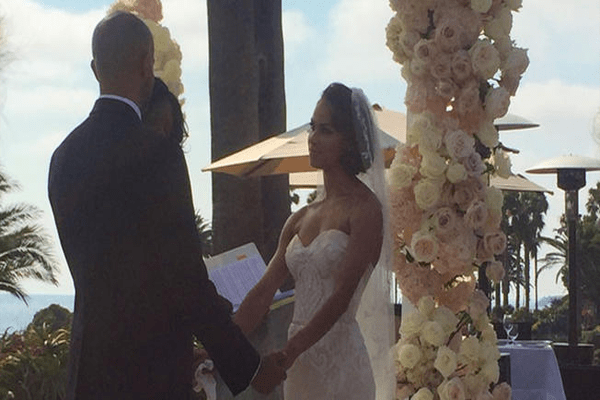 Congrats! Misty Copeland Married Olu Evans on July 31, 2016.
Image source: The Positive Community
The 37-year-old Evans and 33-year-old Misty wed on July 31, 2016, at the Montage Hotel in front of 100 close people. According to Us Magazine, the bride worn an Inbal Dror gown and donned worn Christian Louboutin shoes.
Also Read: Misty Copeland's Olu Evans Net worth 2018
The lovebirds exchanged vows by looking at the ocean. They were surrounded by a beautiful assortment of pink hydrangeas and white roses.
She said,
"I can't believe my life right now"
to Essence Magazine during her wedding.

The wedding venue was decorated with white and pink roses with pink hydrangeas. Evans wife Misty told Soledad O'Brien about how she knew that Evans was the one she dreamed. She said:
It took me a year to find a person that respect me. He allowed me to fulfill what I wanted in my career, that plays the most important role to me.

I have always said, "No man is coming in to take me away from him." That was so important to me as the person i ended up with was going to support me in every way. My career is so important to me.

Then I knew that he wasn't afraid of hearing or seeing me so damaged. Besides, he wanted to help because he cared about me as a person.
However, Evans wife Misty talked to People about her plans for a summer wedding by saying,
"I am feeling laid-back about my big day."
For more update regarding Celebrities Entertainment, be tuned with SuperbHub.