Everything is acceptable when you fall in love with a person. Race, religion, and even if you are at a huge age difference, it does not seem to bother the couple. Everything seems to be fair. Such is the story of Iggy Pop's wife, Nina Alu.
It's said that one keeps on searching until they find the one to share their life with. Such is the story of Iggy Pop with his third wife, Nina Alu.
Iggy Pop's Wife, Nina Alu
Iggy Pop's partner, Nina Alu is Nigerian and Irish. The former vocalist of Stooges finally found his ground, his stability and the reason to sober up for in 1999, astonishingly in a pizza parlor. Nina Alu was a flight attendant during their first meet.
The couple immediately fell in love with one another. Nina Alu moved in with Iggy in the 2000s and began living together for 8 years before sharing their vows.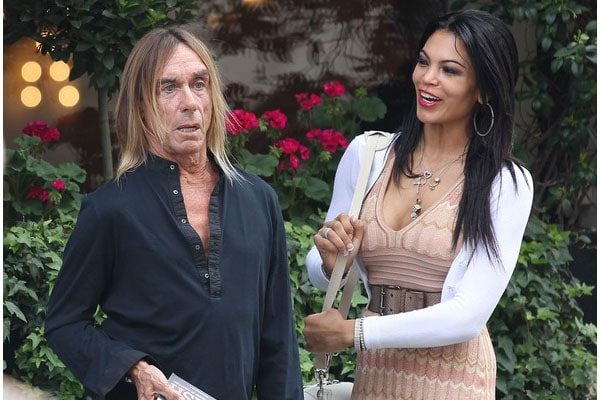 The couple dated for 10 years before sharing their vows. Image Source: Zimbio.
Iggy Pop was married twice before he married Nina. Thus, they took plenty of time to understand one another before taking the big decision. On November 22, 2008, the couple finally got married and are currently living happily.
"Iggy Pop" Through The Eyes of Nina Alu
James Osterberg Jr. aka Iggy Pop and Nina Alu have been together for 20 years now and are still going strong. Iggy Pop's wife thinks he's a complete sweetheart and has a warm personality.
Iggy Pop is extremely happy with his current marriage with Nina Alu. Image Source: Getty Images.
Nina told Roling Stone that she respects Iggy and finds him wonderful but could not live with him. However, James Osterberg is different. He's a fun-loving, sweet and romantic person. Furthermore, James is peaceful and loves to look at the trees and birds.
Iggy's spouse further mentions her mother was skeptical about her daughter being in a relationship with Iggy. But, after their meeting, everything changed.
Do The Couple Have Any Children Together?
Iggy Pop finally found his ground and the life-long love with Nina Alu. They share strong emotions and fondness for one another even after being together for over 20 years now. Isn't it fascinating?
Iggy Pop believes in sharing his life completely with his spouse and hence shares every high and low with his sweetheart. Despite all the love and fascination for one another, the couple is yet to bless the world with their child. However, Iggy has a son, Eric Benson, born in 1970 with Paulette Benson.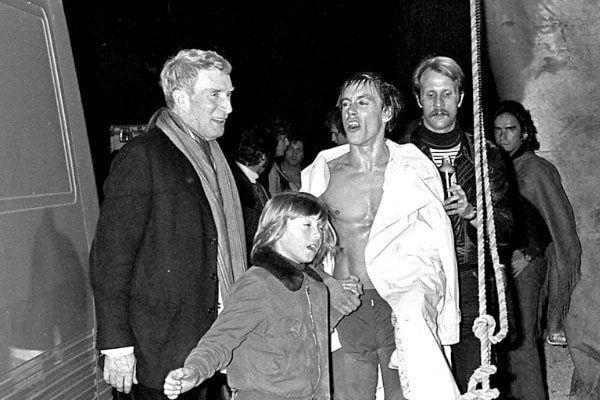 Iggy Pop's son, Eric Benson, born in 1970 from a relationship with Paulette Benson. Image Source: Pinterest.  
The couple shares a very strong bond with one another and has a really deep understanding. They have sheltered some cats and a cockatoo.
View this post on Instagram
The pair happily shows up in many red carpets together with all smiles and adorations. Even after all the years, their spark has not faded out and thus, let's hope this continues.
Before Nina Alu, Iggy was married
Everyone's an idiot unless you either get smashed with a hammer or you find the right person. Before Iggy found Nina Alu, he was married twice. His first marriage with Wendy Weissberg lasted only a few weeks in 1968. Pop mentions the relationship was all sweet and starry but it got in between him and his music. Thus he decided to end the relationship.
Secondly, Pop was married to a Japanese beauty, Suchi Asano in 1984. Iggy's ex-wife respected their privacy and kept hushed about most of the things. The marriage ended after 14 years of marriage in 1998.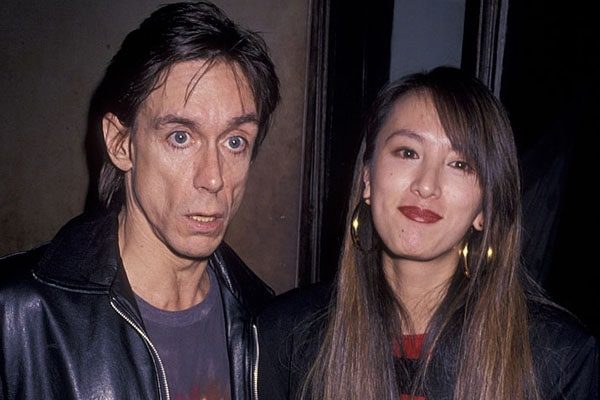 Iggy Pop says Suchi Asano could charm him and screw him up and above all respected his privacy. Image Source: Getty Images. 
Aforementioned, Iggy met his wife, Nina after his divorce with Suchi. Iggy was always attracted to younger girls and interestingly, Nina is 25 years younger than him. Today, he lives with Nina in their mansion in Miami which he handed over to his wife in 2018.
Let's hope the couple remains in love for more decades to follow and create a beautiful family together.
Make Sure To Follow SuperbHub For More Updates On Celebrity News, Entertainment, and Biography.