Love and Hip Hop Hollywood star, Nikki Mudarris is an epitome of feminine beauty, who manages her family's Hollywood and Las Vegas clubs. Nikki Mudarris parents are proud of her work and achievements.
Nikki refers her father Abu Mudarris as 'The Godfather of Burlesque' as her family was engaged in nightclubs entertainment industry for decades. Well, let us have a look on Nikki Mudarris parents including her father and mother.
Nikki Mudarris Parents
Nikki Mudarris was born to the parents, father, Abu Mudarris, and mother, Marcelle Mudarris with mixed ethnicity.
Her father is an Italian and Arabic descent, whereas her mother Marcello is Morrocan.
The 28-year-old Nikki has a family business and manages the Hollywood and Las Vegas strip clubs named as 'The Body Shop'. She made her parents very proud because of her great work in family business and career. (Of course, besides her Leaked Tape with Mally Mall.)
Father Abu Mudarris
Nikki family lives in Burlesque and her father, Abu Mudarris is the Godfather of Burlesque. Hollywood star, Nikki's father Abu makes Black strippers do sexual favors to staff members who're willing to continue working at his West Hollywood strip club, The Body Shop.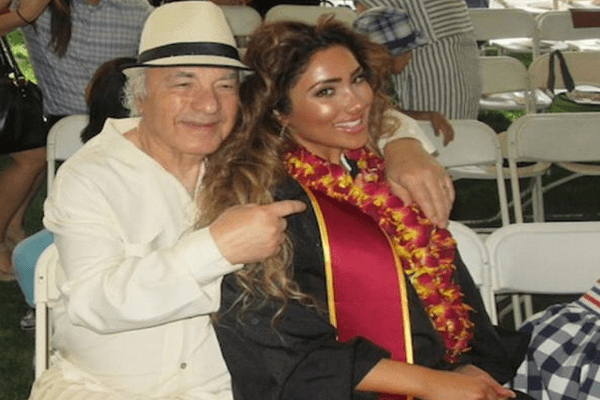 Caption: Graduation day at USC with my Papi.
Image source: Twitter
According to Hollywood Street King, Her father is the owner of the club, who treats the white girls like gold while the women of color are treated as disposable.
Also read:  Net worth of Nikki Mudarris. Earnings from Nude by Nikki
Mother Marcelle
An American star, Nikki's mother, Marcelle was a previous stripper in Hollywood. Her brother Tony Mudarris sexually assaults dancers that work at the families strip club The Body Shop.
In an Interview, Nikki mother had told a statement about her family and daughter,
"In our cultures, we hold our daughters very close and are very dear to us". We even try to instil in them to have a good education, you have to work hard. Besides, you have to be humble and grateful, and no matter what, be your own."
Moreover, Nikki' mother usually addresses fans who "talk s-t" about her daughter.
"With Nikki, I'm her mother and best friend too, I always tell Nikki, you know who you are but they don't know who you are."
Furthermore, Hollywood's stars Nikki and Marcello Mudarris sued by Ace of Diamonds Club Owners. During the time, they have gotten a good laugh from putting up a billboard featuring the mugshot of their enemy Masika.
But the billboard could end up at any time costing the family way more money than expected.
Nikki and her mother Marcelle were being sued by the owners of the strip club Masika to promote and claim the billboard tanked their business.
Short Bio: Nikki Mudarris
Nikki Mudarris is an American television star, who is best known for her reality television show 'Love & Hip Hop Hollywood'.
Nikki was born on June 28, 1990, in Los Angeles, California. She has a mixed ethnicity as her parents are Italian and Morocco. She is an American nationality.
Be connected with SuperbHub, for more Celebrities Entertainment.