Nicholas Lou Saban Jr. AKA Nick Saban is an American Football Coach who has been the football head coach at University of Alabama since 2007.  Hailing from Fairmont, West Virginia, Saban married his wife Terry Constable on December 18, 1971. Nick and his wife Terry are blessed with two children; son Nicholas Saban and daughter Kristen Saban.
His excellent run in football coaching prompted him to be inducted into the Alabama Sports Hall of Fame in 2013. Saban is the first college coach in college football to win a national championship. He had previously served as head coach of Miami Dolphins, Louisiana State University, Michigan State University and the University of Toledo.
Supportive Wife and Married for 77 years
Nick had met his wife Terry at a science camp when they were in seventh grade. The couple started dating seriously while Nick was studying at Kent State and his lover Terry teaching in West Virginia. The duo got married in 1971 over their Christmas break when both of them were 21 years old.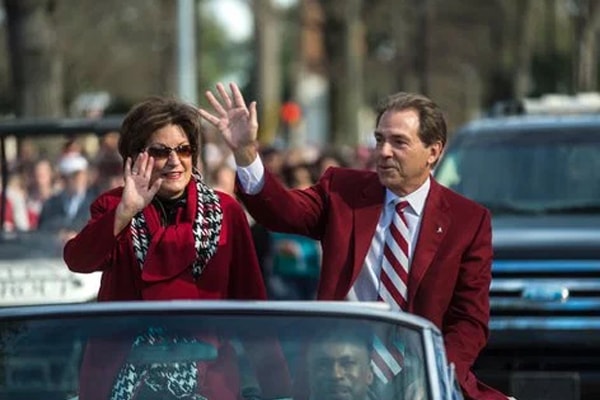 Alabama Coach Nick Saban with his wife Terry.
Image Source: the big lead
Saban's wife Terry is noted for being supportive of her husband's career. She is spotted in the stands on almost every yelling Roll Tide. Terry is involved as much as her husband Nick when it comes to recruiting players and she is Nick's Biggest Negotiator.
Terry is handed all of Nick's incoming calls and emails by his assistant and she gets on duty to sort out the best. Speaking to the Wall Street Journal, Terry stated that the only purpose of their dining table is for recruiting.
Nick's Kids Foundation
Since 1998 Nick and his Wife Terry have actively involved in their charity group Nick's Kids Fund. The Sabans have raised money for children, student, teacher, family causes by giving community member chances to volunteer.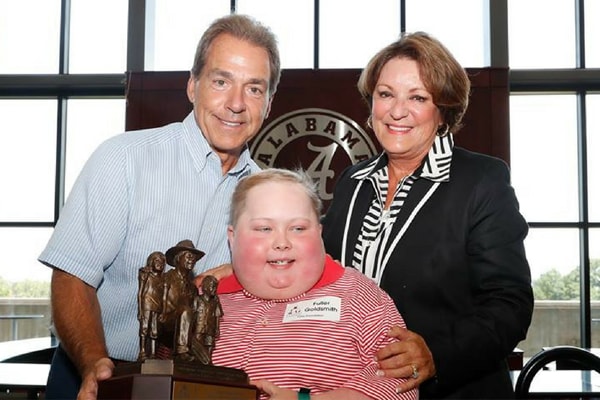 Nick and Terry presenting Fuller Goldsmith with Bigger Than Game Award. Image Source: Nick'skids
Till date, Nick's Kids Foundation has distributed over $6 million to the deserving hands and associations. Nick and his wife Terry have personally completed their $1 million donations to First Generation Scholarship at the University of Alabama.
Daughter Kristen Married to Alabama alumnus Adam Setas
Alabama Coach Nick Saban's daughter Kristen married her friend since preschool Adam Setas on May 30, 2015. Their grand wedding had hundreds of guests with the newlyweds driving a Rolls Royce through Bryant-Denny Stadium followed with firework celebrations.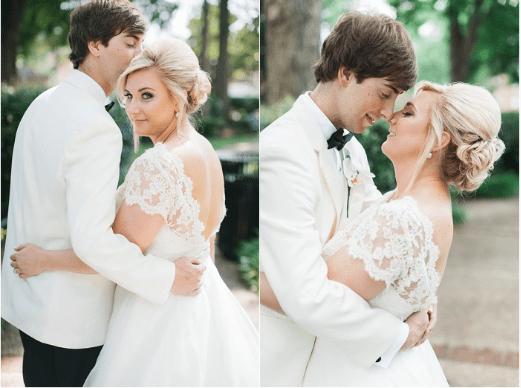 Nick's daughter Kristen married to Adam Setas on May 30, 2015.
Image Source: leslie hollingsworth
It is obvious for a guy to get nervous when he's asking the future wife's dad if he can marry her. Saban has been the most powerful coach in college football and quite a fierce one too. Daughter Kristen's husband Adam wouldn't mind and states Nick to have always been like another dad for him.
Son Nicholas married Kelsey Laney Saban
Saban's eldest son Nicholas was married in Tuscaloosa to Kelsey Laney, University of Alabama Student. Nicholas and his wife Kelsey gave the Alabama Coach his first granddaughter. The Saban family is blessed with the little one named Amelie.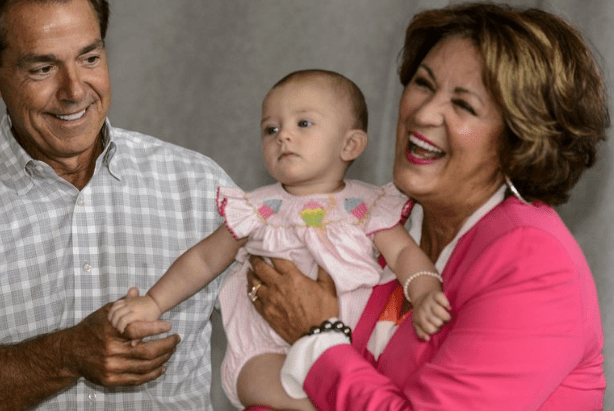 Nick and his wife Terry with their granddaughter Amelie.
Image Source: Vash Hunt
Amelie Saban was born in December 2013 and she might be the only one toddler who's not afraid of Nick. Growing up Nick's kids were always afraid of him and so are most of the players. But little Amelie is not afraid of him despite him expecting her to be afraid of him.
For more Celebrity News and Entertainment: SuperbHub