Austin Daye is currently unable to play NBA level. So, he is trying his luck playing overseas and for a school team. Otherwise, Daye is part of NBA and have played for teams like Detroit Piston, Memphis Grizzlies, Toronto Raptors, San Antonio Spurs and Atlanta Hawks.
He is 210 cm and plays as a Forward or short forward. Association with such high-level clubs undoubtedly earns adequate amount to add Austin Daye's net worth.
Talking about NBA career, he was first drafted by the Detroit Pistons on June 25, 2009. Later after a month, he was signed by Detroit for $3.48 million for two years. After the contract, he played three seasons for Detroit.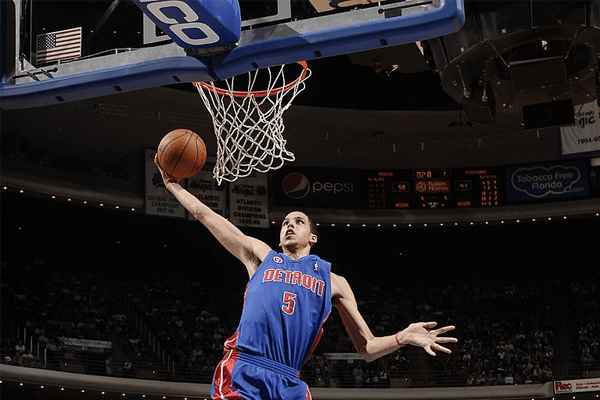 Austin Daye on air to slam dunk for Detroit.Image Source- Getty Image
Also, basketball is one of the mainstream sources of income to sum Autin Daye's net worth. Not to mention, he has made estimated career earnings of $10,129,318 from NBA and after playing six seasons.
You might be interested in NBA Finals Most Valuable Player 2014, Kawhi Leonard.
Salary
As mentioned, he made estimated earning of $10,129,318 throughout his NBA career. So, he played for six years. Which means he made an average salary of $1,688,219 annually.
He played three seasons for Detroit and made total cash of approximately $5 million.  Then he was under contract with Memphis Grizzlies for a year. He played a single season and made total cash of $2,958,077 from the contract.
Also, know the NBA Awards 2107 winners
After Memphis, he made a transaction to Toronto on August 1, 2013.Moreover, he signed the team for two years and made $2.01 million from the contract. But he played only eight games for the team.
In the same year moved to San Antonio Spurs and played two seasons for the franchise. From first season he made total cash of $947,907, and from the second season, he made $1,063,384. For the franchise, Daye played forty games and scored with an average of four points per game.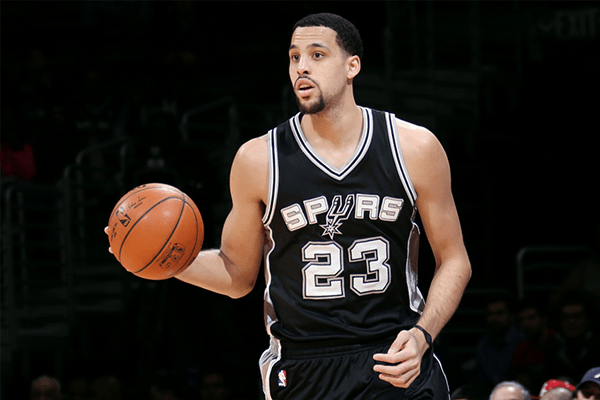 Austin Daye was a power forward while playing for San Antonio Spurs.Image Source- NBA
Daye was brought to San Antonio for Nando De Colo. While Nando was making $1,463,000 from the same team which is about $500,000 more than Daye's $947,907.
After he was waived by San Antonio, he signed an only 10-day contract with Atlanta. Later the contract was expanded for two years.  Being with Atlanta Hawks, he made total cash of $62,552. But his contract with Atlanta was terminated after four months.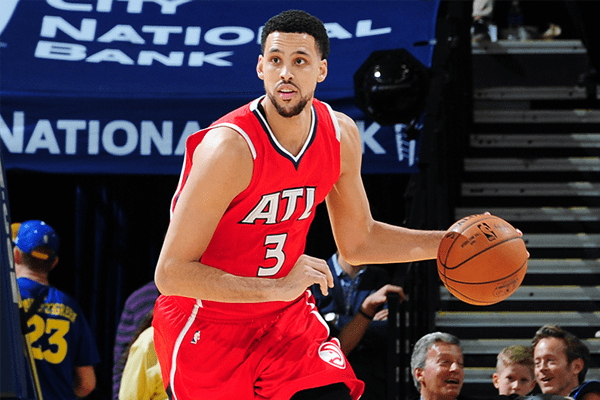 Austin Daye initially made only 10- day contract with Atlanta Hawks.Image Source- NBA
After leaving Atlanta, he made a transaction to Cleveland Cavaliers and signed a year contract for $1.19 million. Again the contract was terminated just after a month.
Here is the list of the NBA teams and total cash made by Austin in six seasons.
| Year | Team | Total Cash Earned |
| --- | --- | --- |
| 2009-10 | Detroit Pistons | $1,677,840 |
| 2010-11 | Detroit Pistons | $1,803,720 |
| 2011-12 | Detroit Pistons | $1,553,286 |
| 2012-13 | Memphis Grizzlies | $2,958,077 |
| 2013-14 | San Antonio | $947,907 |
| 2014-15 | San Antonio | $1,063,384 |
| 2014-15 | Atlanta Hawks | $62,552 |
Afterwards, he signed with Galatasaray Odeabank of Turkey on June 30, 2016, and after a contract with Al-Manama. Then he made a year contract with Israeli Club Hapoel Jerusalem. And currently, he is associated with Italy's Umana Reyer Venezia.
House and Car
Austin Daye's net worth includes his luxury car. In fact, he is an owner of a  luxury car, Mercedes AMG S 63. According to Mbusa, this luxury car costs $147,500. And the car consists V8 Biturbo engine of 603 horsepower.
Also read, WNBA's Sue Bird Biography
Whenever Austin is away from games, he likes to spend the spare time at the house. He watches films and watches the highlights of basketball games.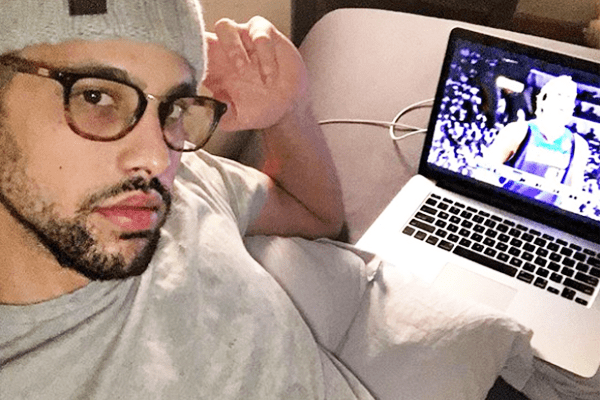 Caption-Austin Daye likes to spend his spare time at his house.Image Source- Instagram
As a whole, salary from basketball clubs, earning from the contract and his car and house are added to Austin Daye's net worth.
Stay with SuperbHub for more Entertainment News.