YouTuber Gigi Gorgeous and her girlfriend Nats Getty had rocked the internet and social media after posting a photo with a baby and thanking their surrogate in Instagram suggesting the couple recently have a baby.
The news of the transgender Gigi Gorgeous and Nats Getty having a baby spread in media like a fire. All the followers of YouTuber Gigi and Nats were shocked to hear the news as the two had not given any hint of having a baby.
Later, the news ended up being just a prank done by Gigi and Nats as they have been known to joke on social media. The transgender couple had not welcomed any child together. In the photo, they were just posing with a newly born baby of their friend.
New Born Baby Prank
On Nov 27, 2017, Gigi posted a photo of herself with a newly born baby in her twitter captioning"Thank you to our beautiful Surrogate" announcing she has become a parent.
Next side, Nats shared the similar photo on her Instagram with a caption "Our Little Angel". She even shared her video of rocking the baby on her Instagram story to make the fans realize its a true news.
A photo posted by Nats Getty with her girlfriend holding a newborn baby in her Instagram. Photo credit: Instagram/NatsGetty 
The posts of Gigi, the YouTube personality shook their fans around the world. Most of the fans were excited hearing the baby announcement whereas few were confused too. Some even thought that its just one of the realistic-looking doll.
After some days, Laura Ackermann, Gigi's representative posted the photo with the same child with which the couple had done a prank with the fans and clarified the fact that the YouTuber couple has not welcomed a baby.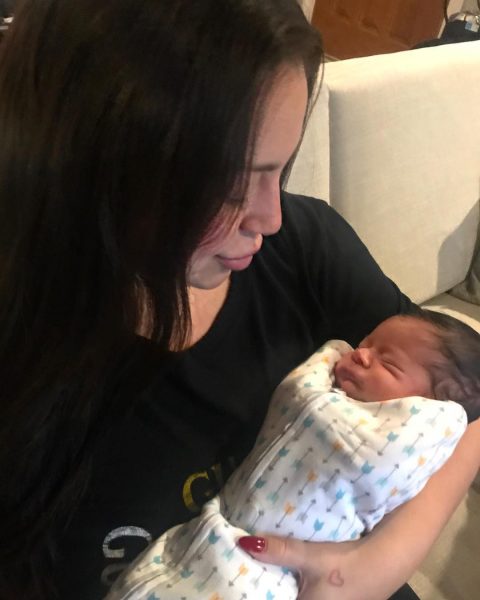 Hilary Montez posted a photo on Instagram with the same baby posted by Gigi Gorgeous introducing her as her nephew. Image Credit:Instagram/HilaryMontez
Laura Ackermann spoke on the behalf of Gigi to the news. He announced that the news about Gigi having a baby with the help of surrogate is just a rumor and prank planned by Gigi and Nats and they don't have any baby.

Gigi hadn't used the word surrogate to mean that she received a baby. Gigi, who does prank frequently used the word to depict that she will get to play a role of a parent while caring for her friend's child and create buzz among fans.
The couples disclose about their personal life with their fans without any hesitation. Gigi Gorgeous has recently posted a video of babysitting her friend's baby on her youtube channel thinking about having kids.
Visit SuperbHub for more celebrity News and Entertainment.