Castle star Nathan Fillion has dated girlfriend Krista Allen for two years. Their affair has been striking as a highlight. Krista Allen's boyfriend, Fillion has rarely been in such public relationship before. And the 2015 Instagram posts of Days of Our Lives star, Krista Allen proves that these two were in love.
But, are they still together? Or, is the couple going to marry in near future?
Possible Hints for Fillion and Krista Marriage
As mentioned in US Weekly, Nathan and girlfriend Krista have been dating each other since the end of 2015.  The known boyfriend and girlfriend had been very open about their romance and relationship.
Looking at the divorces Krista Allen had, it looks like she is unlucky when it comes to love and affair. But, after her two unsuccessful marriages, it seemed Krista finally found the man of her dream.
And, there were few hints coming out that somehow proved Krista Allen's boyfriend Fillion is looking forward to making his life funnier by marrying Krista.
The first hint was that Nathan has already met Krista's son. And they were getting along very well according to US magazine.

The other hint is that this was for the first time Nathan went public about his love life.  He was linked with few actresses including Christina Ochoa, but there was no evidence of them dating. He also didn't comment on any affair rumors.
Nathan was a married man in his ABC show, Castle. He portrayed the role of Detective Kate Beckett's husband really well. Fillion was also rumored to have romanced his co-star Kate aka Stana Katic for many years according to Daily Mail.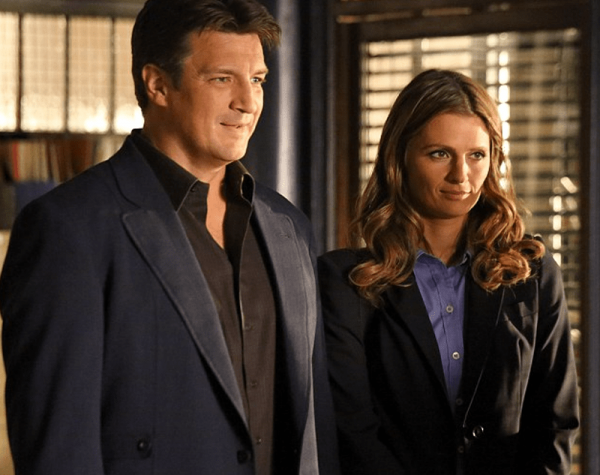 Image Source: Daily Mail
Nathan Fillion rumored to have romanced his Castle co-star, Stana Katic
They looked like a real couple too. Castle fans loved their onscreen chemistry. However, the dating rumor wasn't confirmed and claimed as true because Stana already had a boyfriend.
She also secretly married her longtime sweetheart Kris Brkljac, a business consultant in April 2015.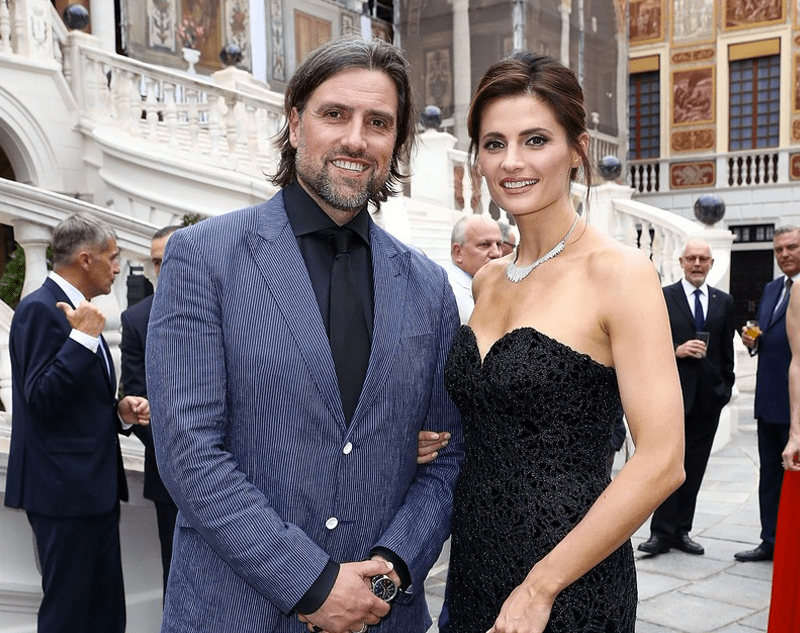 Nathan Fillion's rumored girlfriend Stana Katic with her husband Kris Brkljac.
Image Source: Just Jared
Nathan Fillion's real-life affairs were always hidden outside the eyes of media. But then suddenly by the end of 2015, Nathan was everywhere in Instagram posts of Baywatch babe Allen.
He might have felt that he finally found someone with whom he can go public and announce that he is in love!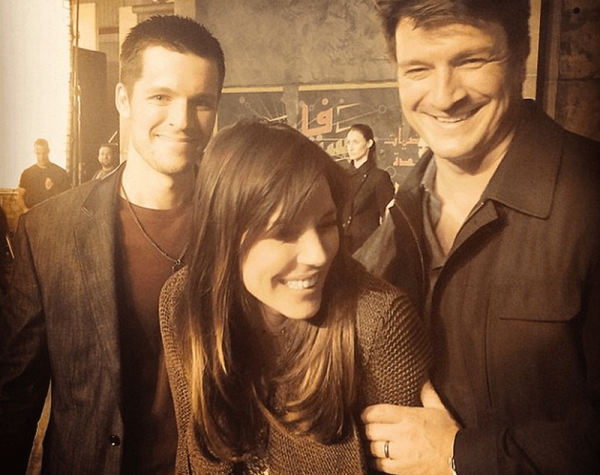 Krista Allen's Boyfriend Nathan's pictures everywhere in her Instagram posts
Source: Krista Allen's Instagram
The lovely pair spent quality time together and hanged out a lot. Whatever the occasion be, the duo was spotted together often, laughing and enjoying each other's company.
In Halloween 2015, this horny Satyr and forest nymph couple posed for this picture and they looked absolutely awesome pair.
The third and the most obvious hint was that Nathan is not married yet.
Krista Allen's bond and possible affair with Victor Webster
The lovey-dovey couple Krista and Fillion's rumors about their wedding have come to a halt. Possibly due to Allen's closeness with Canadian actor Victor Webster. This might have created chaos in her love life again. 
However, we can just assume as there could just be a friend zone between them.
Krista Allen's boyfriend Nathan who was once all over Krista's Instagram is seen nowhere recently which gave us a hint that something is not going well between them.
You never know this couple can give us a big surprise by announcing their wedding date.
Krista's  Ex-Relationships
Krista has been difficult in maintaining relationships before. But she is doing well being a single mother.
She has one son with her first husband Justin Moritt. Well, Krista says the reason for their separation is their son. But when it comes to priority, her kid is always on the top of the list. The boyfriend to husband relationship between Krista and Justin Moritt lasted for three years.
Krista again tied knots with Mams Taylor and their relationship lasted for two years.
Because of her repeated love affairs and marriages, she has been into the limelight of public. Her most popular affair was with George Clooney.
Facts about Krista Allen
American comedian actress Krista Allen is popular for her acting in Days o Our Lives TV Series.
She was a kindergarten teacher before she pursued acting as a career.
She is a certified yoga instructor and a vegan.
 She has been involved in fifty different productions midst her acting career.
Facts about Nathan Fillion
Nathan Fillion is Canadian voice actor.
He has founded a non-profit organization called Kids Need To Read.
Fillion's first role was on a daytime soap opera, One Life to Live (1968)