Natasha Exelby is an Australian newsreader who is known for her journalism work in the Australian news agency, ABC 24. She is a contestant in the Australian reality TV series; I'm a Celebrity…Get Me Out of Here!
In 2017, Exelby made headlines when her video went viral when she was caught daydreaming. Following her departure from ABC, she has launched her media consultancy, XLB Media.
Natasha Exelby in the Australian reality TV series, I'm A Celebrity Get Me Out Of Here
Exelby returned back to TV when she was cast in the network Ten reality TV series, I'm A Celebrity Get Me Out of Here in early 2019. This was the fifth season of the series. The first episode aired on 13 January 2019 and ended at 17 February 2019.
View this post on Instagram
Exelby entered in the premiere episode of the shown on 13 January 2019. In the show, she was a team leader for the red team. She led the group for eight days. Natasha was the eighth contestant to be eliminated from the show on 10 February 2019. The show's winner was Richard Reid. Reid is a former Today gossip correspondent.
In the show, the celebrity who wins get a cash prize of $100,000. The winner gets to donate the sum to his/ her chosen charity foundation. The charity causes which the former TV journalist, Natasha Exelby supports is Fearless. The foundation aims to aid and control the victims of traumatic stress.
What Is Natasha Exelby Doing Now?
Natasha Exelby was an Australian newsreader by profession before she switched her career. She has also worked for CNN and was employed as a foreign correspondent. Her notable works were being an anchor for the news agency based in Turkey.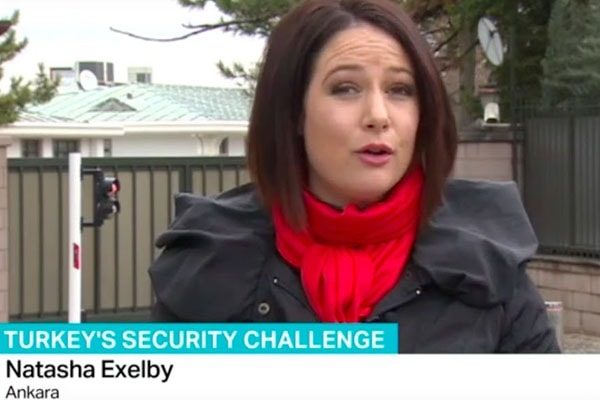 Natasha Exelby, a former correspondent of CNN based on Turkey. Image Source: TRT World/ YouTube
The former Australian TV journalist Natasha Exelby, came into instant recognition after she went viral globally after she was caught red-handed daydreaming and playing with a pen during a live shoot which aired for ABC News in 2017.
After the incident, Natasha revealed that the ABC took her off the air and instead offered her production shifts instead. Such an act did not still well as she left her job soon after. She later opened her own public relation firm known as XLB Media.
SuperbHub for more News and Entertainment