It is normal for a musician to get tattoos nowadays. The tattoo can be favorite quotes, a unique symbol or portrait of people that you admire.  Mötley Crüe's Nikki Sixx has got some amazing tattoos on his whole body. The tattoos on his body look so amazing that we can't ignore.
Nikki Sixx whose real name is Frank Carlton Serafino Feranna Jr. is an American songwriter, radio host, musician and photographer. He is popularly known as the bassist and co-founder of the band Mötley Crüe. He has got a number of tattoos on his body. Let's know more about Nikki Sixx's notable tattoos.
Angel In The Ribcage Area
Nikki Sixx has got a tattoo of an angel holding a Christian cross on his ribcage. He hasn't revealed the exact meaning behind the tattoo but we can assume that he might or might not be a religious person. However, it is reported that he inked it after the band got fame.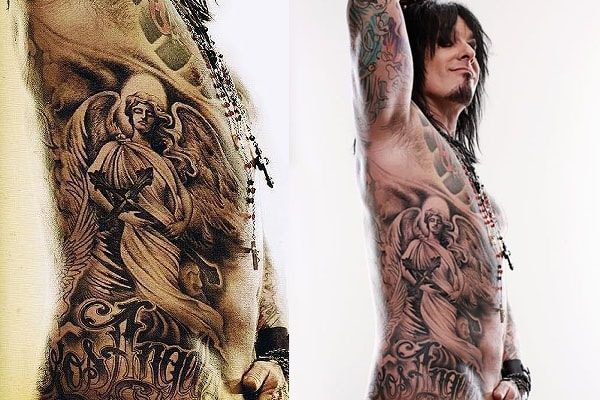 Nikki Sixx's has got a tattoo of an angel in his ribcage. Picture source: Pinterest.
Stars
It seems Nikki Sixx is fond of stars. He has got several tattoos of stars in his body including face. The talented Nikki Sixx has a star on his face, exactly on his cheek. He also has got stars on his knuckles. He hasn't revealed the exact reason behind the tattoo but it seems he wanted to be a star from the very beginning of his career.
Matching Tattoo with Daughter Storm Brieanne Sixx
Nikki Sixx and his daughter Storm Brieanne Sixx have a matching tattoo of a joker. He has the tattoo on the forearm and his daughter has the same tattoo on her shoulder. It has been reported that the two are very close to each other.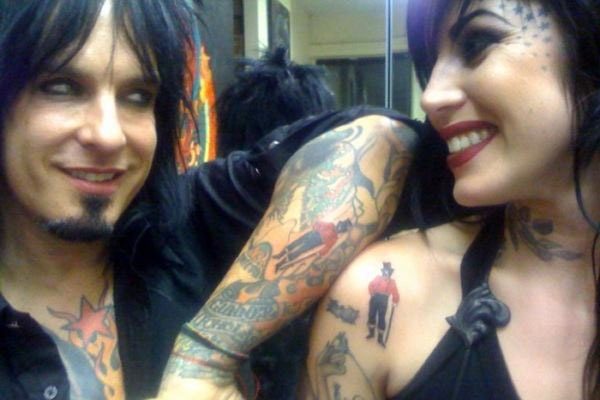 Nikki Sixx and his daughter Storm Brieanne Sixx have a matching tattoo. Picture source: Celebrity Design Tattoo.
Large Tattoo on Back
Other than that, the most fascinating one is that Nikki has got on his back. Some say it looks like a sun but everyone has their own opinion. It's only up to Nikki who knows what the tattoo is about and what is the meaning behind it.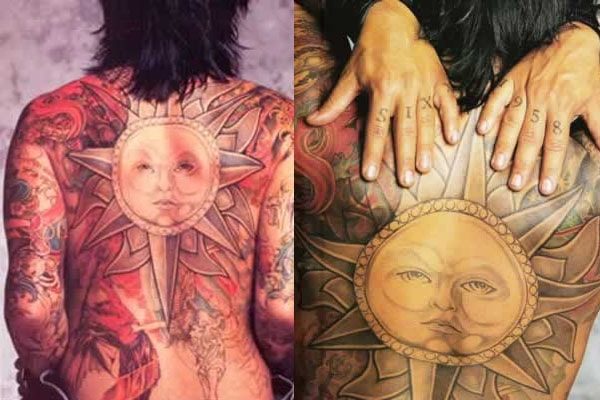 One of Nikki Sixx's Amazing Tattoos.Photo Source; Pinterest.
1958 and SIXX
Nikki Sixx has got a tattoo written 1958, each number in each finger of his right hand and SIXX, each letter in each finger of his left hand. The meaning behind 1958 tattoo is, he was born on this date and SIXX is after his stage name Nikki Sixx.
Besides these, Nikki has so many amazing tattoos inked on his body.
Keep connected with SuperbHub for more News, Entertainment and Biography.