Mojo Rawley has been making some headlines lately. A man who knows how to grab the limelight, he was in the news again after he delivered an epic chest slap to a fan at a bar. You can see it the video below:
But the most interesting development in the Mojo saga off late has been about his love life. With him posting pictures with Fergie on Instagram, it has led us to wonder: Is she Mojo Rawley's girlfriend?
Mojo Rawley is well-known pro-wrestler currently working in WWE in the Smackdown Live! brand. He is also a former football player, as he played as a defensive lineman. He is best known for winning the 2017 Andre the Giant Memorial Battle Royal. He previous had formed a tag team with Zack Ryder and were known as the Hype Bros. He makes pretty good money from WWE.
He is also famous for being close friends with New England Patriots player and mega star Rob Gronkowski. Gronkowski, better known as Gronk, helped mojo win the Andre the Giant Memorial Battle Royal as well. The two are seen hanging out together a lot.
 Is Mojo's girlfriend Fergie?
The biggest question revolving around Mojo right now is about his love life. People are curious to know who Mojo's girlfriend is. While we know a lot about his professional life, we don't know much about his love life.
But some recent developments seem to suggest that Mojo's girlfriend is none other than Fergie, the singer of the band Black Eyed Peas. This all came bout after the two attended Jamie Iovine's birthday.
The two were seen together at the party and Mojo later posted the two's photo on his Instagram claiming Fergie is his girlfriend. This post caused the social media to go Boom Boom Pow (pun intended). Even WWE posted about Mojo and Fergie's relationship. His instagram posts tell us that Fergie is Mojo's girlfriend.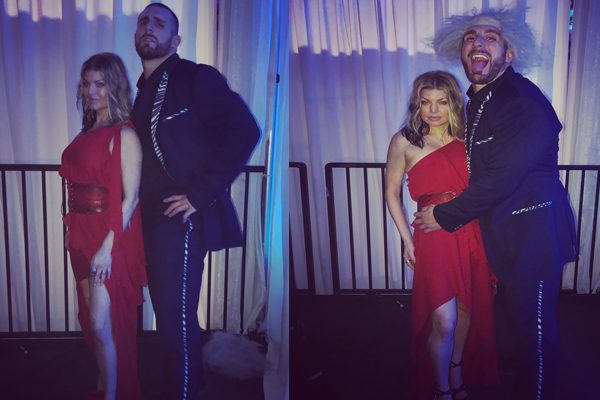 But, there's one catch. Mojo is a known prankster. He fools us all the time with his pranks. His co-workers always fall victim to it. Could this post also be a prank? There has been no mention of Fergie from Mojo since that post which suggests it was just a prank and Fergie is not Mojo's girlfriend.
What's up with Mojo and Alexa?
Whether Fergie is Mojo's girlfriend or not, we do now that Mojo has the hots for one of his co-workers Alexa Bliss. He is seen stalking her and has made no secret of his admiration of Alexa. He recently posted a video of him stalking Alexa on Instagram.
But we can confirm that Mojo's stalking is just playful and there's nothing more. He happen's to be good friends with Alexa as well as her husband Buddy Murphy.
For more such articles, please visit Superbhub.