Mitchell Starc and Alyssa Healy have been enjoying their marital life since April 15, 2016. Both the couple are active members of Australia's cricket team. Starc is a Left-handed bowler/ batsman. Whereas, his wife Alyssa Healy is a right-handed batswoman and wicket-keeper.
Their love story began far before their career even started when Starc was merely 9 years old. They started off playing on the same team. Soon their player's bond gradually evolved into lovers' bond, and they eventually started dating.
Mitchell and Alyssa Have Been Together For 3 Years
The pair of Mitchell Starc and Alyssa Healy first met when they were just nine. They were trailing to play representative cricket for Sydney's Northern District Cricket Association. But the main problem was they were both jostling for the same position as wicketkeeper in the under-10s.
Luckily the pair shared their duties behind the stumps right up until Starc took up bowling and Healy left the boys team for a spot on the women's cricket team at age 15. But the bond they formed as nine-year-old teammates never left them.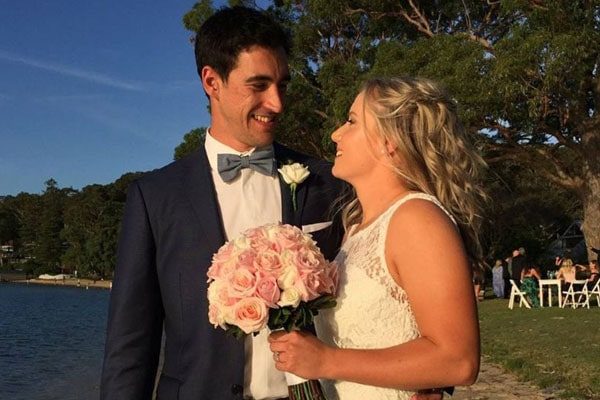 Mitchell Starc and Alyssa Healy exchanged their vows on April 15, 2016. Image source: Mitch's Instagram.
Despite having to travel alone a lot because of their matches and tournaments, the couple tries to spend as much time together as possible when they are not out there playing cricket. Even though they may not have spent much time together since their marriage, the bond between the pair appears to be stronger than ever.
To support that statement Starc even mentioned six great, fun, memorable years with his best friend and love of his life, on his Instagram post for their anniversary.
View this post on Instagram
Even though people say they are the most perfect duo, there is a downfall since both are active members of their country's cricket team and don't have much time for one another. According to Mitchell Starc's wife Alyssa, when she reaches home after a hard day, she finds Mitch who might also have a hard day and the tired atmosphere just ruins their moment. So whenever they have got free time, the lovebirds tend to spend it at the beach and the gym and don't speak much about cricket unless it's on television.
Plans About Having Children
Besides having cricket as a common factor between the pair, they also love dogs. Matter of fact they have three dogs. Both the married duo like to keep the public informed about their dogs.
Mitchell Starc and Alyssa Healy don't have any kids, but in an interview, they mentioned they have three children. They were most likely talking about their pets. According to Mitch, they are not yet ready for a kid as they are fully concentrating on their respective careers and can't provide their kids with the attention they seek for.

Furthermore, the couple loves spending their time with their teammates and often they are seen joking around and having drinks with their mates. Besides enjoying their time with their teammates they even separate time for one another and have a lot of fun goofing around taking pictures of one another. At last, we can conclude that the lovely couple has equally managed their career as well as personal life.
For more information on, Celebities News, Articles, Entertainment and Biography visit SuperbHub