Romantic Mika Brzezinski is married to 'Morning Joe' colleague Joe Scarborough. They were engaged in May 2017 and tied the wedding knot in a secret ceremony on Nov 24, 2018.
Mika Brzezinski quit her relationship with ex-husband Jim Hoffer in June 2016.  Joe Scarborough also divorced with his ex-wife in 2013. It is reported that the closeness with Joe is the main reason for divorce between Mika Brzezinski and husband Jim Hoffer.
Mika Brzezinski and Joe Scarborough's Marriage
The wedding ceremony took place in the National Archives in Washington D.C. The couple kept the details of the ceremony under wraps. According to Vanity fair, The couple didn't send any formal invitation, made just 14 calls to their family members, close friends and guest were unknown about the location of dinner until the day of their wedding.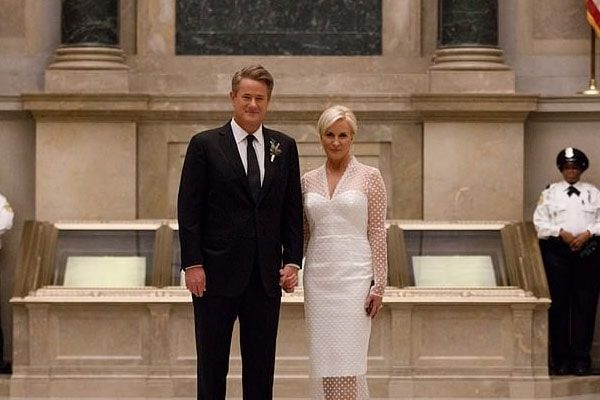 Mike Brzezinski along with current husband Joe Scarborough. Picture source: People. 
In an interview, Mika mentioned why they decided to keep their marriage secret from the public by stating
We wanted it to be small and simple and not what all expected. Everything we do is exposed, and everything felt exposed every step of the way, so we want this to be private until it's over. We wanted to recognize it quietly and have the people who are most important to us around us. And everyone knows, our show is a cocktail party every morning.
Going deep through some wedding pictures we found, Mika as a bride was dressed on her white gown designed by Milly. And the groom looked handsome on his black suit with white shirt and black tie.
Mika Brzezinski and Jim Hoffer divorce
Mike and Jim got married in 1993. They together had two daughters. However, their relationship couldn't last long and got divorced in 2016 after 23 years of married life.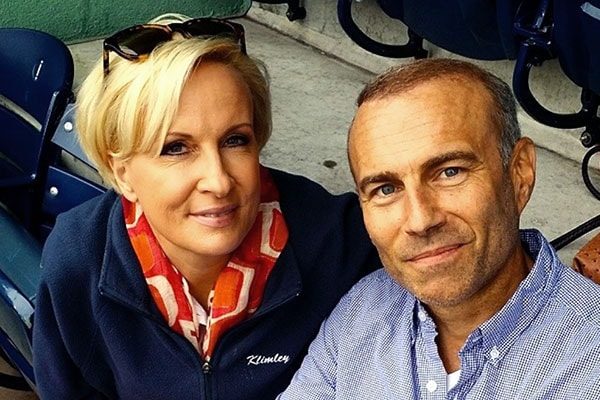 Mika along with estranged husband Jim Hoffer. Picture source: People. 
It is reported that Joe Scarborough is the reason behind Mik and Jim separation. Mika and Joe were widely rumored to be romantically involved and there was lots of on-air chemistry for all to see. However, the duo never confirmed they are in love affairs before calling quit with Jom Hoffer.
After separating with Jim, Mika eventually moved on and romantically involved with Joe, so it seems Joe could be the reason behind their separation.
As of now, Mika is the mother of two daughters and four stepdaughters. She is living happily with a her working and life partner, Joe Scarborough.
SuperbHub for more News and Entertainment.