Michael Strahan is a co-host of the well-known show, Good Morning America with Amy Robach and Ginger Zee. Previously, he was hosting a show, Live with Kelly and Michael alongside Kelly Ripa. Furthermore, this was after his retirement from NFL Career.
Surely, playing for one single team, New York Giants for fifteen years in a constant role earned him veneration plus good earning. But in his second career, he is a host of ABC's GMA and also his own game show $100,000 Pyramid.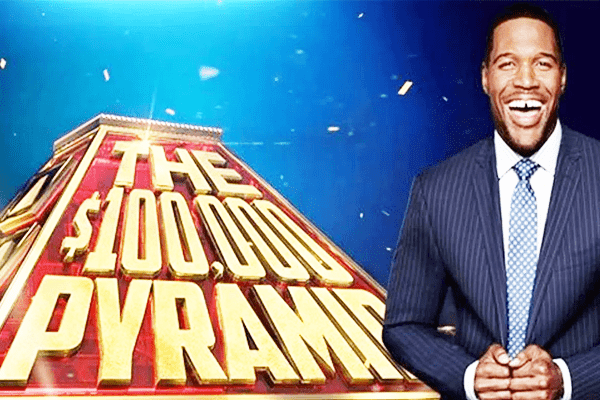 Michael Strahan hosts ABC's 100,000 Dollar Pyramid.
Image Source- Disney Examiner
See the Story of Michael Strahan's Children
How much was he earning from Live With Kelly and Michael?
Michael joined the show on September 4, 2012, after the co-host of the show, Regis Philbin left the show leaving vacancy. Then, Michael opted for the vacant seat. Michael Strahan's salary while joining the show is not revealed, but in 2013, he was getting an annual salary of $4 million.
Michael is dating, Kayla Quick since 2015. Know more.
But his skills as host earned the show's popularity that led FOX Network to raise Michael Straham's salary to $10 million in 2015. There are few who's per year salary increases in such ratio. Afterall, his annual salary was raised by $6 million or by 150%.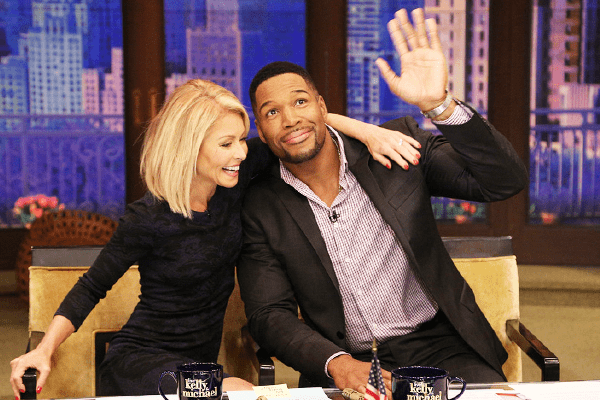 Michael Strahan as co-host of the show, Live with Kelly and Michael.Image Source- E! online
At the same time, his co-host Kelly was earning the salary of $15 million. But still, he was getting $5 million less than Kelly Ripa's salary. He left the show on April 19, 2016, leaving everybody on surprise including Kelly Ripa. Then he entered to ABC's Good Morning America as host.
In 2017, Michael was listed on the 11th highest-paid retired athlete in 2015 as he made approximately $17 million that year. While he was on Top 10 highest paid TV stars in Forbes list 2017. Topping the table was Dr Phil McGraw with annual earnings of $79 million. And Michael was in ninth position with annual earnings of $21.5 million lagging behind Sean Hannity's $36 million.
Meanwhile, in 2017, Kelly Ripa's net worth was approximately $100 million while Michael Strahan's net worth was $65 million.
You might be interested in Michael Strahan's girlfriend's net worth.
Earning as a host of Good Morning America
After ABC announced the Football giant as host of the GMA. There were questions regarding Michael Strahan's salary. Very soon his annual salary was revealed. In fact, his salary was doubled in 2016. Previously, he was getting $10 million from FOX Network. But in ABC he got about $20 million as salary.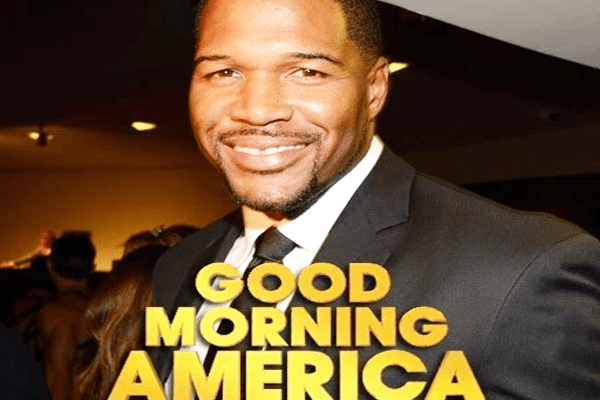 Michael Strahan is the host of ABC's GMA.Image Source- The Celebrity Status
It was a financial boost to Michael Strahan's salary and a huge investment for ABC.  Furthermore, he was also offered to host a new sports show The $100,000 Pyramid. Importantly, GMA forced Michael to leave any endorsements. Earlier, he had an endorsement deal with companies like Subway, Pizza Hut, Metamucil and other endorsements. So, he dropped all the deals.
Salary as an NFL Player
As mentioned earlier, Michael was associated with New York Giants for fifteen years. In his overall career, he made about $60 million in salary solely. On the other hand, he made a huge earning of $46.298 million while signing seven years contract after outstanding 2001 season.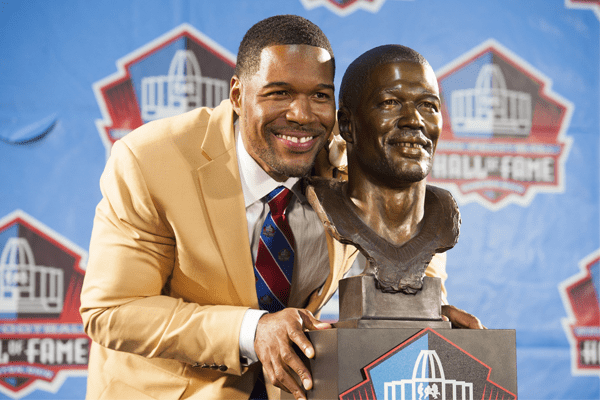 Hall of Famer, Michael with his statue.Image Source- NJ
Before this, he signed the contract for four years that made him a fortune of $12.2 million.
Here is the table where Michael Straham's yearly earning is revealed.
| Year | Estimated Earning in Cash |
| --- | --- |
| 1993 | $620,000 |
| 1994 | $212,500 |
| 1995 | $255,000 |
| 1996 | $4,850,000 |
| 1997 | $1,700,000 |
| 1998 | $2,900,000 |
| 1999 | $12,400,000 |
| 2000 | $4,600,000 |
| 2001 | $7,000,000 |
| 2002 | $20,598,000 |
| 2003 | $2,100,000 |
| 2004 | $4,350,000 |
| 2005 | $5,250,000 |
| 2006 | $5,000,000 |
| 2007 | $4,500,000 |
| Total | $76,335,500 |
Furthermore, he is also an author of a book Helmet; My Life as a Sunday Afternoon Warrior with co-author, Jay Glazer. This book costs exactly $219.95 to buy from Amazon. Meanwhile, Jay Glazer's net worth is approximately $5 million.
Also see Michael Strahan's marriage 
Stay up to date with SuperbHub for more exciting Entertainment News.