German Model and Fitness Lover, Metisha Schaefer is the dream every boy would wish for. In September 2016, two weeks before the premiere of  Wags Miami, E! News introduced its Wags Cast. Gorgeous Metisha was introduced as another Wags Miami star Nicole Williams' current boyfriend's ex-girlfriend. Now that was interesting.
Looks like she has a number of dating histories in the past. Does that mean she is single now?
Is Metisha Schaefer ready to mingle? Or dating someone?
In 2017 interview with Jeremy Hassell on YouTube, Metisha pointed out what she is looking for in a man. She stated she likes someone who works out and takes care of his body like she does.
Someone tall and gentleman. She says she gets really impressed with the gentleman who shows good manners like opening car gate.
This possibly gives us a hint that she's still looking for the right fit guy.
But, in an October 2016 interview with Bustle, Metisha revealed that she is in love with an athlete in Miami. She didn't mention his name. But the hint links to someone she has mentioned on her Instagram in February 2017.
Here, she is having a training session with Tony Thomas. Can Tony be the possible athlete or fitness lover she was referring to?

Well, we can just guess as she hasn't made an official announcement on the name she is or was dating.  Other pieces of evidence for claiming Tony to be her boyfriend is not found.
Her latest Facebook feed, Instagram, and Twitter post suggest she is single. Also, Schaefer is not showing any sign, to be married.
Meanwhile, we don't know who is possible Metisha Schaefer's boyfriend.
Metisha Schaefer's ex-Boyfriends: A brief look at her past relationships
In 2016, Larry English, an American footballer, emerged as Metisha Schaefer's Boyfriend. Though the exact date when they started dating is not known, they were certainly dating.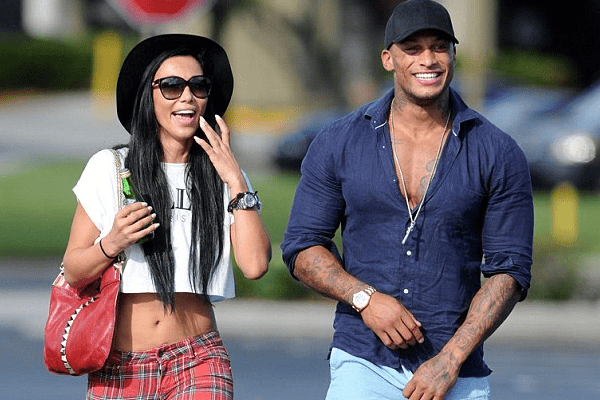 Metisha Schaefer with her Ex-boyfriend, Larry English Image
Image source-Daily Mail
According to E!Online, at WAGS, things went wrong when a cast member, Tia Shipman, invited Metisha Schaefer's boyfriend, Larry English and Metisha for a dinner party. Interestingly, Larry English's current wife Nicole Williams was there too. Nicole was shocked and certainly not happy when Metisha claimed that, Larry cheated on her that lead to their break up.
Lip locking with Ex-Boyfriend, David McIntosh
Before Larry English, Metisha Schaefer's boyfriend was David McIntosh . According to Daily Mail, Metisha Schaefer and her ex-boyfriend, David was found kissing at Miami hotel. This happened just two weeks after David McIntosh broke up with Kelly Brook.
Later, Schaefer was found shopping with boyfriend David McIntosh at Miami. They were picking groceries from the whole food market. Metisha Schaefer's boyfriend, David McIntosh was a fellow model of Metisha.
Metisha Schaefer shopping with Ex-boyfriend, David McIntosh
Image Source- Daily Mail
Quick  Facts on Metisha Schaefer's Boyfriends
Initially, Metisha was dating David McIntosh and then Larry English.
Metisha Schaefer's Boyfriend, Larry English, exchanged vows with Nicole William after breakup with her.
Metisha once said, she will love to have a caring and fitness lover boyfriend.
Stay with us for more entertainment news on SuperbHub.