Image source: Latest news-Gold wave
It's not only Merry Christmas perhaps it's Merry Royal Christmas. Meghan made Christmas more charming and appealing by joining her fiancé Prince Harry and other members of Royal family for Christmas Day service at Sandringham Estate.
Meghan is the first fiancé to join the Christmas with Royal British family.
Meghan and Prince were paired by Queen Elizabeth II and Prince Philip as they stepped into the family's longtime church in Norfolk near Sandringham.
Meghan made herself more royal by smiling the whole time during the visit. Her appearance was like of classic Royal family. She flaunted herself in a tan wrap coat with a pair of brown boots and a Chloe handbag to match.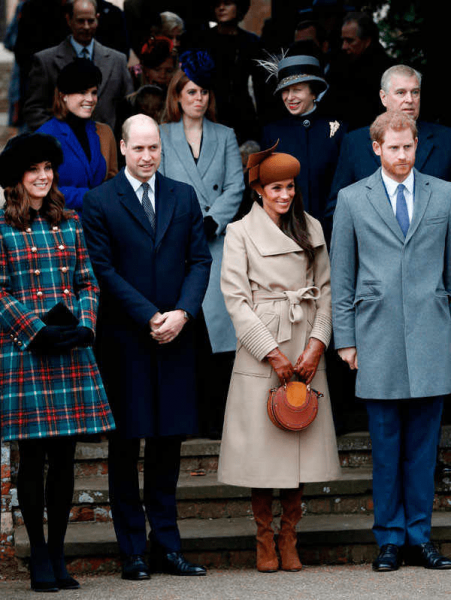 Picture credit:eonline
The pictures show she's too cozy with Prince Harry keeping arm-in-arm with her future husband along with Prince William and Duchess Kate.
The area of the Church in Sandringham was filled with the crowds to welcome the Royal family. The crowds were wishing "Merry Christmas" as they passed.
Markle shined her broad smile waved the crowd in her first public appearance with the Queen. Meghan and Harry stopped and had a talk with locals on their way back to Queen's residence.
Duke and Duchess of Cambridge, William, and Kate also stopped to talk with the locals who had long waited in the freezing weather for a chance to give greetings to the Royals.
The crowd was larger than the previous year. Is it due to Markle's appearance?
After the engagement, Kate and Markle have been pictured together for the first time.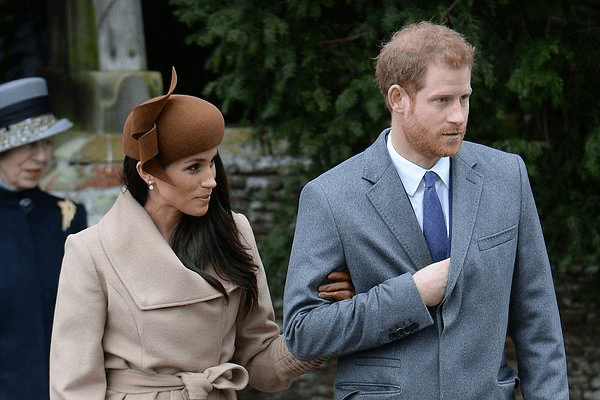 Picture credit:Daily Mail
Soon after the Christmas Day Service, Queen Elizabeth II officially welcomed Meghan Markle to the family of Royals during her annual Christmas Day message.
Queen Elizabeth  II, 91, and Philip, 96, couldn't attend last year's church service because they had the flu, but they seemed charming and healthy during Monday's appearance.
Really..All of us are really happy to see the happy family together. Merry Royal Christmas to the royal family!