Prominent for getting involved in feuds with a multitude of rappers and celebrities, Meek Mill hasn't spared one column of the news outlet for any other celebrity drama. But having said that, the rapper has earned his fair share of income from the work he has done in the past years, through unnerving dedication, passion, and consistency. As of now, Meek Mill's net worth is estimated to be $20 million, which he has amassed from a prolific rapping career.
Growing up in poverty, having to lose his dad at an early stage proved to be soul-deadening for the talented rapper. But nothing stopped him in his tracks to be one of the wealthiest artists.
Meek Mill Net Worth and Sources of Income
As mentioned above, Meek Mill has an estimated net worth of $20 million, which can be attributed to his flourishing rap career. Let's find out what Meek's sources of earnings are:
Income from Album Sales
If you fancy rap music, it shouldn't come off as a surprise to you that Meek is one of the purest forms of talent out there. With amazing flow, great lyrics, and on-spot rhymes, he has produced some brilliant songs and pulled in massive revenue.
Inspired by Will Smith and D.J. Jazzy Jeff, the bright artist was always enthusiastic about rapping and would take part in local rap battles. Who knew that this regional battler would go on to sell hundreds of thousands of copies of his songs later on?
Meek Mill's net worth was heavily backed during its early stages because of the band he formed with three of his other friends, called The Bloodhoundz. He started dropping mixtapes in the mid-2000s. And the one that put him on the radar was Flamerz. This and the follow-up Flamerz 2- Hottest in the City sparked the interest of T.I.'s record label, Warner Brothers Records, and Grand Hustle Records. After spending a year in jail, he chose to get signed under Rick Ross' label called Maybach Music.
Meek Mill's fortune saw new heights after he released his debut studio album titled Dreams and Nightmares. It reached No.1 on the US HipHop/R&B and U.S. Rap charts as well as No.1 on the Billboard 200 charts. Moreover, the singles in the hit album featured renowned rappers like Birdman, Lil Wayne, DJ Khaled, Swizz Beat, and Yo Gotti.
Another mixtape series that was released by Meek in 2011, Dreamchasers and Dreamchasers 2, turned out to a groundbreaking hit too. It was downloaded over 1.5 million times, only six hours after it's release. Furthermore, Meek Mill's net worth has also been boosted by some of his hit singles like All Eyes on you featuring Nicki Minaj and Chris Brown. It reached double platinum and #5 on the U.S. Rap chart. His other albums, including Win & Losses(102K album sales) and Championships(230K album sales), proved to be commercially successful too.
Income from YouTube and Streaming
If you make catchy songs, fans are bound to keep jamming it. Hence, consistent and juicy ad revenue from YouTube. According to SocialBlade, the rappers' main channel where he uploads music videos, provides Meek Mill with a monthly income of $102.6K and an annual earning of up to $1.2 million.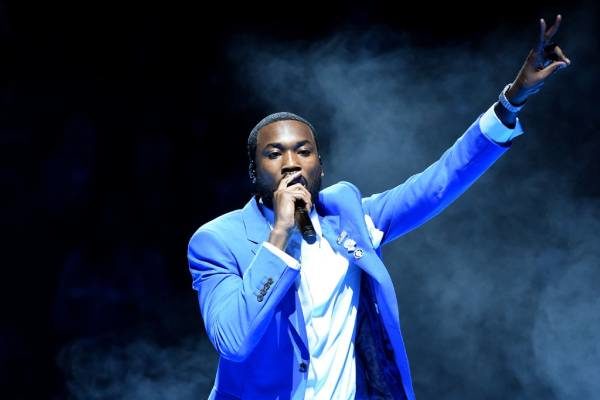 Meek Mill's annual revenue from YouTube can reach up to $1.2 million annually. Photo Source: Getty Images.
Added to that is the fact that Meek's music is available on various other streaming platforms as well including Spotify, iTunes, Apple Music, Amazon Music, just to name a few. Given that his music has thousands of monthly listeners, it's safe to assume that Meek Mill's net worth is substantially increasing every single day, as the songs are being streamed.
Income from Merchandise
Meek Mill's earnings aren't just restricted to album sales and streams. In fact, the skillful actor has a wide assortment of merchandise available for purchase on his official website. Some of these items alongside their respective prices are listed down here:
| Items | Price |
| --- | --- |
| Voices Long Sleeve + CHAMPIONSHIPS Download + TIDAL Free Trial | $40.00 |
| Counted Me Out Puma T-Shirt + CHAMPIONSHIPS Download + TIDAL Free Trial | $35.00 |
| Product of My Environment Hoodie + CHAMPIONSHIPS Download + TIDAL Free Trial | $65.00 |
| DC Logo Snap Back + CHAMPIONSHIPS Download + TIDAL Free Trial | $35.00 |
Given the artist's increasing popularity, it wouldn't be far-fetched to assume that the heavy sales of these items are certainly increasing Meek Mill's fortune.
Fans can also buy tours and concert tickets on Mill's official site, which again acts as another source of income for him.
Income from Dream Chaser Records
Meek Mill announced the launch of his own record label imprint, Dream Chaser Records, and later, he made it a joint venture with Roc Nation. He remarked that forming a record label had always been one of the next steps in his journey as a businessman and that he really appreciates Roc and Jay-Z for their support.
Since then, Mill has tried to find young, hungry talent and opened doors for the next generation of artists. So as the president of the label, Meek Mill's paycheck must be coming in bulk.
Income from Endorsements
According to Cheatsheet, the spirited hip hop artist makes quite some buck through Celebrity Endorsements. For instance, since 2012, he has endorsed Puma products, and he also teamed up with them to promote prison reform.
A company like that must have paid a truckload, and given the fact that Meek Mill's Instagram has a whopping 19.4 million followers, there's no denying that he might get a plethora of lucrative offers in the future.
Activism and Philanthropy
Although there has been a certain level of feud or controversy surround Mill, he actually seems like a down to earth person. He spent $50K to donate 60K water bottles to contribute to the Flint Water Crisis in 2014. Later in 2018, Meek Mill also donated 6K backpacks to the students in Philadelphia.
After the rapper's release from the custody, Mill co-founded the Reform Alliance Foundation, an organization aiming to reform the criminal justice system by rooting for change in laws and policies, starting with probation and parole. Many have contributed to the organization as well.
Meek's Mind-Blowing Jewelry Collection
It's nothing less than mind-boggling to glance at Meek Mill's jewelry collection. He has flaunted many gold-plated and diamond-engraved watches on multiple occasions. Luxurious pendants, bracelets, rings, necklace all topped with top-notch diamonds, white gold and shiny gold just goes to show how extravagant Meek's life really is.
View this post on Instagram
Probably the most expensive one in his crazy jewelry collection is a $540K worth 240-carat diamond necklace. It includes 'Dream Chasers' inscribed entirely in diamonds on each side of the necklace. We can only imagine the aggregate price of his entire collection and nothing is stopping Mill from adding another piece to his incredible heap.
Meek Mill's Luxurious Car Collection
It's pretty normal to see rappers to set aside some of their cash for extravagant wheels once they reach the multi-million-dollar milestone. Meek Mill, similarly, is no different.
View this post on Instagram

The car-fanatic has formed a gorgeous line-up of some really fantastic cars. Take a peek at all the magnificent prestige cars in his garage:
Aston Martin Rapide  worth $239K
A Mercedes Maybach worth $170K
Bentley Mulsanne starting from $310.8K
Bentley Flying Spur starting from $214.6K
Roll Royce Ghost starting price, $311.9K
Mercedes G64  worth $125.4K
Mercedes Class -S worth $94K
Not to mention, all the opulent jewelry Mill is often seen wearing. He is truly living the lifestyle few can only dream of.
The 32-year-old rapper has already exhibited a lot of talent and established himself among the A-Listers already. In a couple of years, we are sure to see Meek Mill's net worth soar to new heights.
Short Info About Meek Mill
Meek Mill was born on May 6, 1987, in Philadelphia, U.S.
He is the son of Kathy Williams and has an older sister, Nasheema Williams.
Mill's father died when  Meek was only five years old.
Dated Nicki Minaj for two years.
Don't Miss To Follow SuperbHub For More Updates On Celebrity News, Entertainment, and Biography.