Published Date 19th Nov. 2018, 08:18 am Update Date: December 14th, 2018 10:09 am
Sadi
Michelle Wiliams and Heath Ledger's daughter Matilda Ledger turned 13 at October 28, 2018. She looks so much like her father Heath. She has grown beautiful, smart and tall like her father.
Matilda's famous mom Michelle Williams no longer needs to look down at her daughter as Matilda has grown taller than her mom. Have a look at the picture of this adorable mom-daughter duo that a fan couldn't help taking.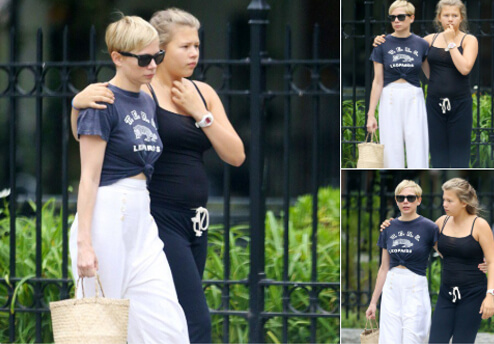 Facts about Matilda Ledger
Lost her father Heath Ledger at the age of 2


Matilda's father Heath Ledger tragically passed away on January 22, 2008, when she was just two years old. And Heath was just 28 years old.

Heath died due to the accidental mixture of his prescription drugs that resulted in cardiac arrest. He died in his New York City apartment. Matilda's father Heath who had acted over 19 films won an Oscar in 2009 for his film, The Dark Knight.

Since Matilda was just two years old when her father passed away untimely, she might not have enough memory of her father. But Mom Michelle always shares her everything about him because she wants to ensure that Matilda knows how great her father Heath was and respect him throughout her life. The Oscar-nominated actress shared that she always reminds Matilda that her father loved her(Michelle) before anyone thought she was talented, pretty or had nice clothes.

Matilda lived in the country for 6 years with her Mom


A proud single mom Michelle Williams walking her daughter Matilda to school
Source: Alexandria Pinterest

It became intolerable for Michelle after the death of her husband Ledger. Thus, she decided to leave Brooklyn where the family was living together. She along with daughter Matilda lived in the country to avoid showbiz for six years.

Michelle, however, remained strong. She didn't let her acting career slow down. She worked hard and became really successful. Williams managed to give Matilda, her only daughter a peaceful, stable environment and gave her enough time.

Matilda has got her father's looks and energy



One can easily see that Matilda is a look-alike of her father. But, she's got more. Heath's sister, Kate Ledger once shared with Australia's Channel 10 that Matilda has got her father's energy. She added that Heath didn't sleep from when he was two and Matilda was the same. According to her aunt, Matilda has got a ball of energy and she radiates the aura.

Matilda now has a stepfather

Yes, the 37-year-old actress secretly married Musician Phil Elverum among handful friends in Adirondacks on July 2018, she shared in an interview with Vanity Fair.

Matilda Ledger's new dad is musician Phil Elverum
Source: Entertainment Tonight

Matilda now has a stepfather but he loves her dearly. Matilda Ledger's mom couldn't help sharing about her relationship with husband Phil putting simply that it's sacred and special.  She shared that the way Phil loves her is the way she wants to live her life. Williams continued that she parents to let her daughter Matilda Ledger feel free to be herself. And now she (Michelle) is finally loved by someone who makes her feel free.

Matilda Ledger is growing under supervision and love of wonderful parents. And she also has the aura of her biological father Heath Ledger which makes her special. We wish her all the best and a happy future.

There's more coming. So, be with us and read interesting and entertaining updates on SuperbHub.