Yodeling is a form of singing which includes rapid and repeated changes of the vocal pitch from low-pitch to High pitch and vice versa. Yodeling is derived from the German which means to utter the jo Syllable, the technique is used widely in many cultures worldwide.
Mason Ramsey aka the Walmart Yodeling Kid has become an internet phenomenon after his video covering Hank William's Lovesick in an Illinois Walmart went viral. Since then 11-year-old Mason, the yodeling boy is living the time of his life.
Walmart Yodeling Boy Mason received a $15,000 scholarship at the Ellen Show, performing a the 2018 Coachella Fest and at the biggest country stage Grand Ole Opry.
Mason Ramsey AKA Walmart Yodeling Kid
Mason Ramsey has gained reputation and fame as the Walmart Yodeling Kid. It was not the first time Mason was yodeling as the world is just knowing about the Yodeling Kid. According to The Southern Illinoisan, Masey has been performing since he was 3 and has been a local star.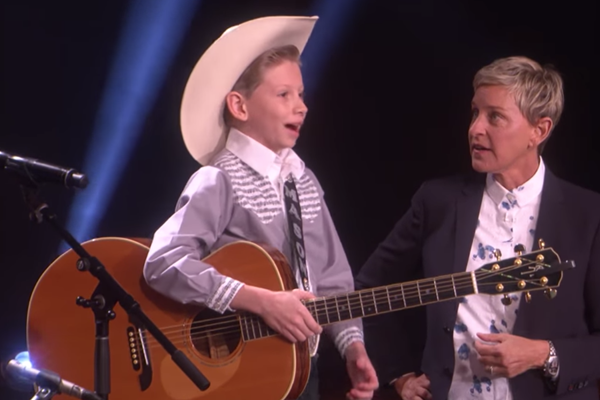 Walmart Yodeling Kid at the Elen Show where he won a $15,000 scholarship.
Image Source: BoingBoing  
Ramsey at a young age had opened for the country star Josh Turner who named him as the real star of the show. Ever since Ramsey's talent has been acknowledged in the country scene he has opened for many singers like Kenny Rogers, Gene Watson, and the Bellamy Brothers as well.
Ramsey's Video singing the 1950 Hank Williams' Classic "Lovesick Blues" in the isle of a Walmart in his hometown of Golconda went viral on the Internet to earn him the title of the Yodeling Walmart Boy. Since the Video Walmart Yodeling kid has 23 million views on youtube and amassed 1.4 million followers on his Instagram.
Watch Ramsey aka the Walmart Yodeling Kid's cover of the Lovesick Blues
Speaking in the Ellen Show, Ramsey says that it was his first time he'd been on an airplane and had a fun ride but he felt more amazing riding on the back of Limo. Walmart Yodeling Kid Ramsey says he tried sparkling water but didn't like it as it tasted funny.
Ramsey's first song he tried singing was Long Gone Lonesome Blues. Mason Ramsey aka the Walmart Yodeling Kid's favorite singer is Hank William Sr. whose songs he often covers.    Ramsey's grandfather Ernie also yodels and upon asked wheater, he is a good yodeler Ramsey simply says no.
So why is the Walmart Yodeling Kid famous?
Ramsey the Walmart Yodeling Kid has a traditional touch with his singing style and cowboy attire. Less than two weeks after his video went viral Ramsey made an appearance in the Ellen Show and won a $15,000 scholarship and the opportunity to perform at Coachella and Grand Ole Opry.
Ramsey Mason aka the Walmart Yodeling Kid performs at the 2018 Coachella festival. 
Ramsey Mason made his debut at the Coachella festival alongside DJ Whethan on April 13 rocking an over-sized cowboy hat, a red bowtie, and dark boots. Ramsey's cover of the 1950 Lovesick Blues reached no.4 on the Spotify Viral 50 Chart.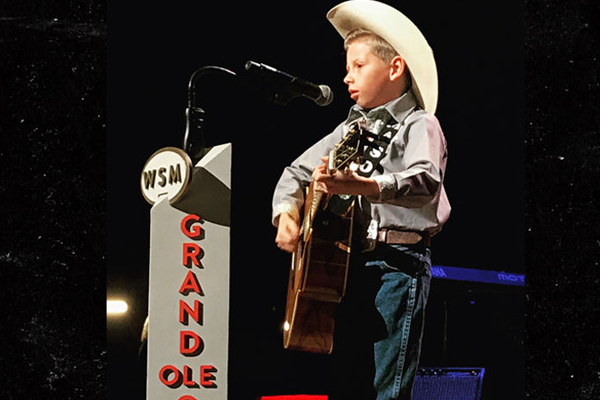 Walmart Yodeling Kid aka Ramsey performs at the Grand Ole Opry after debuting in Coachella music fest.  
Image Source: TMZ
On the festival, Ramsey discovered his famous fan was Justin Beiber, who enjoyed the Yodeling performance and even had a chat behind the stage. Justin and Ramsey had the joyous meeting where Justin says that he's proud of him and snapped a selfie before parting ways.
Mason Ramsey aka Walmart Yodeling Boy's First song Famous
Mason Ramey's new song Famous was published on Apr 26, 2018, on youtube. Famous is Yodeling Kid Mason Ramsey's first song without his Yodeling released by Atlantic Records and the Big Loud label.
Watch Mason Ramsey's first song Famous. 
Famous is also available on Spotify and apple music.
For More Entertainment and Celebrity News: SuperbHub.