The X Factor U.S. and Extra host Mario Lopez's wife is his longtime girlfriend Courtney Mazza. The marriage took place in a star-studded ceremony in Punta Mita, Mexico. Mario and Courtney's daughter Gia was the flower girl on the wedding day. Eva Longoria, a good friend of Lopez had also attended the ceremony. The couple welcomed their son Dominic on September 9, 2013.
Mario Lopez and Wife Courtney Mazza Relationship
According to Extratv, Lopez met his wife Courtney in 2008 while the actor was starring in A Chorus Line on Broadway. Mazza admitted that he was not really her type and had ignored Lopez at first. Ultimately that made Lopez more attracted to her.
Mario being very persistent kept asking her out and she kept saying no until she gave up for a drink. The Cupid soon did its job and they were falling for each other. Courtney found him very charming and cute and they dated for two years.
They also shared their lovely family story through their YouTube channel.
Mario believes in right time. According to him, there's always a right time for everything even relationship. He believes it was the right moment when he met her. Because if he had met her 5-6 years before, then he would've messed up.
Even Courtney felt right especially after meeting Mario's family. She felt that was the family she wanted to be with.
Their relationship got more intense when Mario Lopez's wife became pregnant. The Duo then planned their Grand wedding and continued to live together.
ExtraTV exclusively compiled the footages of the wedding day and made a video comprising both bride and groom's interview and much more.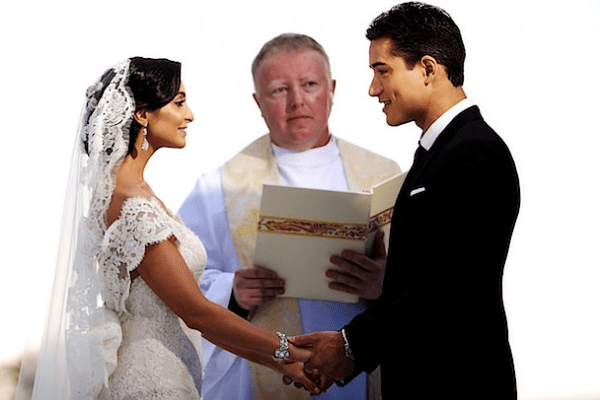 Mario Lopez holding the bride Courtney's hands and exchanging Vows.
Image Source: Kevin Weinstein Photography
Courtney and Mario Relationship with Kids
Lopez is now living a faithful relationship with his wife Courtney Mazza. The couple has two children; first child, daughter Gia Francesca,6 who was born before their marriage and Dominic Lopez, 3. They have two cute doggies.
The Lopez family live in Glendale, CA in a 4,430 square feet Mexican-style mansion which Mario purchased for $1.94 million in 2010. Courtney is a very loving mother and often posts pictures of her family.
Lopez's failed marriage with model Ali Landry in 2004
Lopez previously tied knots to model Ali Landry in 2004. The couple had been in a long relationship for 7 years but got divorced just after two weeks of their marriage.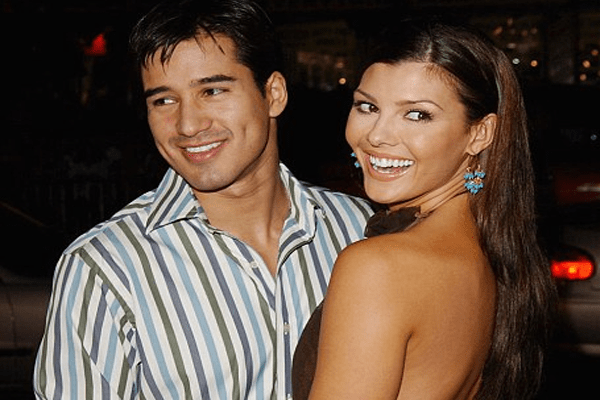 Mario Lopez ex-wife Ali Landry
Why did they part their ways after being together for long?
Mario admits that he cheated on his ex-wife Ali Landry at his bachelor's party just days before the wedding. Things started heating when Mario Lopez's wife Landry confronted him showing a photo of him in a compromising position in a pool with a woman at his bachelor party. His marriage ended due to his infidelity.
However, he's currently living a very blessed married life with his wife Courtney, kids and dogs.