Celebrity Couple Mario Lopez and Courtney Mazza's net worth together is estimated to be $17.5 million as of 2017. Popular TV host, Mario Lopez, and actress Courtney Laine Mazza are married since December 1, 2012.
After four years of dating and eleven months of engagement, the lovebirds tied the knot. Their extravagant wedding took place at seaside Punta Mita estate that is worth $30 million and owned by Girls Gone Wild founder Joe Francis.
Mario Lopez Net Worth and Earnings
Mario Lopez is a star from the popular 1980s NBC's popular comedy series Saved By the Bell,  where he got $3,500 per episodes. He then became the famous host of X-Factor from 2012-13. He also was a presenter of MTV's America's Best Dance Crew.

According to The Richest, Mario Lopez's net worth is estimated to be $16 million with annual earnings of $3.5 million as of 2017.
Mario Lopez's net worth mainly comprise the earning from his work in Television, his three non-fiction books, and his New York Times bestseller cookbook, Extra Lean. 
His bestselling book costs $12.15 for Paperback and $5.99 using the Kindle app. Also, he has a YouTube channel, Mario Lopez, that has 52,073 subscribers. He makes a monthly earning of $112-$1.8k and yearly earning of $1.3k- $21.4k from his YouTube Channel. Income from the channel definitely adds to both Mario Lopez and Courtney Mazza's net worth.
Here is one of the video on YouTube Channel, Marie Lopez, where Mario and Courtney with their kids, are exploring Google Home.

Courtney Mazza's Net worth
Courtney Laine Mazza was a Broadway star. She made her debut in Musical Drama, A Chorus Line(2006). Then she performed in other musical dramas Cry Baby and The Little Mermaid in 2008. Courtney Mazza's net worth slowly started taking pace with her performances in such dramas.
Mazza then appeared in supporting role in comedy movie Pittsburgh. However, Courtney didn't find much success in the Film industry.
Mario Lopez's girlfriend Courtney Mazza then appeared as guest co-host of husband Mario often in reality series Mario Lopez: Saved by the Baby(2010-2011). In 2012, she certainly was in Mario & Courtney's Wedding Fiesta.
Currently, she appears in videos on YouTube Channel, Marie Lopez. The couple along with children, Gia and Dominic, features in the video.
Courtney Mazza's net worth apart from her husband Mario Lopez is estimated as high as $1.5 million as of 2017 according to Net Worth Post.
Houses and Cars
Mario Lopez and Courtney Mazza currently live in a splendid bungalow in suburban Glendale, California with their kids and two dogs.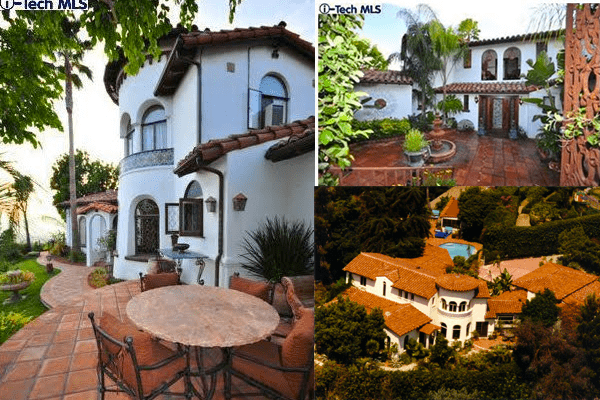 Mario Lopez and Cortney Mazza's net worth include a luxurious Villa in Glendale bought in 2010 for $1,940,019.
It's a luxurious home built in 1929 that is spread in 4,285 sq.ft with four bedrooms, four bathrooms, a swimming pool, home office, and sports room. Lopez house best part is its beautiful interiors.
Mario Lopez bought the home in 2010 for$1,940,019 according to Press Herald. He also is known to own two homes in Burbank. He bought one of the houses in 1994.
Furthermore, Mario Lopez and Courtney own an expensive car R-8, which is manufactured by Audi.  This expensive luxury car costs $200,000. Lopez loves to drive race cars too.
Additionally, he owns  BRP Can-Am Spyder Roadster, a three-wheeled motorcycle, manufactured by Bombardier Recreational Products.
Spyder consist of two wheels in front and a single wheel in its posterior. The cost of this attractive Spyder ranges from $19,199- $30,790.
Image Source- Muzul
Mario Lopez with Spyder motorcycle and house in the background.
Mario Lopez and Courtney Lopez's net worth is really amazing enabling them to afford such a lifestyle. They also have an amazing relationship with their kids.
God Bless the happy family!
For more entertainment news stay with us on SuperbHub.