Lynsey Brooker is the wife of English Journalist, T.V. presenter, and Comedian Alex Brooker. Lynsey was married to Alex in November 2014 in a private ceremony. Lynsey and her husband Alex are blessed with a daughter who was born in July 2017. Lynsey and Alex have been maintaining their healthy relationship and are a wonderful couple.
Lynsey's husband Alex was born with arm and hand deformities and was born with a bone in his right leg which is amputated. The Last Leg's co-host Alex has a fully supportive wife and must consider himself lucky to have Lynsey as his partner. Lynsey Brooker is a qualified ACCA accountant and works as a Financial Controller at Click Holding since December 2017.
Also Read: Lynsey Brooker and Husband Alex Brooker Wedding Photos 
Meet Lynsey Brooker
Education:
Lynsey Brooker is a qualified accountant with 8 years of experience in her field. Lynsey has progressed from graduate to management accountant through a series of internal promotions. Lynsey attended New College, Huddersfield and completed A levels where she enrolled from 2002-2004. She holds a BSc Hons in mathematics from University of Leeds graduating in 2008. According to Lynsey's Linkedin profile, she enrolled ACCA in 2008 and was fully qualified in 2012.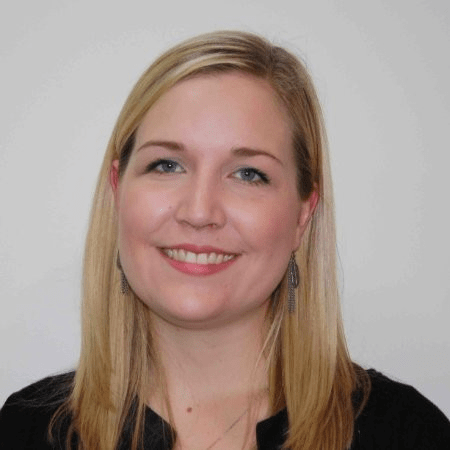 Alex Brooker's wife Lynsey Brooker is a qualified ACCA accountant and works as a Financial Controller at Click Holding. 
Image Source: Linkedin 
Work Experience: 
Initially, Lynsey started working as a Banking Intern for GE Money from June 2006 to August 2007. In 2008 Lynsey joined GDF SUEZ Energy where she worked as customer handler and collecting debts from customers and dealing with queries. In 2010 Lynsey was promoted as an Accounts Assistant where her major role was to improve the profitability of the business.
In 2010 Lynsey Brooker was promoted as a Reporting and Projects Finance Analyst in the GDF SUEZ Energy UK where her Key responsibilities included monthly management accounts and prepare the budget for subsidiaries. Lynsey was promoted as Electricity Finance Analyst in 2012 where she handled analysis of Electricity Gross Margin.
Also See: Alex Brooker's Five Brothers
Likewise, In 2013 Lynsey Brooker joined ENGIE E&P as a Reporting and Analysis Accountant where she handled making the annual budget and monthly updates. Lynsey then started working as a Financial Controller at Click Holding since December 2017.
Lynsey and Alex Broker
Lynsey and Alex Brooker are happily enjoying their married life since 2014. The couple has been maintaining a low key relationship and appear very less on social media. Alex had however caused a torment on Twitter after he said that he wouldn't live in Huddersfield and had to later declare his love for the town live on Channel 4.
Also See: Alex Brooker Net Worth

Alex later confronted that it was a joke and his wife Lynsey is also from Huddersfield and loved the place and he genuinely likes it. Alex and his wife Lynsey has spent some quality time traveling on Eurasian, North American Tectonic Plate, Iceland, and Italy. Lynsey had garnered her beautiful memories of her travel with her husband Alex in her Instagram post.
For more Celebrity News and Entertainment: SuperbHub.