WWE star Becky Lynch and Seth Rollins are currently dating. Universal Champion Seth Rollin( real name-Colby Daniel Lopez) has confirmed that he and Becky Lynch(real name-Rebecca Quin) are officially in a relationship.
After relationship rumors on Twitter, Seth Rollins confirmed their romance on Instagram. Here are some facts you should know about Seth Rollins and Becky Lynch's love life.
Their Relationship Started With Rumors
Back in early May of 2019, Seth Rollins and Becky Lynch were rumored to be dating. Rumors between these two were circulating over many WWE fans for some time. The adorable pair were also seen together in the Hall of Fame ceremony.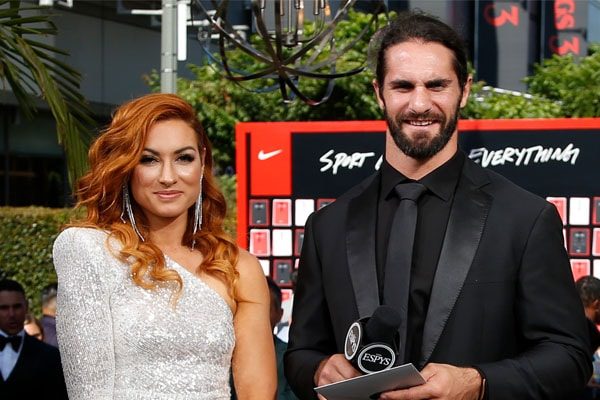 Seth Rollins along with his girlfriend Becky Lynch. Picture source: People.
Many WWE fans assumed that there was something more than friendship going between these two wrestlers. When a reporter asked about a possible relationship between them, Seth simply told that "I will leave up to you". So Seth Rollins did not deny the relationship at all, neither Becky Lynch did.
Seth Rollins Confirmed Relationship With Becky Lynch Through Instagram
However, back in 13th May of 2019, Becky Lynch's boyfriend Seth Rollins confirmed his relationship with his partner Becky Lynch through Instagram. He shared a picture of him kissing Becky, following his win over Brock Lesnar at WrestleMania 35. On the same post, he captioned "I guess I'm allowed to post this now…" and had tagged the redhead bombshell, Becky Lynch.
View this post on Instagram
The WWE star couple of Seth Rollins and Becky Lynch together make up one of the WWE's strongest forces. Seth holds the Universal championship after defeating Brock Lesnar. And as for Seth Rollins' girlfriend Becky Lynch, she also won her first-ever all women's main event after defeating Charlotte Flair and Ronda Rousey.
The WWE pair is often seen on each other's social media handles. Seth Rollins recently shared a picture on his Instagram captioning "C8H11NO2+C10H12N2O+C43H66N12O12S2" which is a chemical formula for love. It seems the couple is so much in love with each other.
Prior to his relationship with Becky Lynch, Seth Rollins was dating Sarah Alesandreli for three years. Sarah announced their break up on Twitter.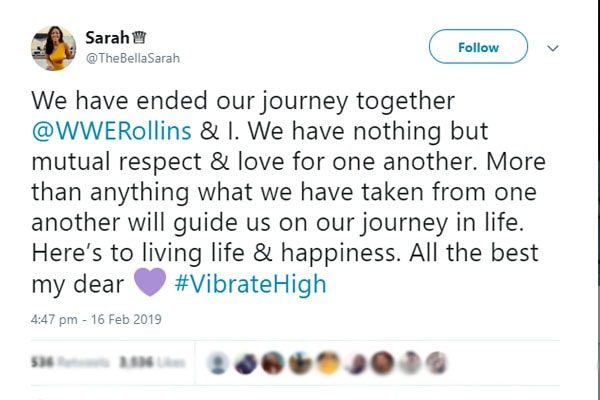 Seth Rollins 's girlfriend Sarah Alesandreli's tweet about break up. Picture source: TheBellaSarah's Twitter.
As of Becky, she was previously dating comedian Jeff Dye. Before Jeff, she was linked to UFC fighter Luke Sanders.
Nevertheless, both Becky and Seth are so much in love. If everything goes, maybe hey might take their relationship to the next level as well.
Keep connected with SuperbHub for more News, Entertainment and Biography.