Nita Strauss and Josh Villalta have been in a relationship for forever now. Not exactly forever, but considering the fact that they are so close and Nita's Instagram features Josh in lots of her post, it does feel like they have known each other since forever. And it has led the fans to believe that they really were made for each other.
One of the earliest photos with Josh that Nita posted on her Instagram was in 2015. But who is to say that they did not have anything before that. As for how long they have known each other, the couple hasn't talked about it much.
View this post on Instagram
The Loving Relationship Of Nita Strauss And Josh Villalta
Nita Strauss' boyfriend Josh frequently posts photos with his beau. He keeps his fans updated about the places they went together. Nita also regularly uploads photos alongside her partner Josh.
Whenever Josh is away, his girlfriend Nita posts about him captioning that she misses him a lot.
Given that Nita is a guitarist and Josh is a drummer, they spend most of the time together. They have been there for each other to share most of the moments. In an interview with Thomann, Nita said that it is good to have someone to share the happiness and agony when you get off the stage. And we do feel happy that she has someone.
The Pair Has A Lot Of Common Interests
As mentioned earlier, Nita and Josh spend most of the time together. Apart from music, the lovebirds of Nita and Josh seem to love Wrestling as well. Don't worry they do not wrestle with each other but they do visit WWE events.
In April 2018, Nita appeared on Wrestlemania playing guitar in the live performance of Shinsuke Nakamura.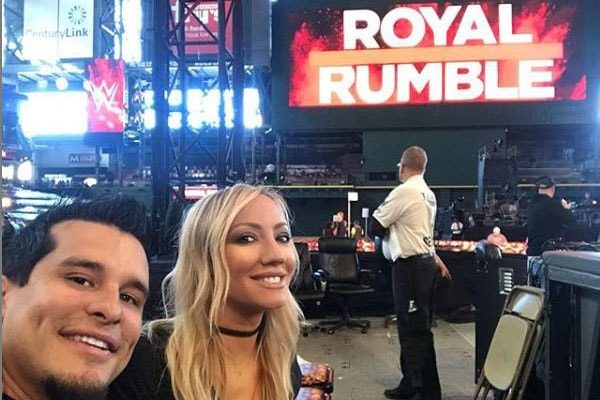 The adorable couple of Nita Strauss and Josh Villalta at the Royal Rumble, Image Source: Nita Strauss's Instagram.
Josh Villalta's girlfriend Nita Strauss has been alongside him for years now. And their fans can't wait to see the higher levels of their love. But that will have to wait for a little since the couple has not talked about this with the media.
Since they are busy decorating their Empire of success with music, it may take some time before we can see them taking this relationship to a new level.
For more Entertainment, Biography and Articles, stay tuned with Superbhub.