David Andrew Burd A.K.A. Lil Dicky is an American rapper and comedian who is living the American dream from his rap career success. Lil Dicky's Net Worth is $8 million and is still raising an aspiring amount of money from his new song Freak Friday in collaboration with Chris Brown.
Lil Dicky's comic rap style and expressive lyrics make him a truly different rapper amongst all. His modern concepts and seemingly intelligent lyrical flows blend in ace with the artistic animation videos.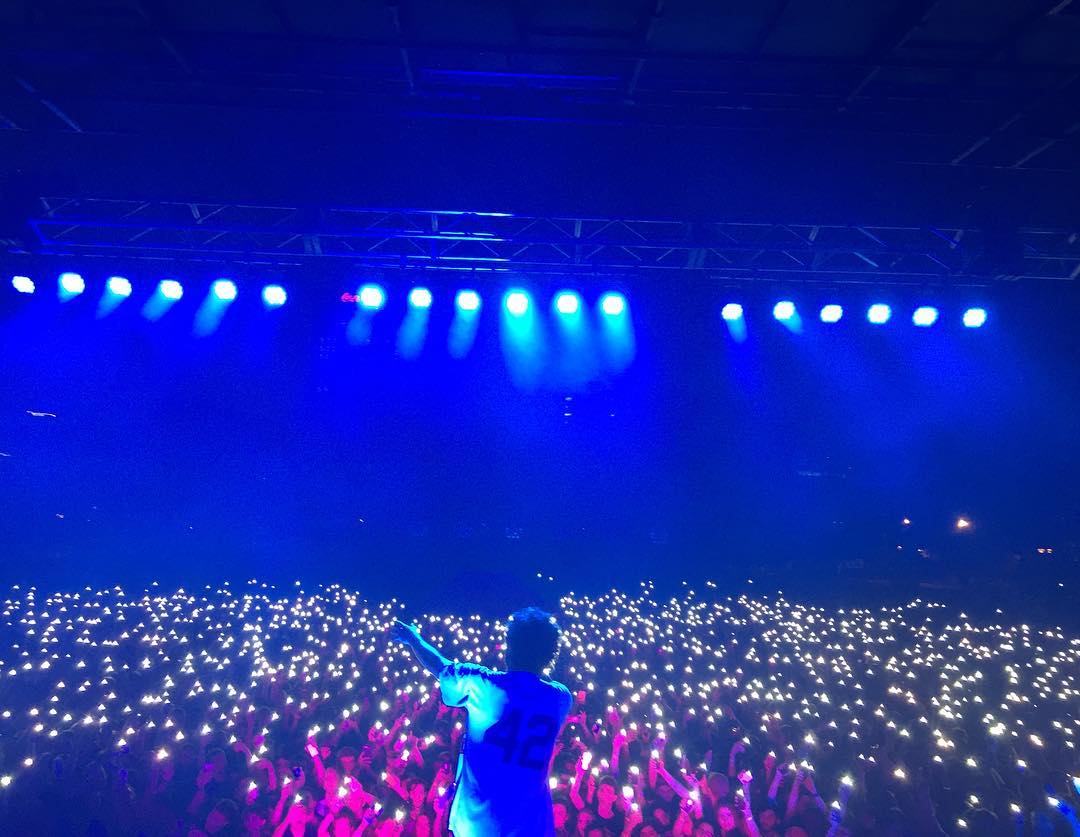 Lil Dicky's concert in GeorgiaImage Source: Lil Dicky Instagram
Lil Dicky's Net Worth
As a rapper, most of Lil Dicky's income comes from his concerts & tours, album sales, merchandise and Youtube as well. Lil Dicky earns an affluent amount from his youtube channel which is rated A grade in Social Blade. Lil Dicky's Net Worth as of 2015 is $8 million but Lil Dicky's Net Worth of 2018 is under review. His youtube channel has 2 million subscribers and regular 2 million views on his songs.
| | |
| --- | --- |
| Estimated monthly earnings | Estimated Yearly Earnings |
| $5.2k - $82.6k | $61.9 k - $990.8k |
Dicky paved his path in rap after his 2013 song Ex-Boyfriend went viral receiving 1 million views in 24 hours. Initially, Dicky was an account manager in San Francisco at an advertisement agency.
He had put his life savings on his music career to be profound in the scene. Early in his career Lil Dicky used to record songs on his Mackbook with a  $400 microphone. He is a living proof that with a creative mind and determination one can reach the height of success. Lil Dicky's Net Worth of $8 million is a staggering result of his hardship.
Lil Dicky Crowdfunding "Kickstarter"
To continue rap full-time, Dicky had to quit his job and in times was in a dire need of money to continue after spending every penny on earlier projects.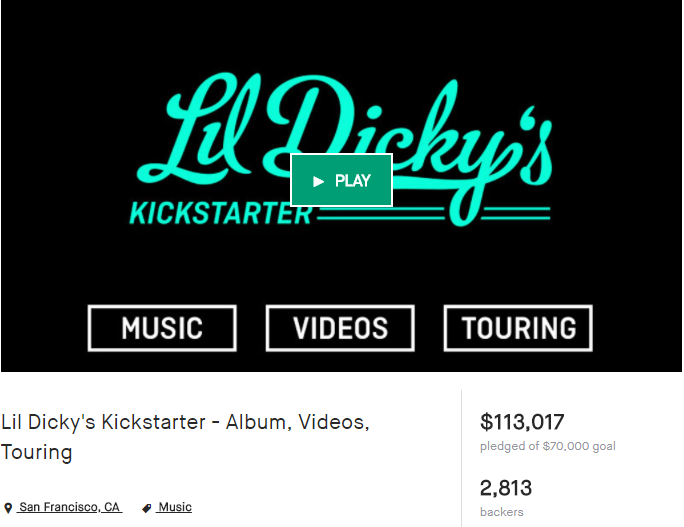 Lil Dicky's Kickstarter campaign raised $113,017. 
At the starting phase, Dicky had pulled out all his savings to make up to 32 songs and 15 music videos until he ran out of money. Also, he had given his projects for free and made zero profit from the operation.
Dicky then brought the plan of crowdfunding as a boost to his career, Kickstarter which had a goal of $70,000 and successfully amassed $113,017 from 2,813 supporters. The funding divided into phases comprised Music album, Music videos and touring.
Dicky also added his merchandise like Lil Dicky T-shirt and Hoodies on the Kickstarter as the only place to get the apparel. The funding period was for 30 days from November 20, 2013, to December 20, 2013. If pledged US$ 10,00 Lil Dicky would perform on a private party.
Lil Dicky Concert and Tickets
Lil Dicky's first concert in his home state of Pennsylvania was in 2014. The same year Dicky had signed with CMSN and released his debut album Professional Rapper featuring artists Snoop Dog and Brendon Urie.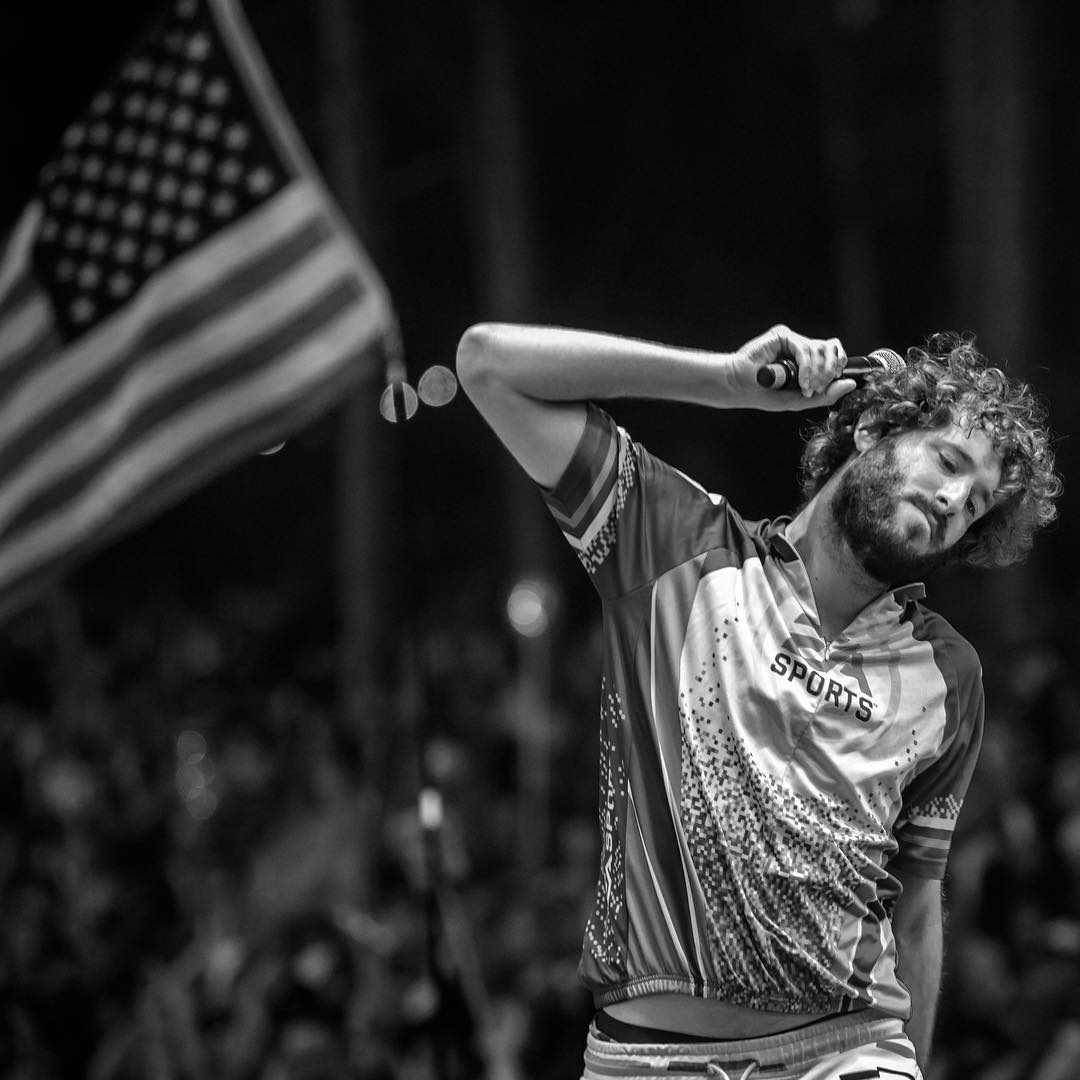 Lil Dicky's concert
Image Source: Lil Dicky Instagram
Tickets Mate has listed the average ticket price of Lil Dicky concert in Irving. The average price is $130 and minimum price as $26.
Lil Dicky's song Molly was dedicated to his Ex-girlfriend, Molly.
Lil Dicky's song Pillow Talking is the 49th most expensive music videos of all time costing a whopping $700,000 for the entire project. Pillow Talking is the highlight of his 2015 Billboard-topping debut album Professional Rapper. The album reached #1 on the US rap chart, US indie, and US comedy Chart.
Forbes had listed Lil Dicky as the Top 10 Hip-Hop Cash Prince of 2016.
Lil Dicky best songs
Below is the table of Lil Dicky's best songs in unordered form.
| Song | Album | Year |
| --- | --- | --- |
| The Antagonist | Professional Rapper | 2015 |
| Professional Rapper | Professional Rapper | 2015 |
| Tim Westwood Freestyle | Solo | 2016 |
| "How Can U Sleep" ft. The Game | I'm Brain | 2017 |
| Truman | Professional Rapper | 2015 |
| Attached At The Hip | So Hard | 2014 |
| Lemme Freak | Professional Rapper | 2014 |
| Lion King | Lion King/ single | 2013 |
| The Cypher | So Hard | 2013 |
| Pillow Talking | Professional Rapper | 2017 |
| Bruh | Professional Rapper / Sway Freestyle | 2015 |
| Save Dat Money | Professional Rapper | 2015 |
| Too High | So Hard | 2013 |
| Freaky Friday ft, Chris Brown | Single | 2018 |
For more entertainment stay with SuperbHub.