Liberte Chan is an American Meteorologist, Journalist, and reporter associated with KTLA 5. The beautiful weathercaster married to actor Brian Chase in 2012 but soon parted ways. Let's unravel to find out her marriage with Brian, who is Liberte Chan's boyfriend at present and who did she mention as her little boyfriend?
Liberte Chan and Husband Brian Chase's Marriage
Liberte married to actor Brain Chase in August 2012.
Chan paved her path into a new life with Chase. They exchanged their vows in the garden of Greystone Mansion, Beverly Hills.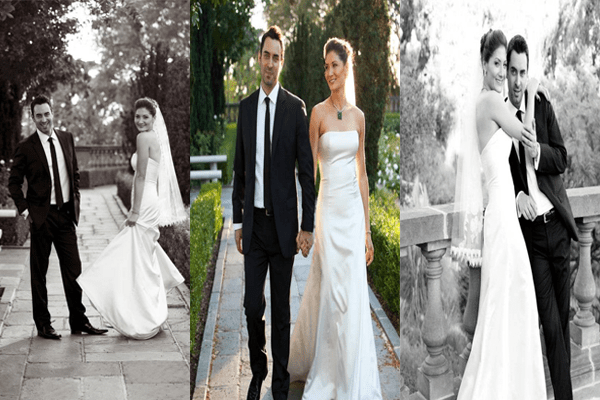 Liberte Chan married husband Brian Chase in August 2012 in the garden of Greystone Mansion, Beverly Hills
Image Source: Facebook(Lauren Ross)
The wedding was royal and exquisite. Bride Chan was wearing a classic Monique Lhuillier gown, Christian Louboutins, and custom embroidered veil. Chan added the legacy to the moment by wearing an imperial jade necklace, a gift to her grandmother from her great-grandfather, General Chiang Kwong-Nai.
The groom Brian also looked dashing in his black wedding suit.
The newlywed couple spent their honeymoon in Paris, France and had planned to host post-nuptial in Los Angeles.
No-one would have imagined that this couple would part their ways. The duo separated around two years after their marriage and the reason is not public yet.
It might have something to do with both of their professional careers that they haven't spoken about their break-up yet. No statement regarding the split is public however Chan herself commented in her 2016 Facebook post that she's divorced.

Liberte Chan commented that she's divorced when a fan asked her if she's ready to be a mother in 2016
Source: Liberte Chan's Facebook
More on Chan's Ex-Husband Brian Chase
Brian is an American actor who is known especially for his appearance in the film Haunt released in 2005.
Born in Washington D.C. Brian Chase professionally appeared on stage at the age of seven. While in New York, Brian spent most of his time at the Stella Adler Conservatory where he pursued his love for Theatre.
He has performed in various plays from Shakespeare and Chekov to Neil Simon. Brian then graduated early from NYU and moved to Los Angeles. During his tenure, he appeared in numerous commercials and voice-overs as well as TV and films.
Chan's Relationship with boyfriend Brett Hoebel
Liberte Chan's boyfriend currently is Brett Hoebel. He is NBC's Body trainer and co-founder of Sweat With Soul.  Interestingly, both are passionate and have a similar interest in Yoga and work-out sessions. This common interest may be one of the reasons that have brought them along.
They regularly post pictures of them together performing various Yoga positions together.

Liberte Chan's boyfriend Brett has been in love with Chan since 2017. The couple gets along together for birthdays, Thanksgiving, vacations and outings and looks like they also live together.
Liberte Chan's boyfriend Cloe is little and shy
On February 20, 2016, Liberte posted a video on her Facebook account stating "Meet my boyfriend!".

She had spent the afternoon with Cole (son of KTLA 5 News makeup artist Jessica Reyes) and mentioned him as her boyfriend.  Cole can also be spotted in Chan's Instagram posts, he hangs out with Chan and her dog Shanti.
About Liberte Chan
Liberte was born and raised in Los Angeles. She enjoys spending time with her dog (Shanti), hiking and working out. Likewise, she is a self-taught exercise addict and spends at least six days a week practicing yoga.
Chan earned her certificate in meteorology from Mississippi State University in August 2015. She has a master's degree in Public Health from USC's Keck School of Medicine, and a certification in broadcast journalism from UCLA.  Chan received bachelor's degree in Journalism from the University of Massachusetts.