Leelee Sobieski's husband Adam Kimmel along with their two children and wife lives in the 4,800-square-foot Tribeca Loft in New York. Designer Kimmel with his family moved into the loft in 2007.
The beautiful loft comprises Ken Price sculptures, artworks of Raymond Pettibon, George Condo, Theodor Seuss Geisel and 1970's seminal figures.
Meanwhile, Leelee Sobieski is fully dedicated to being a mom with two children and has eased off her acting projects for a while. Her Husband, Kimmel too is taking a hiatus from his long eight-year-old menswear collection. The couple is busy being parents. Let's have an in-depth look at their life and parenthood.
Leelee Sobieski's Husband Adam Kimmel
Leelee Sobieski's husband Adam Kimmel in 2012 marked his greatness in the fashion world.
His label started in 2005 and was growing steadily. Designer Kimmel had collaborated with Supreme and Carhartt and together were making astounding sales in the high fashion world.
Kimmel's idea was groundbreaking and much different from the conventional presentations. He used to creatively stage and ambitiously present his work resulting in a trademark of his own. According to critic Tim Blanks Kimmel's 2012 winter collection of the set including models wearing fighter pilots masks was his greatest idea.
Naturally, Kimmel seemed to reach his peak, just when he canceled his Spring 2013 collection and simply walked away from the business. The empire Kimmel had built after seemingly seven years of hard work was abandoned by him. Kimmel reported to GQ style:
 "The company was growing. Infact, very fast. The last two years the company was doubling in revenue each year. So then I felt, I could become a slave to this thing."
Though Leelee Sobieski's husband Kimmel said he would be taking a one-year hiatus, he didn't return. All the years Kimmel had disappeared, he could still be heard in the fashion world.
It seems absurd looking at his commercial success and an endless tank of creativity and then he just walks away. Kimmel remained at the top of his game for almost 20 years. As Kimmel stated:
 "I was just like, 'I want to be a good husband, a good dad. I want to take a year off, I want to work on that, and if this is the thing that's meant to be, great, I'll return."
Leelee and Kimmel Welcomed First Child before Marriage
Kimmel spent his free time in his New York studio making clothes with different ideas. Things changed in his life when he met his soul mate Leelee Sobieski in New York possibly in 2009. As Leelee got divorced from her brief marriage with Matt Devis in 2009.
Certainly, at the first glance, Adam seemed out of her league. But, Kimmel and Sobieski soon began spending time together and became really close.
The lovely pair was blessed with a daughter Louisanna Ray Kimmel on December 15, 2009, in New York.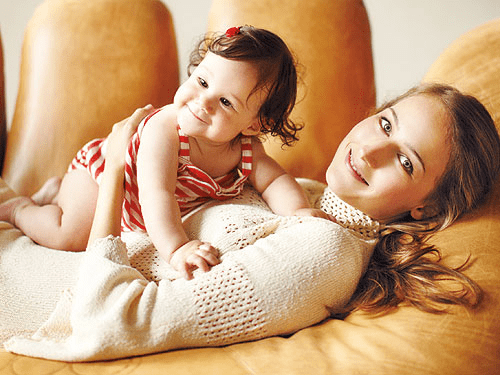 Leelee Sobieski's daughter Louisanna Ray Kimmel. Sobieski and husband Kimmel welcomed their daughter on December 15, 2009.
Image Source: People
Then they married in August 2010. We can guess that Leelee and Kimmel tied their knots on August 31, 2010, as Leelee shared an Instagram post on August 31, 2017, and tweeted,
Adam then decided to take a break from his professional career. He just wanted to be Leelee Sobieski's husband and a dad for a while.
Leelee's brief marriage in 2008 to Matt Davis is forgotten after her divorce in 2009 and only Adam Kimmel is recognized as her only love.
Leelee's hint to leave Hollywood in 2012
Back in 2012, Leelee had hinted that she was ready to leave Hollywood due to ninety percent of the acting job including the sexual stuff. According to US Magazine, Leelee explained:
"It's such a strange fire to play with. Our relationship is surely strong enough to handle it, but if you're going to walk through fire, there has to be something incredible on the other side."
Leelee was a virgin until age 26, to your surprise the actress herself had stated :
I think age 26 is old to lose your virginity, but it was important to me. I wanted to remain a virgin until after I was married. I didn't have any religious regions or anything like that but simply because, to me, my virginity was the most precious gift that I could ever give to a man. And, I wanted to be sure I was giving it to the right man.
Leelee is not just an actress but a writer and painter as well.
Second Child; Son Martin
After four years of marriage, in 2014, the couple welcomed their second child, a son Martin Kimmel.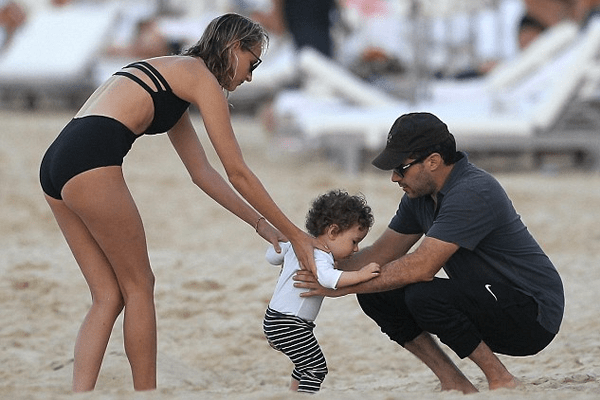 Leelee Sobieski and Adam Kimmel with son Martin at beach in St. Barts on January 2016.
Image Source: Daily Mail
Nobody realized that Leelee was pregnant as she kept it secret for four months according to Hollywood Life.
The conclusion is undoubted that both of them kept their professional career aside to focus more on their family and kids. Both of them despite being talented and creative in their careers had the only desire to give a proper parenthood to their infants.
The beautiful duo along with their family currently are living a happy life in New York.
For more updates, stay with SuperbHub.